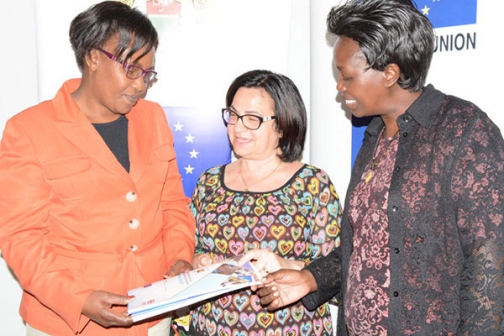 NAIROBI: A third of Kenya's women are either overweight or obese, the Ministry of Health has said.
The ministry noted that there was a shift in the trend of obesity from minors to adults mainly due to poor feeding habits among the latter.
Faith Thuita from Sacling Up Nutrition said over 33 per cent of women in Kenya were overweight or obese, a vice she attributed to poor nutrition.
She said the overweight trend was a serious phenomenon affecting 25 per cent of the female population.
"From these figures, it's evident that we have a rising health burden from over-nutrition hence the need to address it urgently," she said during a two-day workshop on nutrition at Simba Lodge in Naivasha. The workshop was sponsored by the European Union.
Addressing the Press during the workshop, the head of the Nutrition and Dietetics Unit in the Ministry of Health, Gladys Mugambi, said the trend was worrying.
Ms Mugambi said more money should be set aside for nutrition and campaigns on proper eating habits to help deal with obesity, stunted growth and wastage.
She said only 0.6 per cent of the ministry's budget goes to nutrition.
"Cases of overweight expose one to diseases like high blood pressure and diabetes, which are very expensive for the county and the patient to treat," she added.
But it's not all doom and gloom. Mugambi said obesity among minors was on the decline due to exclusive breastfeeding.
The EU Head of Social and Environment Section, Hjordis Ogendo, said the organisation was keen to fund nutrition-related projects in Kenya.
She said between 2007 and 2016, the EU spent over Sh5 billion on nutrition and maternal health in Kenya.
"We have invested another €5.4 million (Sh60.6 million) to various nutrition projects in seven counties as we are committed to winning this battle," she said.
Kwale Governor Salim Mvurya's wife Christine Mvurya admitted that her county was among those most affected by poor nutrition, with stunting at 30 per cent, underweight at 11.8 and wasting at 4.4 per cent.
"This has been worsened by high levels of poverty, which currently stand at 75 per cent. But the county government is committed to addressing this," she said.
According to Andrew Malavu, a paediatrician at Kikuyu General Hospital, obesity is caused by excessive consumption of high-calorie (high energy) foods.
"The human body needs only a certain amount of energy to maintain normal functions of cells, tissues, organs and organ systems. In this sense, any extra high-calorie food consumed is assimilated into fat then stored in the body," Dr Malavu explained.
Related Topics