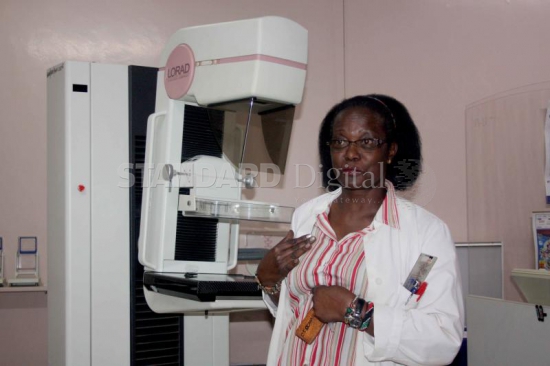 An apple a day keeps the doctor away, or so an old adage goes. But once in a while you will need a doctor's help to deal with one ailment or the other.
And when that day comes, all your hopes for cure more or less rest on his or her able shoulders and whatever the doctor says, you have to follow. But what if a rather routine check puts you in more trouble than you were already in?
Welcome to Kenya, where it has now emerged the health-care system could be 'infecting' patients with cancer through unnecessary or wrongly administered X-rays, scanning or imaging services.
And with cancer having killed 14,175 people in Kenya last year alone (according to the Economic Survey 2015), you have every reason to be worried. Over commercialisation of disease diagnostic technologies with little or no supervision is the heart of the problem according to Kenyatta National Hospital (KNH) head of radiology Rose Nyabanda.
"In the last decade, centres offering imaging services have been sprouting just like photocopy kiosks," says Dr Nyabanda.
She attributes this to the availability of cheap, second-hand and also donations of technologies such as computerised tomography (CT) scans and magnetic resonance imaging (MRI) that have become obsolete in developed countries.
"Most of the radiation diagnostic tests Kenyans are being subjected to, mainly at commercial outlets, are not necessary and expose patients and machine operators to irreversible radiation risks," she said.
However, radiologists are not taking this lying down. They are now demanding that these medical equipment be removed from the control of businessmen and be put under the supervision of qualified radiographers. They also want the Kenya Radiation Board to be given enough capacity to effectively regulate the sector.
The problem is so huge that radiologists from all over Africa met in Nairobi in February to discuss the safety of radiology technologies and how not to fall into the pit of substandard and risky therapies.
A survey of over 30 imaging centres across the country by among others Jeska Wambani of the Radiology Department at KNH found huge discrepancies in how CT scanning is being carried out.
The study, which was supported by the International Atomic Energy Agency (IAEA), found staggeringly different ways CT scans are being applied on patients. It found varying cases where patients are either being overdosed or under-dosed, which could lead to improper treatment or radiation poisoning.
The study, published in the journal Radiation Protection Dosimetry in February, says the number of CT scanners in direct medical use in Kenya increased by over 80 per cent in the past decade.
But what is more worrying is the fact that in most places the service is carried out by unqualified personnel because training has not caught up with the rate of growth in technologies.
In an earlier national survey carried out by Dr Wambani and her peers, G K Korir of the University of Massachusetts USA and I K Korir of the National Nuclear Regulator, South Africa revealed in 2011 alone, more than 3 million X-ray procedures were carried out in Kenya. Over 90 per cent of these were the general X-rays and just about half of them were of any value.
Detect tuberculosis
"General radiography was the most frequent type of examination with a contribution of 55 per cent of the effective dose per capita," the researchers wrote in the South African Journal of Radiology.
And radiology experts at the University of Nairobi (UoN) seemed to drive the point home when they confirmed thousands of Kenyans are being exposed to dangerous radiation through unnecessary chest X-ray tests.
The experts say results of tests carried out in four major X-ray centres in Nairobi to detect tuberculosis indicated that the examinations had no value, were expensive and exposed patients to unnecessary radiation.
Remember that chest X-ray you took while joining college or when going abroad? It could have been unnecessary if the study is anything to go by and this is why. The three-man team, which was led by Dr Ndii Muriuki of the Department of Diagnostic Imaging and Radiation Medicine at UoN, analysed 402 chest X-rays ordered especially for healthy people wanting to migrate out of the country, pre-employment or joining colleges and only one test returned positive for TB.
This means you may have paid about Sh1,500 to be exposed to radiation that increases the risk of cancer. Therefore, Ndii and his team say the test is unnecessary and should be discontinued.
In their findings published in The East African Medical Journal, the Ndii team said since radiation accumulates in the human body at every successive exposure, X-rays should be kept to the barest minimum.
"No one should be exposed to the tiniest dose of radiation unless it is absolutely necessary," said Ndii.
The survey was done at radiology departments of KNH, UoN, and Nairobi Hospital and at Plaza Imaging Solutions, a private practice in Nairobi.
Kenya Association of Radiologists Chairperson Vera Manduku is also worried over lack of proper protocols in radiation medicines.
"We want to, for instance, encourage a system which demands that anybody procuring these machines does so within national guidelines and regulations. This would reduce cases of obsolete and dose leaking technologies into the country," said Dr Manduku. The government also seems to have woken up to the problem presented to Kenyans through the proliferation of unnecessary and poorly supervised imaging services. The Ministry of Health has developed cancer management guidelines which also advise against the habit of over ordering expensive tests, some of which are unnecessary.
"Laboratory tests and imaging must be used judiciously and only if they will positively impact the overall management of the patient and enhance the patient's quality of life, taking into account the cost," the guides say.
Nicholas Abinya of the University of Nairobi and author of several training books on cancer and one of the architects of the national cancer management guidelines, says health care workers have the duty to give full disclosure to their patients.
"It is very clear in the guidelines that patients are entitled to all information about their diagnosis, prognosis, treatment options and costs," said Prof Abinya. The cancer specialist caused a stir early in the year when he linked the female bra to breast cancer.
One problem for patients with cancer is the high cost of treatment even when it is not of any value and with or without which the patient will die. However, the new guidelines say active treatment for such a patient should be stopped.
The national cancer strategy says about 80 per cent of cervical cancer patients are diagnosed too late when treatment maybe of no assistance. For such people the guidelines say before any treatment is offered it must be justified that it will add value to the patient. Before any treatment is planned the patient must be informed its effect on fertility for example and potential for sterility and other side effects.
Ovarian relocation
"Options for sperm banking, ovarian relocation, and embryo preservation should be discussed with the patient," the guidelines say.
For the first time, the guidelines give a list of medicines and treatment protocols to health care poviders for most cancers found in Kenya.
"We looked for the best performing medicines and the most affordable drugs and if this list is followed we hope it will save lives and make cancer treatment much more tolerable," said Abinya.
It is government policy for cancer doctors to put patients on high quality generic medicines because they can reduce the cost of treatment by about 70 per cent.
According to Joseph Omach of Child Cancer Initiative, a group that assists poor cancer patients, the branded drug Zofran 4mg tablet for treating breast cancer will cost about Sh700 while the generic one will cost ten times less at Sh70. Branded Adriamycin 40mg will for example cost Sh2,850 while its copy will go for Sh1,300. Unfortunately, says a senior doctor at Mbagathi Hospital, they are yet to see the guidelines which were published last year and neither do they stock the cancer medicines.
Related Topics