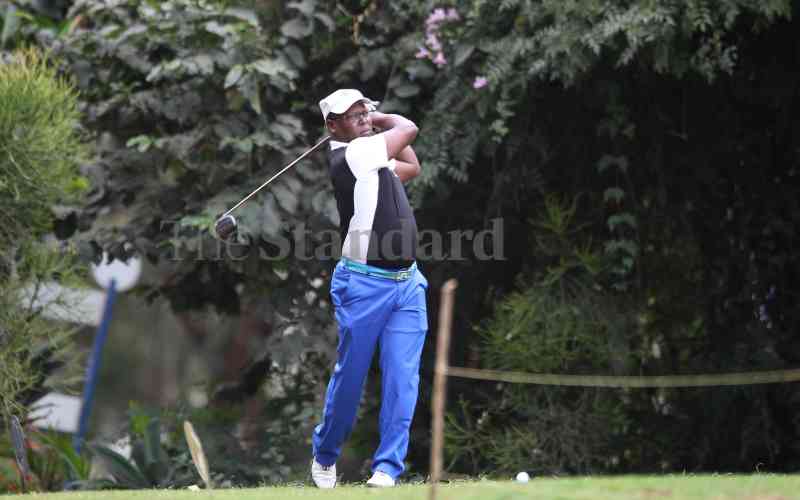 Home girl Zipporah Gathuya is the winner of the KenGen Golf Day tournament held at the par 72 Royal Nairobi Golf Club on Saturday.
Playing off handicap 34, Gathuya carded 17 points in the first nine and 24 at the back nine to beat other 214 participants on 41 stableford points.
"I'm elated with the victory, I had a very good four ball that kept me company," underlined Gathuya who edged Lady winner Lydia Mokaya on count-back.
"The opening nine was a little bit off, but the back nine was fantastic," the mother of four stated.
"Initially, I had no plans to take part in the event, but I was convinced by my friend Reuben Langat who is also the KenGen Golf Captain," she stated.
While preparing for the tournament whose theme was 'Business Tee-Off; Fostering Profitable Relationships and Partnerships' Gathuya put a lot of work in her short game.
"I had abit of practise on the course ahead of the championship which improved my game.
"Today, my putting was on point. It was one of those few days that everything goes well for you.
"I was all out to prove my son well as he had insisted I give good account of myself on the fairways," she underlined.
Gathuya had a hard time tackling par three hole six which she ended with a double bogey after going out of bounds and hitting many shots around the greens.
But the victory has inspired Gathuya who now targets to lower her handicap to 25 at the end of the year.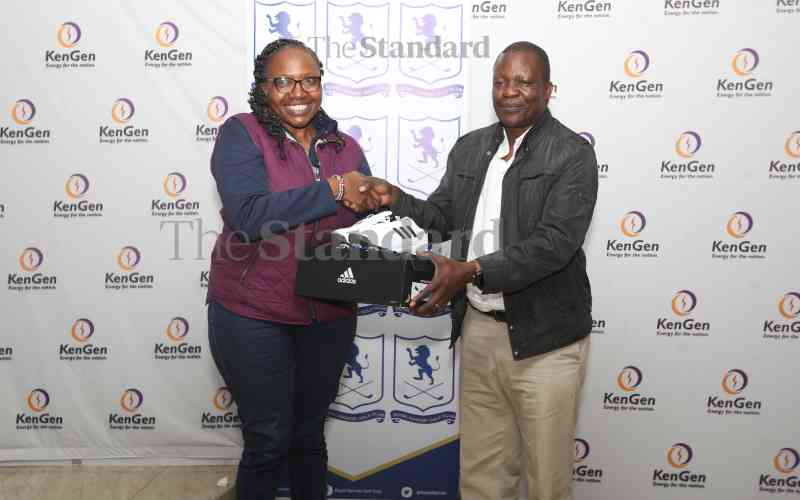 Gathuya started the season on a low after battling sickness for a while.
It was not until April this year that she resumed play, she was roughly welcomed with a piga mingi (best effort) finish in her starting Club Night.
"I have not played serious golf this year, so this victory shows I'm headed in the right direction," she stated.
Asked her thoughts about the KenGen Golf Day tournament, she stated: "The competition is excellent, the prizes are beautiful, I don't mind defending this trophy next season."
KenGen staff also took part in the epic contest at Royal.
They were led by their skipper Langat, General Manager David Muthike, Assistant Manager - Finance Charles Masio and Assistant Human Resource Manager, Thermal Region Mombasa Bethwel Ogwayo.
Other employees who battled on the punishing Royal course included Joash Mbogo, Bonface Kangangi, Nick Yegon, Daniel Tanui, Felix Kirui, Conway Kibet, Purity Kinoti and Eric Munyiri.
"The tournament is part of our Corporate Social Responsibility where we network with our clients.We take the opportunity to enlighten them on some of the services we offer," Langat highlighted.
The staff also planted trees on the lush course to support sustainable actions on climate change.
The energy providers have also adopted hole 17 at the golf course in support of sustainability.
"As you know, 87 per cent of our power is clean energy from renewable resources. We are happy to partner with Royal to promote sustainability which is online with our golfing mission," Masio highlighted.
The 2023 KenGen Golf Day tournament results at Royal
1.Overall Winner: Zipporah Gathuya - 41 stableford points
2.Men Winner: Apollo Asol - 39
3.Lady Winner : Lydia Mokaya - 41
4.Men Runner Up: Hesbon Odumbe - 38
5.Lady Runner Up: Nancy Karimi - 38
6.Division Four Winner: Lambert Oigara - 39
7.Senior Winner: Pal Thethy - 36
8.Junior Winner: Kevin Kogo - 32
Gross Winner: Serah Khanyereri - 76 gross
10.Sponsor Winner: Charles Masio -36
Sponsor Runner Up: Daniel Tanui - 36
Related Topics