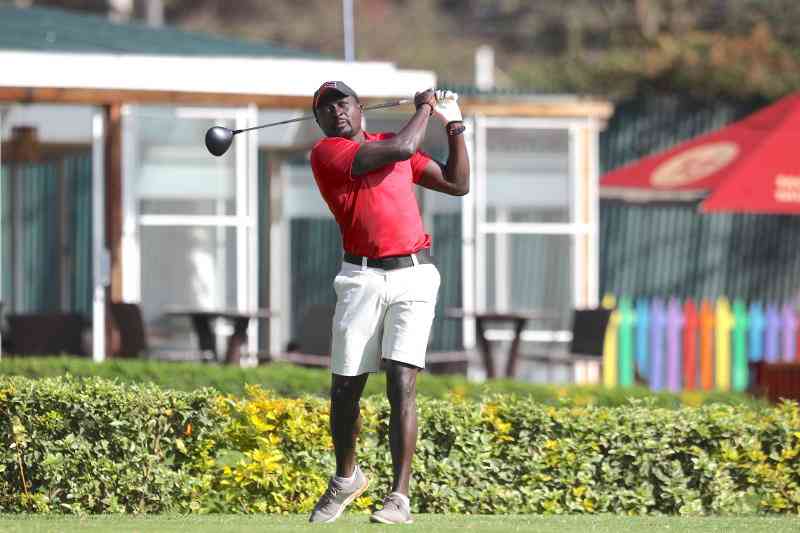 The National Cohesion and Integration Commission (NCIC) of Kenya held the inaugural International Day of Peace Golf tournament at the par 72 Railway Golf Club in Nairobi yesterday.
Kenya rugby legend Collins Injera, national golf pros Njuguna Ngugi, Felix George, Kevin Mabele and Samuel Njoroge were among the high profile players who contested for honours in the competition whose theme was "End Racism, Build Peace."
"The course is playing well, there's a lot of fresh air and plenty of sunshine which is therapeutic to the body," handicap 23 Collins Injera told Standard Sports during the game.
"Basically, I'm here to enjoy myself and support this peace initiative after a tough outing in the World Rugby Sevens in South Africa."
Home pro Ngugi was hopeful to have a good outing on the course which he said was in great shape following good green-keeping.
"I'm looking forward to having an exciting game, my aim is to fire a four under par today," Ngugi said before his tee-off.
Golf enthusiast, Tom Indimuli was happy to be part of the 140 contestants in the tournament stating that peace and sports go very much hand in hand.
"I thank the NCIC for coming up with this competition, it's a brilliant idea, very commendable," underlined Indimuli who was playing off handicap 18.
The NCIC Commissioner Sam Kona said they were happy to finally launch the tournament which is advocating for peace to continue prevailing after the recently held complicated general elections.
"We have decided to use golf to promote harmony because sports is a unifying factor for all.
"We are working to ensure this becomes an annual event with a great chance of it being a series in the near future," underscored Kona.
Kenya Railway Golf Club lady captain, Rose Omwanza, was happy with the full turn out for the event stating that women players had made her proud by registering in large numbers for the tournament.
Club vice chairman Ronny Maina thanked the NCIC for choosing Railway Golf Club as their launch pad for the contest.
"Our club is centrally placed, so it is easily accessible for all participants," said Maina.
"Despite the ongoing dry spell across the country, we have worked on the course which has a good supply of water. The most challenging hole for the golfers today is the par 3 hole 6 that has a water hazard in front and a bunker on the side.
"That's where we decided to place the pin position to give the participants some challenging moments on the pitch."
Related Topics