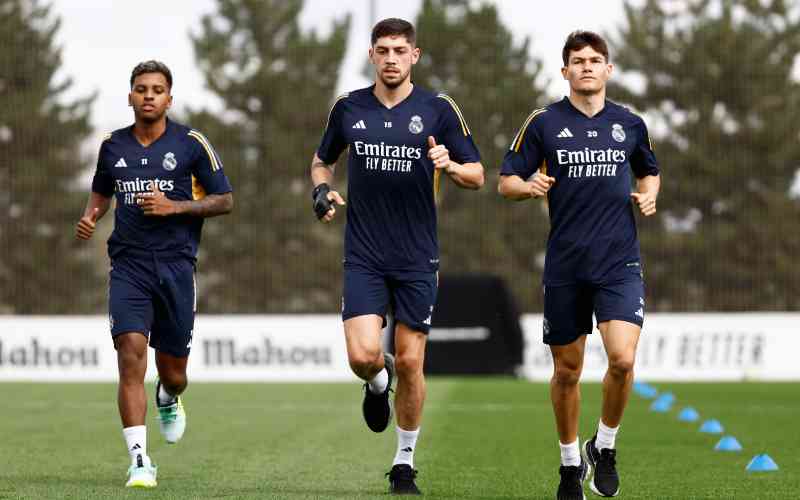 After a perfect start in the Spanish league with five straight wins, Real Madrid will look to keep its momentum going in the Champions League on Wednesday.
The record 14-time European champion kicks off its Champions League campaign against newcomer Union Berlin at home. It will be Madrid's 27th straight appearance in the group stage — and Union Berlin's first-ever game in the competition.
"The Champions League is a special competition for us, and we are going to treat tomorrow's game as something special," Madrid coach Carlo Ancelotti said Tuesday. "We want to get off to a good start in the group stage and we are playing at home. Our opponent is a well-organized, strong and solid side. We will need to play at a high intensity."
Madrid is enjoying a winning streak to sit at the top of the Spanish league.
"It's been a perfect start, five wins from five matches," said Jude Bellingham, the club's new signing who has thrived early on. "It's important we keep it up. With the support of our fans and the quality of the players here, if we keep going like this, we'll be on the right path."
Bellingham, who will play his first Champions League game for Madrid after arriving from Borussia Dortmund, scored five goals in the team's first four league matches and has been a key factor in the team's hot start.
Madrid's league wins came against Athletic Bilbao, Almeria, Celta Vigo, Getafe and Real Sociedad, with Ancelotti's team having to come from behind in three of them. Madrid outscored its opponents 10-3 and is the only team with a perfect record in the league.
It will be Madrid's first match against Union, which qualified by finishing fourth in the Bundesliga for its highest league result. Union is enjoying its third consecutive season in a UEFA competition, and fourth overall.
"They are a new team in the Champions League but the fact that they are here means they have done very well," Ancelotti said. "They are well-organized defensively, they are solid and they play with intensity. We have studied them carefully and hopefully we can put in a good performance tomorrow."
Madrid last failed to reach the group stage back in 1996-97. It has advanced from its group every time since then, having reached at least the semifinals in the last three seasons.
Madrid is still without forward Vinícius Júnior, and defender Dani Carvajal is also out because of a muscle injury sustained in practice on Tuesday. Ancelotti said Carvajal will be replaced by Lucas Vázquez.
The other Group C teams are Napoli and Braga, which play in Portugal on Wednesday.
After Union, Madrid's next match will be the city derby at Atletico Madrid in the Spanish league on Sunday.
Related Topics