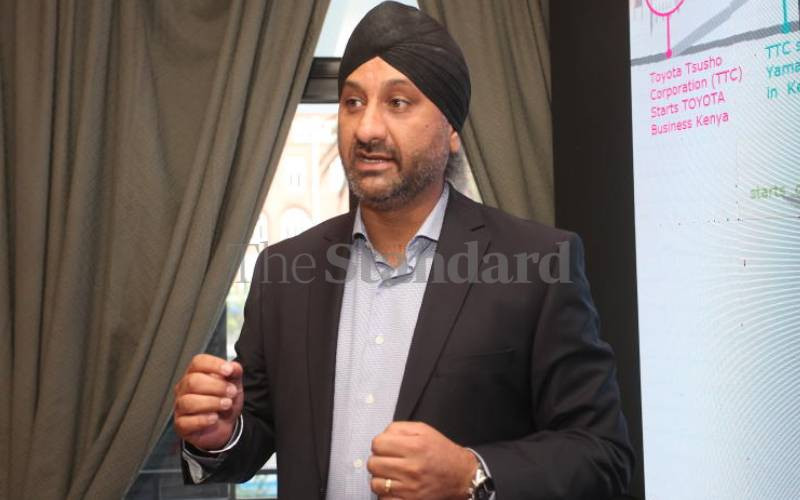 Arvinder Reel's face lights up like that of a toddler unboxing a new toy when asked about his first car. It is no coincidence that the future Managing Director of one of Kenya's biggest auto dealers first owned a Toyota EE90.
To him, the brand represented reliability and durability. "We souped it up," he says, alluding to the alloy rims and modified exhaust pipe the car was fitted with.
It was a big boys' toy he co-owned with his brother, courtesy of their father. "We put a copper exhaust pipe so that when driving on the highway, you could hear that rally car sound. And when we accelerated, you would hear the anti-lag," says the man whose passion for rallying is evident.
Today, Mr Reel, the Managing Director Cfao Motors Kenya (formerly Toyota Kenya), drives a Land Cruiser 300, a major upgrade from the Toyota EE90.
The Landcruiser is an SUV (sports utility vehicle) that oozes class and power and does not need a rattling and creaking copper exhaust to be noticed.
It will be six years in July since Mr Reel took over Cfao Motors Kenya as the first Kenyan Managing Director.
Local dealership
When asked about his journey to the top of the local dealership for the popular Toyota, Suzuki, Yamaha, and Hino Japanese brands, he turns philosophical.
"When you are running a race and you stumble on something, the quicker you stand up and continue running is what will differentiate you from others," he says. He steered the auto dealer through the difficult Covid-19 period and the rebranding from Toyota Kenya to Cfao Motors Kenya last year, a period he admits was a cocktail of challenges from the shortage of microchips to the August polls and the dollar shortage crisis.
But looking at the numbers, Mr Reel says it was not all gloom. "In 2022, we sold 2,722 vehicles in comparison to 3,238 vehicles in 2021. It shows we might have achieved 84 per cent of 2021 results. But in 2021, we had the National Police Service tender in which we supplied 681 vehicles," he says.
"So if you remove the 681 vehicles, we are left with 2,557 normal sales. We grew from 2,557 vehicles in 2021 to 2,722 in 2022, which is a 6.4 per cent growth."
And while remaining positive about 2023, he reckons the industry is not yet out of the woods. "The Original Equipment Manufacturers (OEMs) still have some production constraints. On the local scene, we see a huge impact on the exchange rate on the back of a depreciating shilling, and there are no dollars in the market," says Mr Reel.
"Despite that, we are positive because of our agility nature and entrepreneurial value, so we will still be able to grow."
Part of the growth strategy involves pushing the now Cfao Motors brand in the market, an uphill task, considering the company's popular tagline that "the car in front is always a Toyota" when it traded as Toyota Kenya.
Not many Kenyans have come to grips with Cfao Motors in terms of what the brand stands for, with some questioning whether Toyota Kenya, for long a mark of reliability, has exited the local market.
"It is still something that we are trying to market. It is not a common name as Toyota Kenya was really a strong brand name," says Mr Reel. Cfao stands for Corporation for Africa and Overseas.
He explains that one of the reasons for rebranding was so that the company could gain a solid footing in the evolving mobility value chain - both locally and internationally.
Yamaha, Toyota, Suzuki and Hino are the brand under Cfao Motors Kenya.
The changes also happened internally. "We want to be a company where people love to visit and our staff like to work. Since rebranding, some of the brands that were struggling like Suzuki have come up," says Mr Reel.
The company hopes to market the various brands under the umbrella of Cfao Motors while riding on the strengths of individual brands, especially Toyota.
"And it's a journey. Toyota is a brand that has been built for many years. It started way back in 1964," he says. "It is not easy to just do away with Toyota."
Pre-owned vehicles
The rebranding gave way to a new business line, Automark, which imports pre-owned vehicles as the company seeks to tap into the second-hand vehicle market in the country. While Mr Reel notes this has not been an easy journey, he is quick to point out that the business line is becoming self-sustainable with average annual sales of 300 units. "It has been a difficult journey. As good corporate citizens, we abide by all the rules, regulations and taxes, although we feel that there is no levelled playing field," he says.
"Despite that, Automark is growing. We are happy with where it has reached and it is now a self-sustaining division within the Cfao Motors Group."
Unlike other businesses, Mr Reel says, all vehicles imported through Automark have a proper history as they are not pre-accident, are of good quality, have genuine mileage and come with a six-month warranty.
Considering Kenya's automobile market is largely second-hand, which Mr Reel says is still growing, he notes that limiting the age of imported vehicles and implementing the automotive policy could immensely benefit the industry.
Mr Reel says the Buy Kenya, Build Kenya campaign aimed at promoting local brands over imported ones should be encouraged.
Related Topics