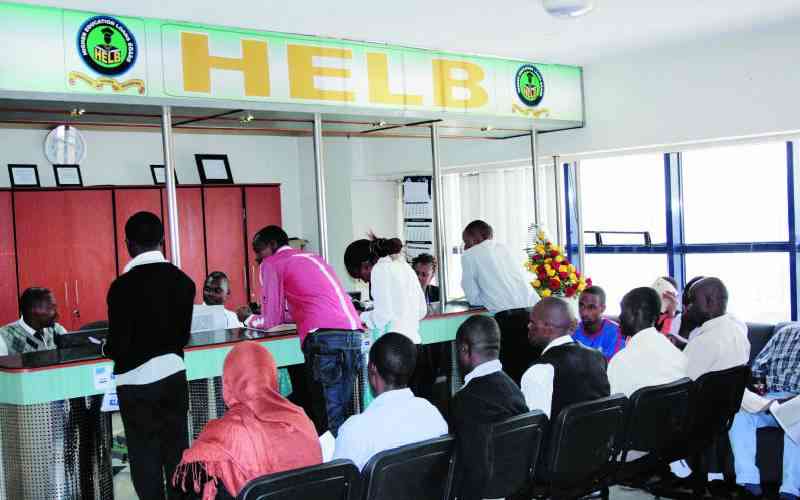 Students admitted to universities from September will have huge loans burden after graduation. The new university entrants will be slapped with heavy student loans after completing their education.
Under the new funding formula, 95,000 students who sat 2022 KCSE examination will majorly depend on student loans to finance their university education.
An analysis by The Standard comparing the loan burden reveals that upon graduation, for example, two students pursuing a medicine degree at JKUAT will have different debt burdens.
The difference in loans is a shocking Sh1.3 million; but it will depend on how the government classifies the learners in assessing their need for financial assistance. In essence, university students will take the same course but end up with a different loan burden upon graduation.
The formula has classified students in four categories which will influence how much money they get in government scholarships, loans and amount they will pay out of pocket.
The four categories are vulnerable, extremely needy, needy and less needy.
Learners categorised as vulnerable and extremely needy will be the biggest winners of the new formula as they will not pay anything out of their pockets. Instead, their fees will be partly drawn from student loans and government scholarships.
Loan breakdown
For vulnerable students, they will get 82 per cent of their fees covered by government, money they will not be required to pay back.
The remaining 18 per cent will be paid through a student loan; which upon completion, the students will be slapped with loan repayment.
This will mean a student admitted to pursue medicine at JKUAT or Kenyatta University with fees at Sh612,000 will settle his/her fees in the following fashion; The government will pay fees through a scholarship of Sh501,840 and student will get Sh110,160 as a loan.
In six years, the medical degree programme takes, the student will have a debt burden of Sh660,960.
Extremely needy
For the extremely needy students, the government will give them 70 per cent of the fees through scholarships which again will not be payable at the end of their education.
However, the remaining 30 per cent of the fees will be catered for by loans repayable when they complete.
A student taking the same course in this category will be awarded a scholarship of Sh428,400 and a loan of Sh183,600.
In six years, the total loan will be Sh1,101,600.
However, the yoke of student debt will be on the two last categories;
In their explanation, the Higher Education Loans Board (HELB) indicates these categories will need little to least financial support to navigate their university education.
Needy students
Students from needy households joining universities will receive government scholarships of 53 per cent and loans of up to 40 per cent. Their Households will only pay for seven per cent.
This will mean, a student admitted to pursue medicine at JKUAT or Kenyatta University with fees at Sh612,000 will settle his/her fees in the following fashion; get Sh324,360 in government scholarships, Sh244,800 in loans and the parent will pay Sh42,840 as direct fees. Given that medicine degree programme takes six years to complete, the student will owe Sh1,946,160 in loans.
Less needy students
On the other hand, the less needy students joining university are to be funded through a government scholarship of up to a maximum of 38 per cent of the cost of the programme, and 55 per cent in form of loans. Their parents will pay seven percent of the fees.
Practically this will mean that less needy student paying Sh612,000 as the tuition fees will get Sh232,560 as government scholarship, Sh336,600 as loans and Sh42,840 as direct fees.
This student will upon graduating owe the Higher Education Loans Board Sh2,019,600 of the student loan.
An analysis by The Standard, of these students pursuing a medicine degree at JKUAT or Kenyatta University and sitting in same class, will have loans ranging from Sh660,960 and Sh2,019,600.
This means the students will have a disparity of Sh1,358,640 despite pursuing the same degree course exposing the huge disparity in loan burden students will face upon graduation.
Criticism
Critics say the disparity could create a funding problem as thousands of students are unable to repay their debts upon graduation.
Also, the rising cost of living has been cited as a possible caveat in the new student loan regime with opponents saying it will stretch out graduates.
Proponents of the new funding formula consider student loans to be an avenue that provides economic opportunity to people who might not have been able to attend college otherwise.
With HELB designed to be a revolving fund, questions over the students ability to match the repayment for the funds to be available for new entrants in the subsequent years.
Critics argue that the funding formula could cause problems that may persist for decades to come.
HELB previously indicated the students will get a one year grace period before they can start repaying the loans.
This means, a student pursuing a four-year degree programme will start repaying the loan on the sixth year from the time they joined university.
This means in the first five years of the new funding formula the outstanding student loans will not require any payment at all, either because the student is still in school or because the student is still serving the grace period.
On Monday, HELB chief executive Charles Ringera said universities have offered a 15 per cent discount on all courses.
He spoke at the release of the placement of candidates who sat 2022 KCSE exam to colleges and universities.
In effect, the students will shoulder hefty debts which they will be required to start servicing/paying back a year after graduation.
Now, concern lies on an imminent student debt crisis pegged to the graduate unemployment levels coupled by the increased cost of living.
This could especially pose a problem to graduates who take long before earning an income.
Related Topics