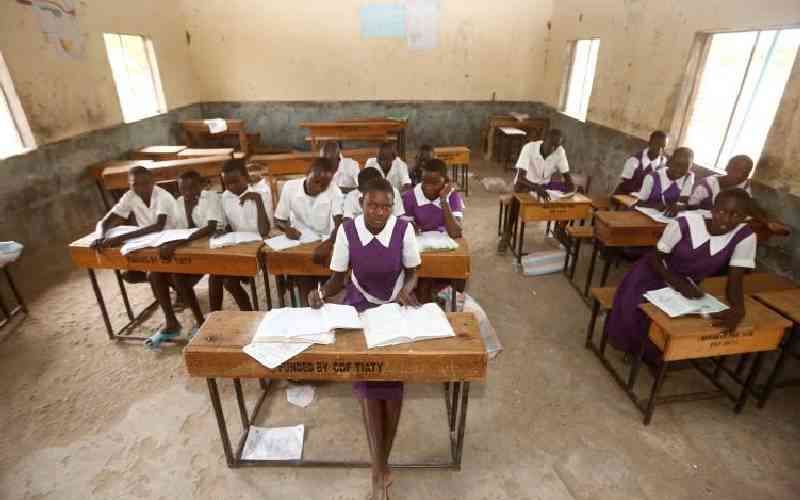 Today marks the start of written national examinations for Grade Six, Standard Eight, and Form Four candidates across the country.
As the learners begin to write their exams, a number of them in Tiaty, Baringo County are facing numerous hurdles.
Before the closure of learning institutions last week, schools in the region recorded high numbers of absenteeism due to drought, with learners seeking transfers to institutions with feeding programmes.
A number of schools that had not received food rations reported mass dropouts, with some suspending afternoon lessons altogether.
Dominic Likulu, a teacher at Chesakam Primary school, says the last food ration the institution received from the government was in April this year.
"Most parents refused to release their children to school in the just concluded term because we had no sufficient food. They preferred to move with them from the area in search of food, pasture, and water for their livestock," he said.
Mr Likulu says lack of food has seen a large number of children dropping out of school.
"At the beginning of the year, we had 300 pupils but that number has declined to about 100. The pre-school section which had around 100, now has only 20 pupils," he said.
The teacher noted that Grade Four had 24 pupils but by the end of the academic year, only 14 pupils were attending school.
The school has 18 Standard Eight candidates, and another 21 Grade six learners waiting to sit their exams today.
From his own admission, it has been challenging to keep hungry children in school.
"We sympathise with their situation, and the only option is to release them early because half of those determined to attend classes daily do not even go home at lunchtime because they live far away," he said.
He said they had done their best to prepare candidates but are unsure whether three candidates in class eight and another two in Grade Six will sit the exams.
Irene Chepukat, 14, will be among the candidates sitting today's KCPE exams at Chesakam Primary school.
Although determined and ready to sit the exams, Chepukat appears frail as it is evident she had not eaten anything for days.
She has been surviving on water and occasionally the teachers manage to contribute some money and prepare a meal for a few candidates left in school.
"I am used to having one meal a day. I have trained myself to stay in school and study ahead of the exam. Luckily we have a borehole where we get clean water, which has really helped us. As for food, that depends; on a good day we get well-wishers and the teacher who prepare a meal but most of the time, the water comes in handy," she says.
Chepukat and her classmates are confident they will pass their exams despite the challenges.
Chepukat's dream is to join Moi Girls Eldoret and then become a doctor.
Christopher Kapkomor, 17, is another KCPE candidate at the school and he says he is ready for the exams despite the challenges they are facing at the school.
"I am ready for the exams. I try as much as possible to ensure that I attain good marks to get placement in a good secondary school out of Tiaty," says Kapkomor, who walks four kilometers to school daily.
He told The Standard that besides hunger, the area is also facing insecurity due to cattle rustling, which he said has affected the distribution of food aid in their school.
Kapkomor claims some of his peers call him a coward because he has chosen education over cattle rustling.
"My peers laugh at me and they always say that I'm wasting my time here at school instead of taking care of my family's livestock. Being the only child who has gone to school, I want to prove to them that education pays," he added.
His dream is to join Kabarnet Boys High School and later train as a teacher so that he can help his community see the best in education.
He and other candidates are appealing to the government to provide them with relief food during the examination.
A spot check revealed that a number of schools in the area have no food and have few candidates in school.
Robert Maritim, Tiaty West Sub-county Director of Education said that the area has 80 public primary and three private schools.
Maritim said that 632 KCPE candidates, and 901 Grade Six candidates will be sitting the examinations in the region.
"Luckily this year the drought was not that severe. A number of boreholes with water levels are still okay, most of our schools are still getting water, the ministry of education is currently distributing food which helps in retention, but when the drought is severe the school attendance drops," he said.
A local administrator says most afternoon classes were frequently suspended due to the low number of learners.
Related Topics