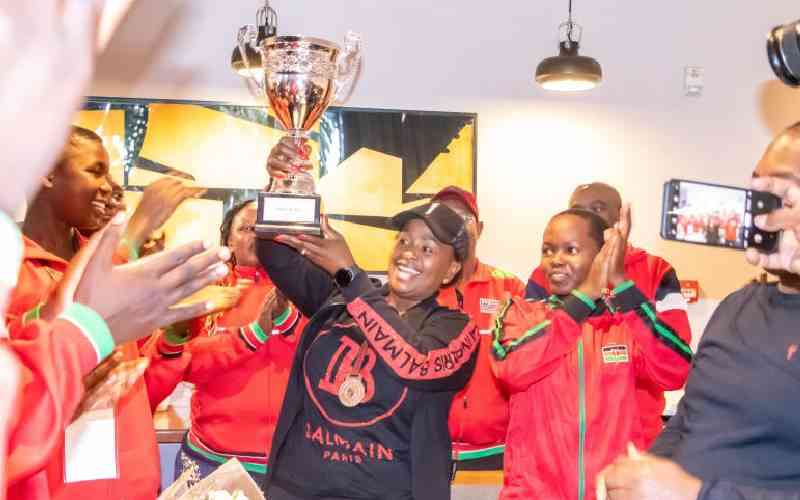 Six-time East Africa Secondary School Games volleyball champions Kwanthanze Girls are now African champions. The girls' volleyball team thrashed hosts Morocco 3-0 to clinch the African School Games title in Casablanca.
Kwanthanze Girls under coach Justine Kigwari have made Kenya proud and demonstrated the raw talent among our juniors. Kigwari, who has been nurturing players for top Kenyan women volleyball clubs and national team Malkia Strikers, was quick to note support from Machakos County Government and volleyball fans helped achieve this success.
The girls have also proven that hard work, discipline and facilitation are key to any success in sports. Machakos Governor Wavinya Ndeti came through, paying for the team's air tickets to Morocco. This would have been an uphill task for the school or the team's parents.
County governments have been challenged to support sports in their jurisdiction to expose latent talent in various disciplines. If all the 47 counties put more resources in nurturing talented youth, they could become hubs and feed into the national teams.
Governors should forge partnerships with corporate bodies, individual business people and philanthropists to nurture talent. For instance, they could form county teams in all sports and organise regular competitions besides the annual county games.
This will attract sponsors and television production teams to county sporting facilities. Popular league games like the English Premier League, La Liga and the Bundesliga initially started as competitions between regions. They then grew financially, attracting big money in TV rights, gate collections and sponsorship.
The same can be replicated here, but only if the county leadership are interested in developing talent and avoid political witch-hunt and corruption that stifle any kind of growth. This usually happens when a tournament becomes big and attracts enough fans and able investors.
By venturing into the continent and clinching the top slot, Kwanthanze must have shocked their Moroccans rivals. In Morocco, sports is serious business and the government has spared no effort in supporting all sports disciplines.
It is no wonder that the Morocco became the first African country to reach the World Cup semi-finals, last year. Morocco has invested heavily in sports infrastructure, including academies, modernised their stadiums and built more facilities. Indeed, Morocco has even bid to host the World Cup.
Kenya can do the same if there is enough political goodwill and commitment. Sports Cabinet Secretary Ababu Namwamba has his work cut out. He should work round the clock to get enough resources to sponsor teams to international assignments and build more sports stadiums. It is not enough to look back at past mistakes and resign to fate. One step in the right direction has been taken by Kwanthanze Girls!
Related Topics