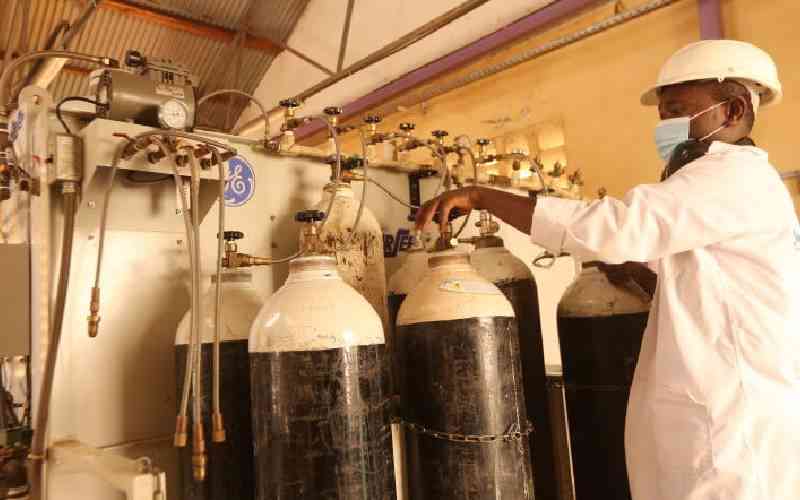 At the height of the Covid-19 pandemic in 2020, the growing need for oxygen by Intensive Care Unit (ICU) patients led to many counties building oxygen plants.
For instance, a Sh14 million oxygen plant was factored into the Moi Referral Hospital by Taita Taveta County.
However, three years later, and long after the World Health Organisation (WHO) declared an end to Covid-19 as a public health emergency, the oxygen plant is not operational.
Instead, it has been written off, with experts saying it is not cost-effective to repair or maintain.
In a report to the County's Health Department, Moi County Referral Hospital Bio Medical engineer Moses Mutua said maintenance of the plant was too expensive.
"After several consultations with experts from Amref and MoH (Ministry of Health) who were on supervision of matters oxygen infrastructure, it was agreed that maintenance of the HP45 refill station has become expensive with no positive results, hence not cost-effective," reads the report by Mutua.
"The oxygen supply should be directed only to wards without refilling cylinders or the plant to be moved to another facility with low oxygen demand."
The report says since the project contractor, Finescope Limited, could not repair the refilling station after several unsuccessful attempts, another company, Resonance Medical Limited, was given the work.
As Resonance conducted some tests on the plant, the air compressor seal was broken, and the oil spilt out. In the end, the firm was not able to fix the machines and the plant was written off.
A county official who asked not to be named because of the sensitivity of the matter said there is a proposed plan to set aside a budget running into millions towards maintaining the plant that has been pronounced faulty beyond repair by several engineers.
The county now has to spend extra cash to purchase oxygen from the British Oxygen Company (BOC) in Mombasa for patients who need it or those in ICU.
Most of the patients travel to hospitals in Tanzania or Mombasa when they need oxygen.
A report by Taita Taveta County Assembly's Committee on Health and Sanitation Services, dated April 2023, says the oxygen plant at the Moi Teaching and Referral Hospital was grounded because the refilling station and air compressor were not working.
The committee chaired by Wusi Kishamba ward rep Duncan Wangama said in the report that four parts of the plant need servicing before it can operate again.
The plant was to serve the hospital and other facilities in the county.
Kenya National Union of Nurses Taita Taveta Branch Secretary Richard Nyambu said oxygen consumption at the hospital is high and it is unfortunate that the plant is not working.
"We are not producing oxygen from within the county and have to buy from BOC in Mombasa, which is very expensive," said Nyambu.
Related Topics