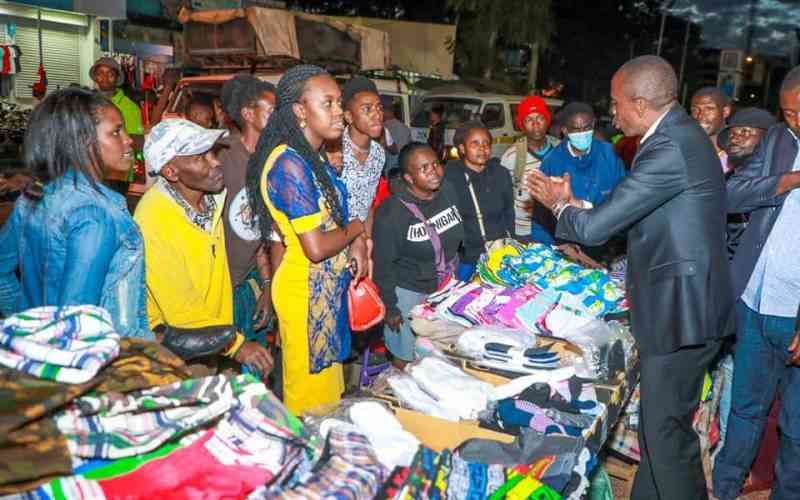 Prior to the establishment of county governments, no hawker was permitted to sell goods within Thika's orderly central business district.
The law was strictly enforced by municipal council enforcement officers who were always dressed in uniform, firm and unyielding.
Hawkers were only allowed to sell items at the bus stop because enforcement officers would confiscate their goods if they were caught breaking the law.
"We used to sell sweets and roasted peanuts only at the bus park; if an officer found you anywhere within the town area, he would confiscate your goods and take them to the municipal council hall across the road," said Kenneth Kamau, who now sells his wares at designated locations throughout town.
Former hawker Francis Ngunjiri said when the town clerk was in charge of municipal operations, the enforcement officers were dedicated to their work, and once a hawker's goods were seized, it was difficult for them to get them back.
Since the municipal council lacked a court to prosecute offenders, the method used to deter hawkers was the confiscation of goods with little physical harassment, in contrast to the situation in Nairobi.
Errant traders in Thika would eventually get tired of losing stocks to the unyielding officers. "If you couldn't sweet-talk the ruthless officers and get your goods back, they'd rot in the hall or be taken to a children's home," Ngunjiri said
Turning tables
However, things changed with the introduction of devolution, as well as a few months before and after the 2013 general elections, when a few traders began displaying their wares in the busy streets of Thika town.
They would play hide and seek with county askaris, but they eventually got protection from political aspirants who reprimanded the officers and asked them to allow the hawkers to sell their wares in peace.
The hawkers took advantage and flooded the town, selling their wares from early morning until late at night, fighting for space while others sold off spaces to the less fortunate.
The informal traders, on the other hand, are said to have sold their goods at a lower price than the shop owners while also preventing potential customers from seeing their stalls.
According to Thika Business District Association chair Alfred Wanyoike, 17 formal traders closed shop in September due to unhealthy competition from hawkers.
Wanyoike said hawkers do not have to pay as much in licence fees and levies as their formal counterparts, who have leased business premises and bills and workers to pay at the end of the month.
Aside from those who have closed their shops, others have relocated to fast-growing towns like Kenol in Murang'a county where competition is not as fierce. Others have been forced to subdivide their shop stalls, Wanyoike said.
A stall in Thika town costs between Sh8,000 and Sh15,000 depending on location; most are rented by young people who sell phones and accessories, while others sell clothes and shoes.
Efforts by the first county administration, led by William Kabogo, to evict hawkers from town resulted in a series of protests that were politically draining, and the tough stance had to be dropped.
The county administration later met with the traders, allowing them to sell their wares beginning at 5.30pm, a provision the hawkers would later violate by opening early in the morning.
"Hawkers from Githurai, Juja and Ruiru joined in especially after the harassment in Nairobi. Newcomers messed up every agreement in the book hence the chaotic state this town is in," said James Mburu who sells clothes.
When Ferdinand Waititu was elected as governor, one of the promises he made to the hawkers was to relocate them from CBD and allocate them a space in one of the municipal estates. However, this did not happen, and he once advised hawkers to subdivide private land at Njomoko on the Thika superhighway, at the town's entrance from Nairobi.
The improvised structures were later demolished on the orders of the landowners.
Campaign issue
Every election cycle, any politician seeking to be elected as Kiambu governor has promised to relocate the informal traders while criticising the ruling regime for harassing them.
Once in power, the cycle continues as county askaris intimidate and evict hawkers. In a new directive issued by the Kiambu County government on October 5, Thika sub-County administrator John Mungai issued a public notice to all traders and food vendors requiring them to vacate the streets and verandas.
"It has been observed that there is a lot of congestion in Thika town, which has been brought about by traders selling their merchandise along the streets and rampant food hawking in town," read a portion of the notice which was to take effect on October 12.
It required them to relocate to Moi market, also known as Mukiriti, and anyone found trading along the streets and walkways would face legal consequences. The notice elicited mixed reactions from traders, who vowed to retaliate.
However, Governor Kimani Wamatangi organised a meeting with aggrieved traders to preempt the demonstration. The heated meeting, which took place at Thika town hall chambers, lasted more than four hours.
Since then, enforcement officers have been patrolling the Thika CBD, arresting those who violate the new order allowing hawkers to operate beginning at 6pm.
Whether the truce holds, and for how long, remains to be seen.
Related Topics