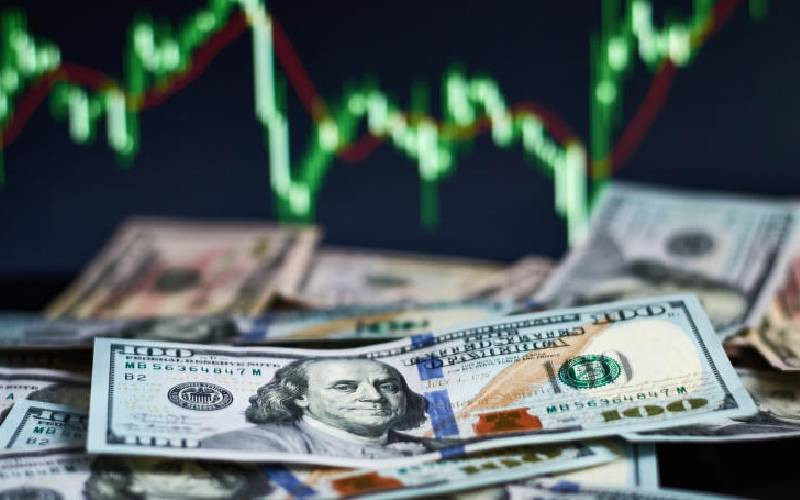 Retail dollar buyers are paying up to Sh134 per unit in Kenyan banking halls as the demand for the greenback continues to surge.
This is as the margin between the US dollar's printed rate by the Central Bank of Kenya (CBK) and the market rate for customers quoted by banks and foreign exchange bureaus continues to widen.
Several large banks are now selling the dollar at between Sh133 and Sh134 per unit, while buying the same at between Sh118 and Sh123, with bankers and forex bureaus saying the higher prices have been driven by demand and the cost of accessing the hard currency on their part.
The official shilling-dollar exchange rate published by the Central Bank of Kenya (CBK) stood at 124 units yesterday (Thursday).
The shilling has been in freefall against the dollar since the beginning of last year, attributed to strong demand for the US currency.
Stanbic Bank and Co-operative bank quoted the selling price of the dollar at Sh133 and Sh134 per unit respectively yesterday, while buying at Sh123 and Sh118.
Equity Bank was selling the US currency at Sh129 per unit and buying at Sh118, as per quotes listed in its banking halls.
A spot check showed Family Bank was selling the dollar at Sh129 per unit and buying at Sh126 per unit. On the other hand, most foreign exchange bureaus are buying the dollar at Sh129 and selling at Sh126.
The higher effective rate for those buying dollars in the market had been highlighted last year by importers. Access to the greenback had previously also proved difficult for some due to banks being unwilling to sell to each other, which made it hard for smaller players to fulfil their orders from clients.
The volatility in the exchange rate market has slowed dollar trading among lenders or interbank deals, causing a scarcity of the US unit.
Last year, manufacturers had complained that a dollar shortage was forcing them to buy the greenback at a premium to the CBK's official average exchange rate.
The regulator, however, dismissed the possibility of a parallel exchange rate developing in the country, saying the market has enough dollars to meet demand from importers and corporates.
The CBK maintained earlier it is committed to a flexible exchange rate and would continue on this path.
The widening of the bid-ask spread — the difference between the price a dealer buys and sells a currency — in the foreign currency to a margin of nearly 16 is also indicative of the high demand for dollars amid a perceived drop in supply, according to bankers.
The scramble for the dollar means that buyers — both for trading and hedging purposes — keep bidding higher for the currency.
By the end of July, foreign deposits in local banks stood at the equivalent of a record Sh922 billion as of last November, according to CBK data.
Related Topics