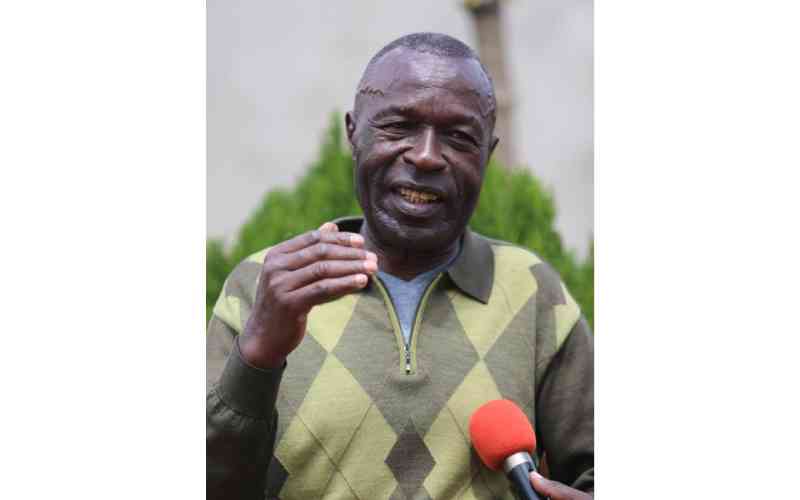 When sports enthusiasts talk about 10,000m, names of legends such as Naftali Temu, the first Kenyan to win an Olympic gold medal in the 25-lap race, Henry Rono and Paul Tergat pop up.
Yobes Ondieki, the man who broke a six-day-old 10,000m World Record in 1993 (in Oslo) does not often feature prominently.
Ondieki, who has lived in Eldoret since 1998, three years after retiring from the sport, opens the main gate to his home at Baraka Lane in Elgon View Estate as he offers Standard Sports a warm welcome.
And when we call him by his familiar name, Yobes, he quickly clarifies that he had acquired a new name.
"I am now called Jabez Ondieki. I was baptised recently and I had to change my name from Yobes to Jabez. Yobes was a unique and cool name during my prime, but as age advances, things change," Ondieki says with a broad smile as he usheres us into the compound of his residence for an interview.
Standard Sports takes you to the world of legendary athlete Jabez Yobes Ondieki.
From a humble background in Wanjare, Kisii County, to a 5,000m world champion in 1991 and a 10,000m world record holder in 1993 and to a successful businessman in Eldoret.
He also opens up on his former wife, Australian marathoner Lisa Martin and how their fallout almost led to his arrest in the US and to battling a life-threatening illness that left him with blurry vision.
Ondieki, 62, is recovering from an illness that he says kept him in and out of hospital and confined him to his house and neighborhood since 2017.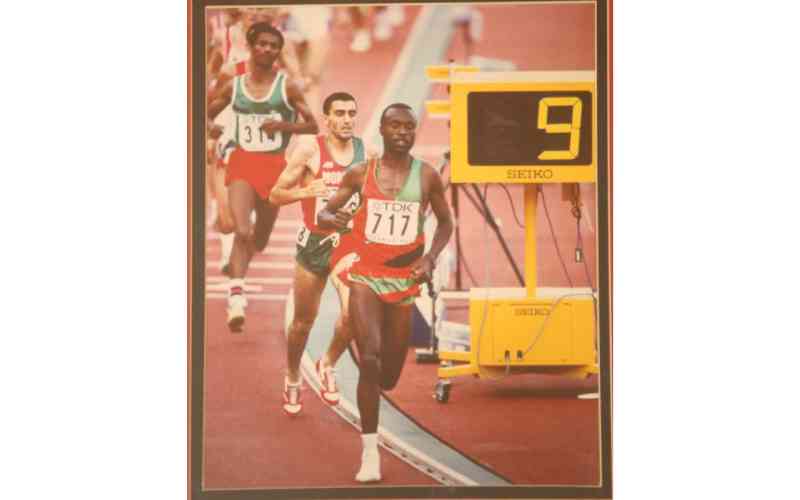 His fighting spirit remains phenomenal. He battled the unanticipated ill health that started six years ago.
"I collapsed and I found myself in a hospital bed. I am now thankful that my recovery is smooth. It affected my eyesight and that is why my vision is blurred," Ondieki says.
He reminisces about the 10,000m world record-breaking moment at the Bislett Games in Oslo on July 10, 1993, where he also became the first man to run under 27 minutes in the 25-lap track race.
He set the record at 26:58.38, chipping nine seconds off the previous mark by Richard Chelimo in Stockholm on July 5 that year.
Ondieki remembers running a constantly faster, and blistering speed that propelled him to the 10,000m history books.
He prepared for the record-breaking moment in Iowa, USA where he lived from 1981 when he was a university student to 1996 when he left the Western country for Kenya.
"I went into the games in Oslo tired after rigorous training. I had changed my training programme and was prepared for that historic moment alone, without teammates around me."
"Richard Chelimo had broken the world record just a few days earlier in Oslo and my aim was to lower the mark by only two seconds, but surprisingly I smashed it by nine seconds. I ran from behind until half of the race when I made a move and kept the momentum. My speed was devastating to the strong field," Ondieki said during the interview.
He describes the 10,000m world record moment as extraordinary, saying he ran without a pacesetter.
The record was lowered a year later, also in Oslo by William Sigei of Kenya, who clocked 26:52.23, on July 22, 1994.
During his prime, Ondieki was married to Australian marathoner Lisa Martin but fell out after a disagreement in the US. The couple had a daughter, Emma Ondieki.
On what caused his fallout and later his divorce with Lisa, Ondieki says his ex-wife was allegedly misled by foreigners who had schemed to taint his image.
Ondieki alleges that the former wife sided with a group of foreigners who had sought to investigate why he (Ondieki) was displaying superb 10,000m running power yet he had no athletic physique like other long-distance athletes.
"I was being fought by foreigners including her (Lisa's) compatriots who wanted to investigate my athletics career in the name of doing research and I refused to cooperate with them because I had heard stories of people being introduced to doping through such schemes," the retired athlete discloses.
"I had left the US for a race in Europe amidst the differences with Lisa and upon arrival, I found an unhappy wife. She was preparing to compete in Australia, but she didn't want to talk to me because of my hard stance on the proposed 'research.' It was a bitter fallout and an angry FBI agent came to my house after Lisa had left and threatened to arrest me."
"The agent addressed me using unprintable words and almost degenerated into an altercation. He promised to return in one week after taking away several documents from me. He came back again in a week and found me reading a Bible. He asked me to sign his autograph and left me alone. I later left the US for good in 1996, and returned to Kenya."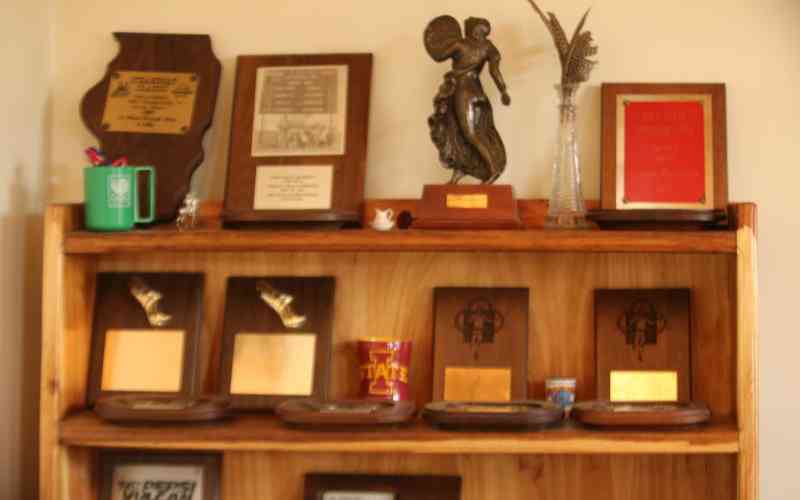 Ondieki says he did not regret his separation with Lisa, a woman the Kenyan legend says he helped shape her long-distance career while they trained in the US.
He says he has never met Lisa and his daughter Emma after the fallout and divorce in the mid-1990s.
"We had lived with Lisa for five years, and I played a positive role in her career. I was saddened that I became a bachelor again, but I moved on," said Ondieki.
The legend is now married to Miriam Ondieki and have three children. One is a student at St Patrick's Iten, another is set to join a local university and another is a student nurse. He is also a father to two adopted children.
He was an outstanding athlete at Ekerubo Primary and Sameta High School and competed at the regional and national games, a fete that endeared him to Iowa State University where he pursued a degree in Marketing from 1982 to 1986 while competing for the institution in University Games (The National Collegiate Athletic Association (NCAA).
Ondieki received All-America accolades six times at Iowa State, coming close to titles in several championships during his stint in America.
"Life was so difficult for me at a young age. I did not get to know my biological father. I was raised by my mother and maternal relatives. I can't describe myself as a lucky man, but blessed," he says.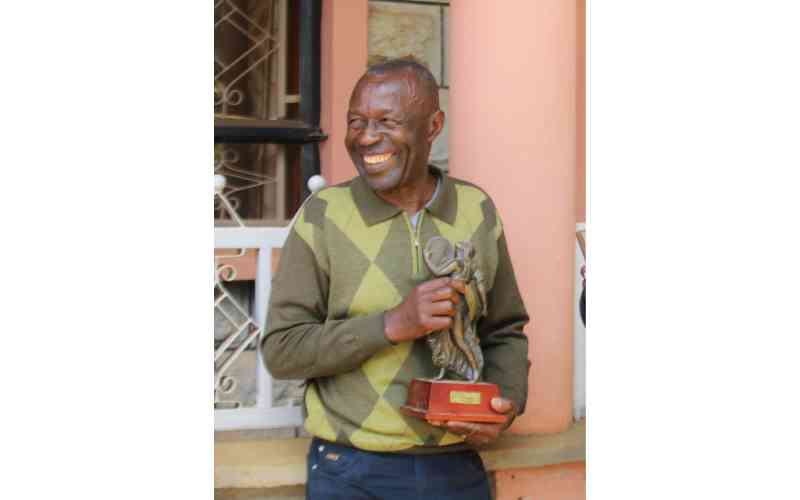 At Iowa State University, Ondieki was coached by athletics tactician, the late Bill Bergan ((April 1, 1942 – November 22, 2022) alongside other Kenyans including Barnaba Korir (Athletics Kenya Nairobi region chairman), Richard Keitany and John Sirma among others.
He says he was happy with his earning from athletics during a period when racing opportunities were few.
He says upon return to Kenya in 1996, he embarked on real estate business; buying, developing and selling land in Eldoret. He says he also earns from his rental houses.
He had a stint in coaching but quit in 2006 to focus on business.
Ondieki says athletics remains Kenya's source of pride, but warned that the sport had been ruined by dishonest athletes and managers who value money rather than building careers in athletics.
Related Topics