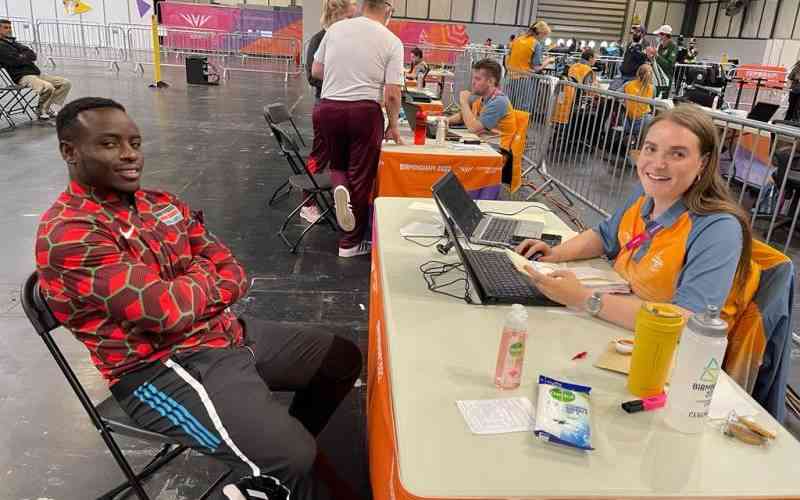 The visa delay of sprinter Ferdinand Omanyala caused disappointment among his fans.
When news broke that Africa's fastest man might miss the 2022 World Athletics Championships in Oregon due to the delay, there was an outpouring of support and pressure toward relevant authorities to ensure he makes it on time and wins.
However, much as many expected Omanyala to perform, health experts and fellow athletes knew that it was going to be uphill task because of exhaustion.
Omanyala arrived in Eugene three hours before his race. He had endured a 20-hour flight -- five hours from Nairobi to Doha, 14-hours to Seattle, then and one hour to Eugene.
In three hours, Omanyala was supposed to rest, refresh, eat a proper meal, adjust to the weather, train, hit the track and win. A miracle right?
World champion sprinter Michael Johnson posted on twitter on July 16 that "#Omanyala made it through. Great effort. But it's usually Day 2 when the real travel fatigue sets in. Hopefully he can overcome it. Will be difficult."
Johnson's statement became a reality when Omanyala finished fifth in the semi finals.
Athletes and rugby coach Jeff Onyango, says that Omanyala needed to be in Eugene at least six days before hitting the track.
Onyango says that every athlete is different but to achieve ultimate rest, in every time zone, an athlete needs a day to rest.
"An athlete needs time to recover, get used to the new weather, the food and train. If you arrive two or three days before the competition, then there will be a problem," he said.
He also talks about the effects of lactic acid on athletes saying that lactic tolerance and threshold is achieved within a year before the competitions begin.
Dr Andrew Suleh, a sports medicine expert says there are so many factors to be considered including the effects of altitude and jetlag.
"Jetlag can be terrible. From the theoretical concept, the effects can be felt in three to four days. He needed to have rested for four days after arrival," he said.
Suleh said that when an athlete does not rest, lactic acid can build up in their muscles and impair their ability in terms of strength and balance, including the strength of all those muscles that are involved in running.
Clean bill of health
"All the muscles that are connected to the spine, plus the muscles that are in the limbs and the hand. People think that hands do not participate but they are like propellers when one is running," he said, and added that participating within three hours after landing meant that he did not have enough time to get a proper meal since what is served on the flight does not count.
"An athlete who is not prepared is prone to injuries. He was prone to injuries of muscles, ligaments, also non-contact injuries like sudden cardiac arrest. If you want to run 100 metres, the heart must be conditioned such that it will deliver enough oxygen in the under 10-second race."
According to Suleh, Omanyala should have arrived at least a week day before hitting the track. "If you travel from Nairobi to the US, you need three days to recover from jetlag."
He also said that there was no evidence of a medical report that allowed Omanyala to participate. Which begs the question: were there physiotherapists in Eugene for Team Kenya?
There were also allegations that Team Kenya did not have a physiotherapist after steeplechase runner Celliphine Chespol finished 13th as Kenyan-born Norah Jeruto representing Kazakhstan bagged gold.
"I did not even think I would be able to run, when I was warming up I felt pain in my knees but I just decided to participate. I am grateful I finished the race because I was in pain," she said.
"The biggest problem is that we did not have a physio. I got assistance from Norah Jeruto's coach."
On Omanyala's case, Suleh said there was no evidence that he was given a clean bill of health. Apart from the physical health, his mental health was also at risk.
"To what extent did the delay affect his mental state of preparedness? He could have looked very excited but to what extent was he prepared ?He was being driven by emotions from fans but what was his mental state?"
Clinical psychologist Jacqueline Gathu says there is a lot of anxiety when it comes to travel delay even for normal travel, so for Omanyala his anxiety might have been tenfold following the expectations from his fans and himself.
"There were so many expectations for him. He knew he had to go and compete and people expected him to win, so he developed a self-coping mechanism to deliver despite the anxiety," she said.
Gathu said Omanyala needed a debrief before the race and after.
"He needed an avenue to debrief, he needed someone to tell him he did well just by making it on time and that they believed in him.
"And after he did not make it to the finals, he needed that psychological support assuring him it was not just about winning but showing up. He did not get that," she said.
Related Topics