It is 6 am on the shores of Lake Victoria where a group of women are sorting sacks of fish wastes, others scaling and fleshing fish skin.
A group of 17 women dubbed 'Obunga Dry Fish Women' Obunga slums came together five years ago to start selling fish, but realised there was also more money to be made from fish waste while conserving the environment.
See, fish skin, bones and scales were slowly becoming a menace and "we realised we can increase our income from fish wastes and so we approached a fish fillet processing plant which started supplying us with fish skin and bones," recalls Millicent Oranga, a member of the group.
The women collect fresh fish waste – the leftovers after filleting-including skin and bones and which they smoke and dry before grinding with a milling machine.
Dr Isabel Asamba, an environmentalist at Maseno University, says the animal feeds produced by the women from fish wastes are nutritious and increase productivity and health of chicks, piglets and calves.
"Fish leftovers and their processing byproducts represent a significant portion of the original fish, and their disposal has a high environmental and economic impact," explains Dr Asamba.
Once sorted, the skin from bigger Nile Perch is taken to Kenya Industrial Research and Development (KIRDI), for tanning and treating to produce durable leather which is less susceptible to decomposition.
Chemicals are also used to remove the fish oil from the skin before adding table salt in readiness for drying in the sun.
The leather is then used to make foot wear, handbags and other products and this means "we have found a better and suitable way of utilising fish wastes and earning profits rather than discarding them," says Dr Oranga.
Raw materials are easily available given that Nile Perch accounts for 70 per cent of the total fish catch from Lake Victoria.
Fish factories around Kisumu produce close to 150,000 tons of fish waste yearly mainly from the Nile perch whose fillet is exported to European countries.
The women group buys 100 kilogrammes of Nile perch skins from the fillet processing plant at Sh1,220 and after producing the animal feeds they make up to Sh6,000.
Here is the math: One kilo of fish scales goes for Sh10 and once grinded costs Sh60 and so far, the group has doubled income margins and can easily make over Sh10,000 in profits per week from animal feeds.
"The fish wastes are a blessing and we utilise it to the maximum; indeed it's a blessing in disguise," says Dorothy Atieno, another member of the group adding that fish intestines are boiled and used as chicken feeds.
But decreasing number of fish stocks has become a major challenge as "during drought season, there is little fish in supply and we suffer because of limited supply," laments Atieno.
Atieno says the single plant that supplies them with fish skins is not enough and relevant authorities should help establish multiple fish filleting plants in lakeside cities.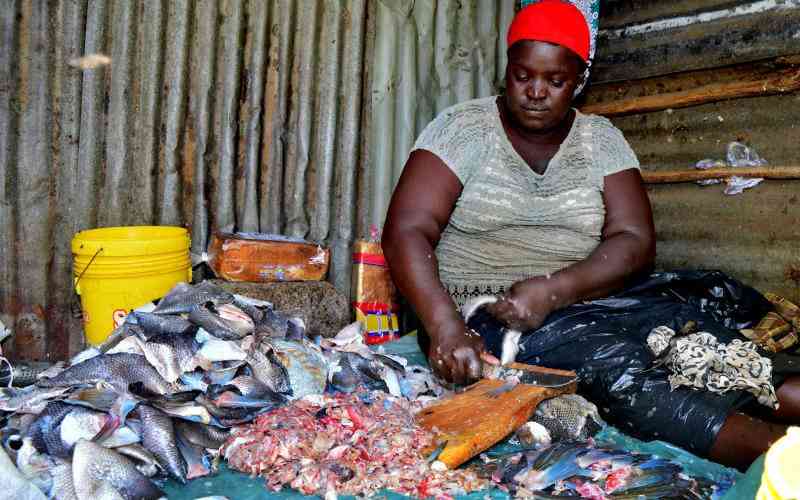 Another member, Eunice Achieng, says the group can do wonders if it gets support from the fisheries department and the county government of Kisumu by incorporating modern technology for efficiency and increase production of the feeds from fish skin, bones and scales.
Statistics from Kenya Marine and Fisheries Research Institute (KMFRI) (KMFRI) show that species like Tilapia have shrunk by more than 50 per cent in the last decade but resilient Nile Perch is at 23 percent but other small fish species are at 56 per cent.
In the last 50 years, Lake Victoria has produced about 60,000 metric tonnes of Tilapia annually, but currently, it barely musters 20,000 tonnes.
The bigger Nile Perch has been resilient because one Nile Perch can produce 17 million eggs compared to Tilapia's 300 eggs.
But still, Nile perch could be about 340,000 metric tonnes a decade ago but which has also steadily dropped and now stands at about 200,000 metric tonnes, according to KMFRI whose environmentalists cite wrong fishing practices as a threat to food security and livelihood to those who depend on the lake in the region.
Dr Chrisphine Nyamweya, assistant director at KMFRI explains that dwindling fish stock are a result of "more fishermen targeting the same fish. The lake is the same, we can't expand it" and other fish species besides Tilapia and Nile Perch have also been thinning.
The director says that Nile perch is dwindling due to the use of illegal gears adding that overfishing could kill the sub-sector.
"Stocks of Nile Perch have really declined and getting very big fish to enable fish mongers get large skins has been a great challenge," said Dr Nyamweya.
Related Topics