Home
/
Health & Science
Covid-19 cases dip even as mutations worry medics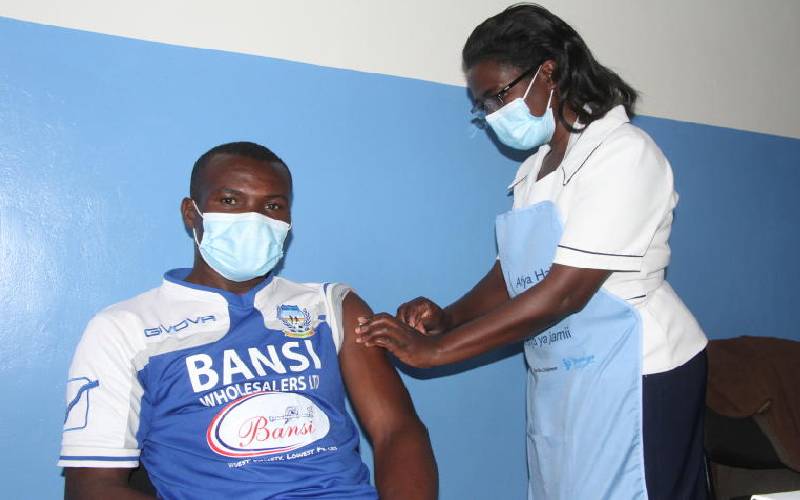 Kenya's presidential lockdown in the five 'diseased counties' has helped reduce Covid-19 infections, according to health experts and government officials, but fatalities remain high.
Experts are also warning of a fourth wave due to mutations and that Kenyans should not lower their guard on the face of increased fatalities despite numbers of infections and hospitalisations reducing.
President Uhuru Kenyatta locked the most affected counties on March 26 and "currently, we do not have pressure on the healthcare system as witnessed in early March and April, where patients in critical state were struggling to secure ICU beds," said Patrick Amoth, the Director General of Health.
Before the lockdown, positivity rate of the virus was 20 per cent but this has since reduced to below 15 per cent, said Dr Amoth, arguing that "the lockdown is having a positive impact and we are witnessing stabilising numbers".
The diseased counties are Nairobi, Kiambu, Machakos, Kajiado and Nakuru where besides lockdowns, a ban on travel between the regions was imposed as well as an 8pm to 4am curfew. Bars, learning institutions and churches were also closed while restaurants were directed to only provide takeaway services. Sporting activities were also suspended.
Before the lockdown, the country's positivity rate had drastically increased from two per cent documented in January to above 20 per cent in March, with Nairobi accounting for 60 per cent of the cases.
The country was recording between 1,000 and 1,500 cases of the virus every day. Hospital admissions had also increased to 52 per cent with about seven deaths reported daily.
For the past one week, positivity rate for the virus has been between 10 per cent and 12.4 per cent.
Though not under lockdown, Uasin Gishu has recorded a surge in cases, infections Amoth attributed to its location along the Northern transport corridor that is experiencing movement of trucks and trade.
Eric Osoro, a researcher with Washington State University Global Health-Kenya, said scientifically the number of infections have reduced due to restricted movement, which limits contact that contributes to spread of the virus.
"Closure of bars and restaurants and limiting interaction through restricted movement has helped reduce transmission of the virus," explained Dr Osoro. "We also did not witness an influx of people travelling to the villages from urban centres during Easter, as such would have caused transmission at the community."
Osoro pleaded with Kenyans not to lower their guard as there could be another wave of the virus due to mutations, and "if the population does not adhere to the set public measures".
Osoro was a lead researcher in Nairobi this January when a study pegged the city's 'seroprevalence for the virus at 35 per cent', meaning at least one out of three people were infected.
Kemri-Welcome Trust researchers projected a peak of Covid-19 infections and deaths in the country by mid-March due to the reopening of schools and laxity in observing Covid-19 restriction measures, including massive travels. Nakuru has had at least 70 per cent adherence to Covid-19 containment measures after the lockdown.
"Number of funeral attendees, restricted time spent at burials, ban on political activities in the county and restricted movement have reduced transmission of the disease," said Governor Lee Kinyanjui.
He added that "the economy is hurting, but when we look at what is happening in countries like India, which is on its knees yet they have good health infrastructure, it is important to appreciate that we are dealing with a phenomenon that has never been reported. So it is important to adhere to the rules."

When the cases peaked, Kinyanjui ordered closure of county offices for one month to limit contacts. The Nakuru County Assembly was also closed.
However, he noted that despite the ministry discouraging referrals of Covid-19 patients, about 40 to 50 per cent of patients treated in Nakuru were referrals from neighbouring counties, but that more health professionals have also been trained to manage the pandemic besides a mutual cooperation between private and public hospitals to boost service delivery.
In Machakos, County Health Executive Ancent Kituku said they were breaking the chain of transmission considering "testing is currently done at village level and those found in contact with the sick forced to quarantine. Chiefs and the police are also helping to ensure these laws are adhered to".
Machakos has 575 isolation beds spread across Kenyatta Stadium Field Hospital, Machakos Level Five Hospital and Kinanie Level 3, among others.
As a mitigation in managing rising numbers in future, the county has set up 10 extra ICU beds at Kangundo Level Four Hospital, which is 95 per cent complete for use.
An additional nine ICU beds are at Machakos Level Five Hospital for managing normal patients. Previously, due to a surge in cases, the county was referring patients in need of ICU beds to neighbouring counties.
Nationally, a total of 199,314 samples have been tested, and which Amoth said were adequate, but Council of Governors (CoG) chair of health committee Anyang' Nyong'o said lack of testing kits posed a major challenge as the virus was spreading rapidly and could overstretch health facilities.
The CoG has asked the ministry to make rapid testing kits and PRC Covid-19 testing equipment available to all the 47 counties.
Matilu Mwau, the deputy Director at Kenya Medical Research Institute said stringent measures should be adhered to to avoid transportation and spread of other variants to the country where already South African and UK variants have been reported and which "are lethal and have more viral loads," warned the virologist.
Prof Mwau said Kenya will be safe when we attain between 60 to 80 per cent herd immunity through vaccinations.
Covid-19 in numbers
The five diseased counties have recorded a total of 17,561 cases.
Nairobi is leading with 12,199, followed by Kiambu with 1,993 infections.
Counties of Nakuru, Machakos and Kajiado have 1,817, 937 and 615 cases, respectively.
Since March 26, 2021 to date, the country has recorded a total of 30,148 cases out of a sample size of 199,314, according to the ministry's records.
The country's highest positivity rate for the virus was recorded on March 29, April 7, March 30, April 2, April 1, and April 15, at 26.6, 20.5, 19.1, 19.1, 18.5 and 18.3 per cent, respectively.
For the past one week, the positivity rate for the virus has been between 10 per cent and 12.4 per cent (April 20 to April 24).
However, even as the number of infections and hospitalisation have reduced, Covid-19 deaths have been on the rise.
From March 6 to April 24, the country had recorded a total of 511 deaths, averaging about 17.03 deaths every day.
The highest deaths were documented on April 13, April 14, April 23 and April 21, at 26, 26, 23 and 21, respectively.
Related Topics