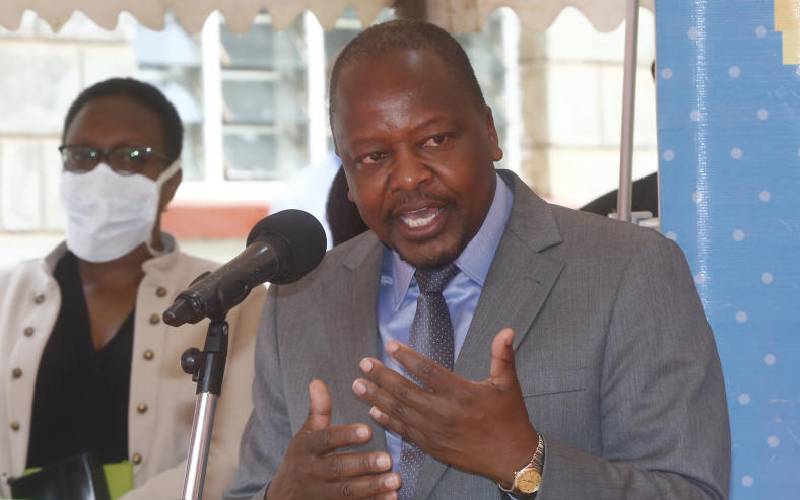 The number of Covid-19 patients admitted to hospitals around the country continues to rise, even as the government implements public health measures to curb transmission at the community level.
A report by the Ministry of Health indicated that at least 1,262 patients had been admitted to hospitals yesterday.
Out of the admissions, 68 were undergoing specialised care at the Intensive Care Unit (ICU), with 42 on ventilatory support.
"Sixty-eight patients are in ICU, 42 of whom are on ventilatory support, and 24 on supplemental oxygen. Another 96 patients are separately on supplemental oxygen, out of whom 73 are in general wards. Twenty three are in High Dependency Unit (HDU)," read a statement by Health Cabinet Secretary Mutahi Kagwe.
According to Covid-19 status report update by the ministry, 7,806 patients are under home-based care programme.
The ministry reported 711 more coronavirus cases from a sample of 6,672, bringing the national tally to 83,316.
The youngest case was a one-year-old baby, and the oldest 92.
The positivity rate stood at 10.65 per cent, slightly lower than 11.41 per cent recorded on November 28, and 16.55 per cent on November 27.
Cumulative tests since the virus was reported in the country in March stand at 885,933.
In yesterday's report, Nairobi County led with 190 cases, Mombasa 88, Nakuru 78, Nyandarua 35, Murang'a 34 and Kitui 30.
Machakos, Nyeri, Embu, Busia, Kiambu and Vihiga recorded 28, 27, 25, 21, 17 and 16 cases respectively.
At least 576 patients recovered from the disease, out of these 469 are from the home-based care programme while 107 were discharged from various hospitals. Total recoveries now stand at 54,975.
Seven people succumbed to the virus, bringing the death toll to 1,452.
On November 27, Mr Kagwe raised concerns over the number of people travelling outside the country with fake Covid-19 certificates.
"We have noted where some unscrupulous individuals are attempting to travel out of the country without genuine Covid-19 certificates. When we opened our space in August, we developed protocols to govern all players in the international travel sector. Many of our stakeholders have complied with these protocols, but we have lately noted a trend where some people are trying to cheat the system," he stated.
Kagwe warned that the travel protocols were not set for a section of Kenyans, but the public. "I urge travelers not to play with the law only to become part of statistics," he warned.