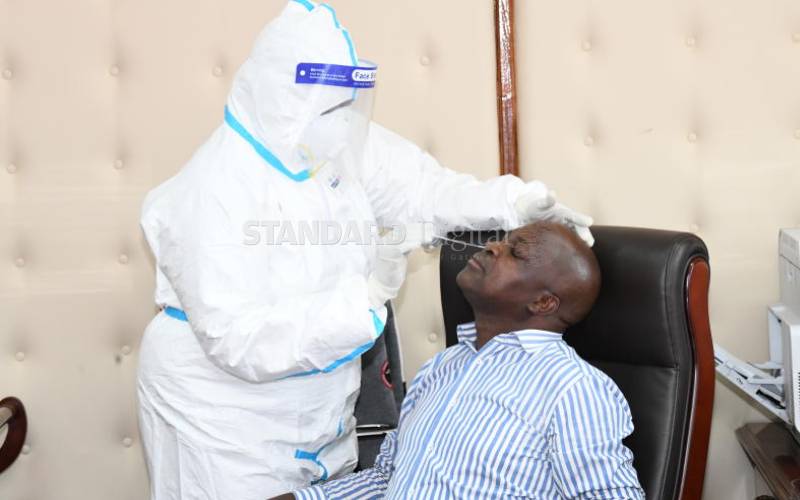 With the grim reality that Covid-19 could overrun health facilities, there are concerns over the county governments' ability to test the public for the virus.
Council of Governors chair Wycliffe Oparanya admitted that the capability of counties to test the public for coronavirus was still a challenge despite making progress on preparedness to handle patients.
Mr Oparanya said all counties have GeneXpert machines for testing the virus but lack cartridges and reagents.
"Lack of the cartridges has contributed to counties being unable to test for the virus and this hinders targeted testing," he said.
Tests for the virus are largely done by the Kenya Medical Research Institutie (Kemri).
"As we speak now the responsibility of testing lies with the national government, making counties to rely on Kemri for results," said Oparanya.
The Kakamega Governor disclosed that he was seeking to partner with a private agency to establish a Covid-19 testing centre at the Kakamega County Teaching and Referral Hospital.
"As a county, we have recorded nine cases, six of which have been treated and released. Currently we only have three patients on treatment, which has prompted us to seek a private partner to help test our people," said Oparanya.
A spot check by The Standard established that Kisumu County was using the local Kenya Medical Research Institute (Kemri) laboratories to test for the virus.
However, in Siaya, there are no testing kits and samples are sent to Kemri in Kisumu. This means those tested have to wait for about two days to get feedback.
"We currently do not have the capacity to test, though we collect samples and transport to Kemri, Kisumu," said County Public Health director Kennedy Oruenjo.
The same is the case for Nyamira County, which also sends its samples to Kisumu.
Funding proposal
Nyamira Health executive Douglas Bosire said they were banking on a funding proposal to instal laboratories to test for the virus.
He disclosed that a French organisation, in conjunction with the national government, planned to fund the project.
"Nyamira is among counties in Nyanza that were clustered for utilisation of the Kemri Kisumu lab, but we are hoping things will work out well for us to have a testing centre in the county," Bosire said.
The Health Executive regretted that the county's multi agency team doing surveillance and contact tracing was encountering difficulties due to unwillingness by suspected cases to share details.
In Kisii, Executive Committee Member in charge of Health Sarah Omache said they are waiting for the licensing of Kisii Teaching and Referral Hospital to conduct Covid-19 tests.
Mrs Omache said in the meantime they were sending samples for testing to Kemri CDC in Kisumu, with results expected two days after samples are taken there.
Meru Health Executive Misheck Mutuma said they took samples to Nairobi. The county had by yesterday sent at least 1,200 samples to Nairobi.
The executive however noted a worrying carefree attitude among residents, even as Covid-19 cases went up counrywide.
"They are not wearing masks or keeping social distance. The message we want our people to understand is that the 430 beds are not enough, if residents continue to disregard personal safety guidelines," he said.
In Murang'a, Health Chief Officer James Gitau said mass testing was a responsibility of the national government while the county's role was contact tracing.
The Standard has also found that counties in the South Rift region are not capable of conducting Covid-19 tests.
Nakuru, Narok, Bomet, Baringo, Kericho, Samburu and Nyandarua counties lack laboratories and human resource to conduct the exercise.
Kericho county director of health, Betty Lang'at said they lack reagents to conduct Covid-19 tests hence samples collected are send to the local Kemri. "If given reagents, we are capable of handling mass testing. But currently, we are depending on Kemri for tests," she said.
Dr Lang'at said health officials conducted surveillance to pick suspected Covid-19 cases, whose samples are taken for testing.
She noted that about 100 laboratory technicians had been trained on extraction and handling of samples for Covid-19 tests.
Nyandarua County Chief Officer of Health Joram Muraya said Covid-19 testing was the responsibility of the national government.
"It is only the Ministry of Health at national level that should be in a position to state if counties are prepared to test for Covid-19. Even if supplied with re-agents, it is still beyond the county," said the chief officer.
Trained on extraction
In Laikipia, the County Secretary Karanja Njora said they were capable of conducting tests, with support from the ministry.
"If supplied with reagents and other logistics, we shall test more people because we have adequate human resource," he said.
So far, the county has recorded three Covid-19 cases. One has recovered. Covid-19 patients are managed at Nanyuki hospital. The county has six ICU beds and 426 isolation ones.
For Nakuru, at least 100 laboratory technicians have been trained on extraction and handling of samples for Covid-19 test.
Chief Officer of Public Health Samuel King'ori told The Standard the county had brought on board health experts from Amref Health Africa to train them on molecular technique in analysis for Covid-19 tests.
"Experts from Amref are accessing our equipment in laboratories to advise on what is required and what can be enhanced in testing of Covid-19 samples, that will enable us to handle tests," said the official.
Currently, the trained medical officials extract swabs from suspects, primary and secondary contacts that are transported to influenza laboratories in Nairobi for tests.