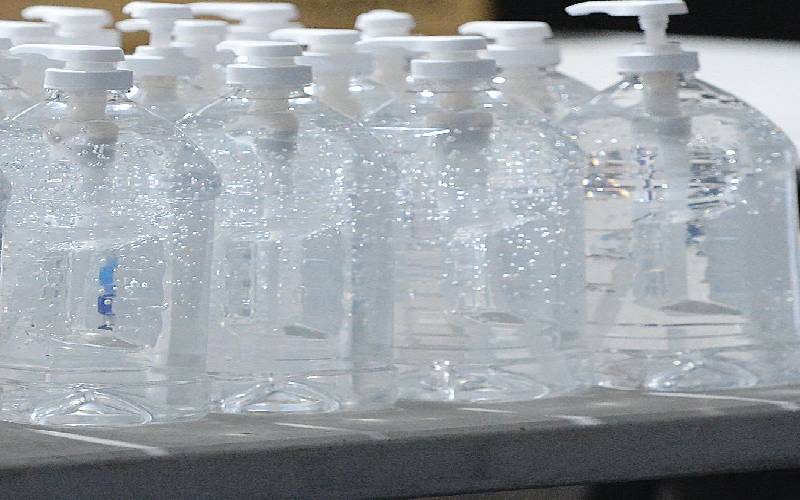 Kenya Bureau of Standards has suspended permits for eight hand sanitiser brands for not meeting the set requirements. The products are recommended for use in the fight against spread of Covid-19. KEBS has directed manufacturers of the said brands to discontinue sale and distribution of the same and to recall all the substandard hand sanitisers from the market.
SEE ALSO: Kenya records highest daily Covid-19 death toll
The suspension of the permits, the agency added, will only be reviewed upon confirmation of the effectiveness of the corrective actions instituted by the manufacturers. "KEBS shall continue to undertake market surveillance and factory inspections. Substandard products found will be seized for destruction at the expense of the owner in addition to any other legal action as provided under the law," read a statement from the agency. The move was triggered by consistent market surveillance and testing of the products, which found some not meeting the requirements of the KEBs. Those affected include Alphax, Clean Essentials, G&L, Gentle Care, Lili, Msiri, Shishi Natural and Spotless Advanced.
Take control
SEE ALSO: SGR resumes services
The agency urged for caution and public scrutiny of products to pick out substandard ones through the 'Wajibika Na KEBS' programme. "To Wajibika, verify whether the S Mark permit on your product is valid by sending the code underneath the S Mark to 20023 (SM#Code) to get product manufacturing details. If the details are different, report to KEBS Toll Free Number 1545," it stated. The agency has also seized 20,000 pieces of cloth masks for misuse of KEBS permit in ongoing operations to ensure certified products are in the market for the fight against Covid-19 pandemic.
Certified gadgets
Meanwhile, the agency has advised manufacturers, traders and users of the infrared thermometers (thermal guns) to ensure their gadgets are calibrated and certified to help in the early detection of coronavirus.
SEE ALSO: State was mistaken in cancelling 2020 academic year
Managing Director Lt Col (Rtd) Bernard Njiraini said the gadgets were considered key to the early detection of the disease and the calibration ensures their accuracy and reliability are confirmed. "We must ensure the equipment used to screen patients for Covid-19 and other conditions are calibrated to establish their overall functionality, accuracy and reliability, as well as minimise the uncertainty of the measurements. Failure to calibrate measurement of medical equipment could lead to false results and misdiagnosis," said Njiraini. He added that the need for fast and accurate testing is imperative given the long incubation period and the contagious nature of Covid-19.