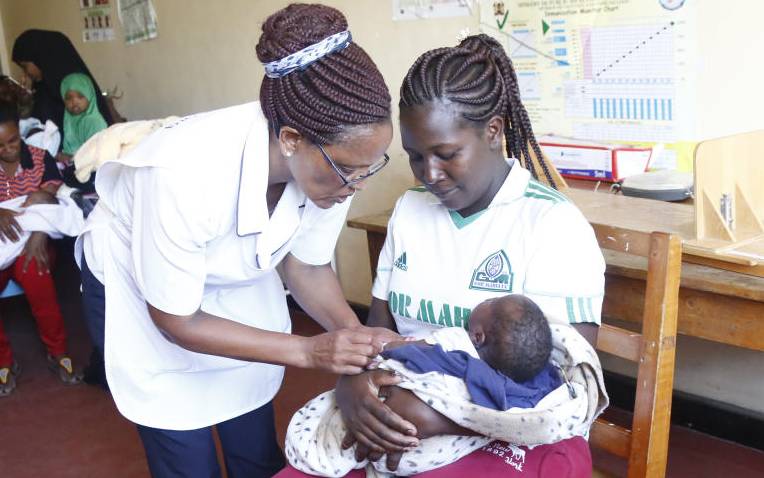 More than 70,000 children below one-year risk contracting diseases following a vaccine shortage in Nakuru County.
Medics who were interviewed said stocks in most hospitals ran out about four months ago.
There are now fears that children may be exposed to diseases like measles, mumps, and tuberculosis.
Records in county hospitals show at least 72,000 babies were born in the last one year.
Most of the infants are yet to get the crucial vaccines.
"The problem started in the last quarter of 2019. It has worsened over time. More children are being born and not getting vaccines," said a doctor who sought anonymity.
The shortage has led to mothers taking their infants to private facilities for the vaccines.
"Some people think doctors in private clinics are using the shortage to financially exploit mothers. This is not the case. If the vaccines are available in public hospitals, we could not be referring mothers to private facilities," the doctor said.
Nakuru County Chief Nursing Officer Virginia Njenga confirmed the shortage.
"It is true there is a shortage of the Bacillus Calmette Guérin (BCG) and the Measles Mumps and Rubella (MMR). Some hospitals have little stock. We have not had supplies since September 2019."
WHO partnership
The purchase of vaccines is carried out by the national government in partnership with WHO. The United Nations Children's Fund (Unicef) facilitates the procurement process.
Since health is a devolved function, the government releases the drugs to county governments, which distribute them to public hospitals.
The BCG vaccine is recommended for new-born babies and those that are below six months. It protects them from contracting tuberculosis.
The MMR vaccine, on the other hand, is administered to children between 13 months and five years and protects them from three highly infectious diseases - measles, mumps and rubella.
Ms Njenga said the county government had last year targeted to vaccinate 72,014 children who are below one year.
"This year we are projecting the number to be as high as 73,000," said Njenga.
Hasten supply
"Although the figures vary every month, we want to base our projections on infant data collected during last year's census."
While calling on the health ministry to hasten the supply process, Njenga said the county health department will ensure the little stock left in some hospitals will be shared equally.
"We are distributing the vaccines based on how much each hospital needs. I urge parents to remain calm. Through the government, Unicef has promised to help the county with this challenge," Njenga said.
She added that the government has promised to deliver the first batch of vaccines to counties from early February.