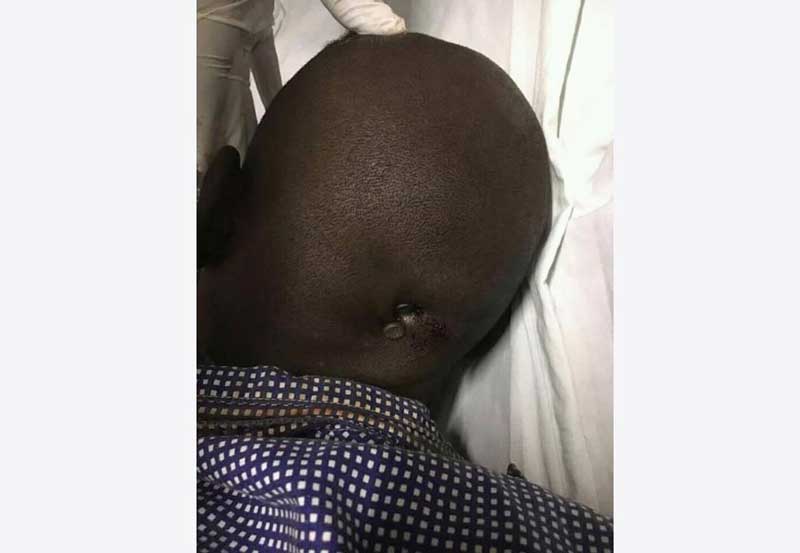 In perhaps one of the most brutal cases of assault, a 28-year-old man from Meru County is in a coma in hospital after two steel nails were hammered into his skull.
Doctors at Kenyatta National Hospital (KNH) have managed to pull the four-inch nails out of Robert Muchangi's head but he was still in critical condition on Monday.
It is not clear how the attack happened but family members claimed the callous act was committed by a man known to the victim.
From photos taken by family members of the victim, the two nails were driven completely into Mr Muchangi's head from the back; X-ray photos showed the extent of damaged caused.
He was rushed to Maua Methodist Hospital by a neighbour.
Muchangi, a mason, was attacked in Kabuitu in Igembe Central last Wednesday by a man suspected to have offered him a building job at his home. Muchangi had reportedly gone to see the man to demand his dues.
Dominisiano Kaunga, the witness who rushed the victim to hospital after the attack, told The Standard on Monday that Muchangi was in deep pain although he spoke to him about the assault before he lost consciousness.
Mr Kaunga said he was informed by neighbours that Muchangi had been found in his homestead, having managed to escape from his attacker at Kabuitu market.
Muchangi, a father of two, comes from Nguiri village in Embu County but was working as a mason in Kabuitu.
"He was attacked at around 6pm. l got a call that someone had been found unconscious in my homestead and had two nails hammered into his head," said Kaunga, who took Muchangi to Maua before he was referred to KNH.
Regained consciousness
Kaunga said while receiving first aid at the hospital, the victim regained consciousness and spoke to him about the attack.
"He mentioned the names of the people he said attacked him. He said he had gone to claim his money after working for one of the attackers," said Kaunga, who accompanied Muchangi to KNH.
He said an X-ray was conducted the next day and the report indicated that Muchangi's skull and brain were injured.
Kitheo Sub-Location Assistant Chief Sabastian M'Iruri said they had launched a search for the suspects.
Muchangi's sister, Murugi Njiru, who visited him at KNH (Monday), said he was in bad shape despite surgery.
Igembe South Medical Officer of Health Micheal Kariuki, who attended to Muchangi at Maua Methodist Hospital, said the patient was referred to KNH when doctors realised there could be severe damage to the nervous system.
Dr Kariuki also revealed that the victim had three nails hammered into his head, although two were deep.
He said one nail had been plucked out before he was brought to the hospital.