Home
/
Health & Science
Couple shares pain of man's leaking breasts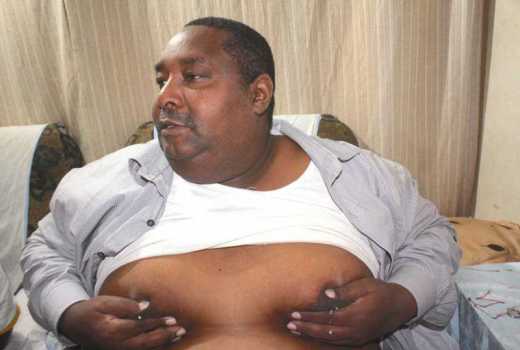 Mercy Muthoni did not have to think too hard about Francis Gichuru's marriage proposal. Her response was an instant yes.
Mr Gichuru had already won her heart in many ways. As a professional marketer, he was instrumental to Mercy's business, which grew exponentially thanks to his skills.
Gichuru was also her spiritual mentor.
The two had been friends since childhood. They were both born in Nairobi's Uhuru estate 52 years ago and say they developed an interest in each other from a tender age.
However, Gichuru's parents relocated to Karatina in Nyeri County and the two lost touch. After his education, Gichuru returned to Nairobi, and the relationship was reignited.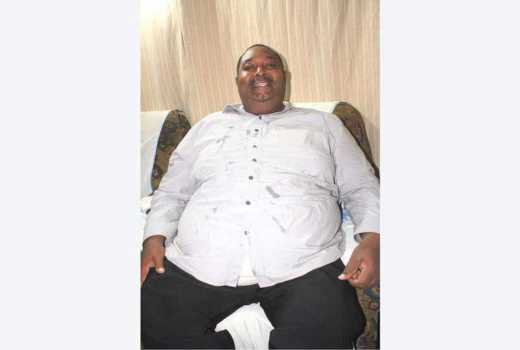 After college, Gichuru found a job outside Nairobi but returned to the capital years later. During the time he was away, Mercy had a child with another man, but this did not bother Gichuru. They even started a joint business selling auto spare parts.
"We did everything together. We even gave our tithe jointly," says Ms Muthoni.
And one afternoon in 1997, Gichuru walked into her parents' home in Jerusalem and asked her to marry him. He was 31 years old.
In 2000, they tied the knot. But the journey was rocky as the bishop at their church and Gichuru's parents opposed the union. The bone of contention was Muthoni's child.
"The bishop could not imagine Gichuru marrying a woman who already had a child with another man. His parents also opposed our plans ," she recalls.
On July 29, Gichuru walked Muthoni down the aisle in a wedding that was boycotted by his family. Their bishop refused to officiate their wedding.
"My decision affected my relationship with my parents," says Gichuru, now a pastor at Christ Ambassadors Tabernacle, a church he founded in Mowlem estate, Nairobi.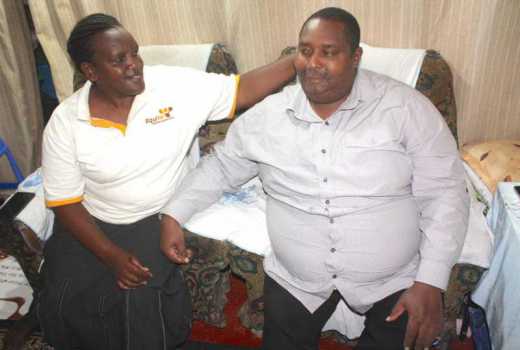 Despite the challenges, the couple hoped to live happily thereafter. And life was good during their first year of marriage. But by the second year, worry began to set in as they had no child. People began to ask questions.
"I became concerned but he told me to relax. As is the case in most African societies, where everyone thinks the woman is the problem in the case of childlessness, I was under siege," Muthoni says.
In 2002, Gichuru left for missionary work in Botswana. Some time later, the organisation he worked for called Muthoni and asked her to go and pick him because he was unwell.
"We returned to Kenya in November 2004. Gichuru was no longer active, even in bed. He was sickly," says Muthoni at their home in Mowlem.
She adds that one day in 2007, she noticed some wetness on his shirt around the chest. By that time, Gichuru had been experiencing fatigue and headaches, but they had not suspected anything serious.
"He took off his shirt and I realised his breasts were swollen. I squeezed them and milk started oozing out. By this time, his libido had gone down drastically. I called a doctor who advised us to go to Kenyatta National Hospital (KNH) for tests," she says.
But no doctor was able to figure out the problem.
"For two years, we went from one doctor to another but none could tell us what I was suffering from," recalls Gichuru. "I had also started gaining weight at an alarming rate. It was frustrating." Gichuru weighs 163kg.
One evening in 2010, Gichuru was listening to a radio programme when he heard the symptoms he had been experiencing being discussed. He called the station and was given the number of the doctor they had hosted.
The doctor invited him to a city hospital where at last, his condition was diagnosed. He discovered that he suffers from a rare disorder called prolactinoma.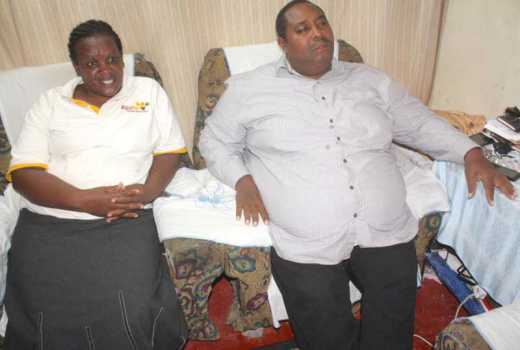 Prolactinoma is caused by a non-cancerous tumour in the pituitary gland in the brain. The condition causes hormonal imbalances that leads to many health complications including over-production of the hormone called prolactin.
It also causes infertility as well as vision and hearing impairment.
Gichuru has to keep expressing milk in the same way as a lactating mother, failing which the pain would be unbearable. His libido is completely gone.
However, he has a chance of recovering his health if he can raise the Sh3 million he needs for surgery in India to remove the tumour.
The couple uses about Sh10,000 per month on Gichuru's medication.
"The condition may be managed using drugs but at times, the patient must undergo surgery to remove the tumour," says Dr Stanley Ngare, an endocrinologist at KNH.
Donation towards Gichuru's surgery can be sent to M-Pesa pay bill number 450977.
Related Topics