Home
/
Health & Science
Lost child puts KNH on spot, again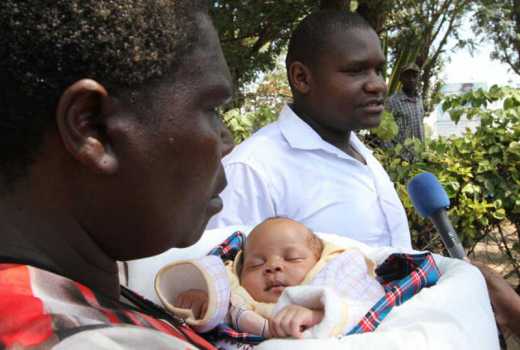 A couple is grappling with the pain of losing a three-week-old boy after he was snatched by a woman posing as a patient at Kenyatta National Hospital.
It is now emerging that the woman who made away with the baby had been monitoring her victims for close to 10 hours before making a move.
The theft that took place in a span of seven minutes has left the child's father, John Ouko, at a loss.
On Monday, the hospital management indicated that investigations were ongoing despite two conflicting reports from security officers.
While one said the CCTV footage had no records of the woman who stole the baby, another indicated that she was actually seen walking out with the baby in her arms, and boarded an empty Kenya Bus Service bus.
According to Mr Ouko, 25, his ordeal began at 2am, when he arrived at KNH with his 23-year-old wife and his sister-in-law.
He said his wife needed a doctor's attention urgently because of a heart condition. But it wasn't until 2.50am that he was attended to. He was directed to examination room number eight.
Ouko said he was told by a hospital attendant to wait because the room had to be cleaned first.
After 10 minutes, he went to check the room.
There was no cleaning taking place and no doctor in it either.
He sought answers from the shift team leader, who called the doctor, but he did not respond.
Ouko was left to wait outside until 4am, when he went back to the team leader.
The answer was disappointing.
"He said he could not help because the doctor was not picking up," he said.
Finally, at 6.15am, the doctor showed up.
"He accused me of complaining to the big bosses yet he was the only one who could save my wife's life," said Ouko.
At 11.30am, his wife was admitted to Ward 1D on the first floor.
Since he could not wheel her and carry the twins at the same time, he chose to leave them with two different women whom he had been with since 2am.
Woman rushed
Seven minutes later, about 11.38am, one of the women rushed up to the ward and told him the other had vanished with his baby.
In a statement, KNH said the matter had been reported to the police and their internal security personnel was working round the clock to reunite mother and child.
The hospital said it was deeply concerned and was working with the family to get a description of the suspect.
"We, however, caution the public not to entrust their children to strangers," said KNH Communication Manager Simon Ithai.
Ouko wants the hospital to release CCTV footage.
"All we want if for the hospital to release the CCTV footage. If they do, there will be no problem identifying the woman," he said.
Related Topics