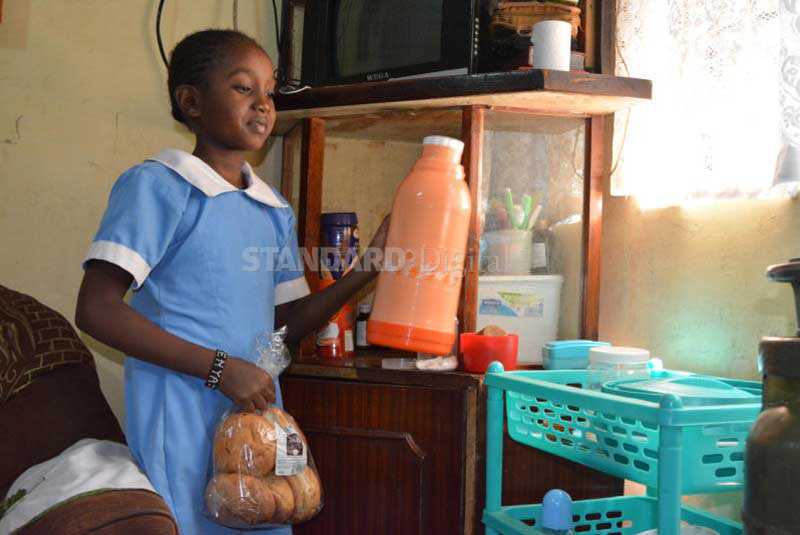 Johnathan Mulwa says he cannot talk about love without dwelling on oesophageal cancer — the disease that nearly robbed him of his little girl Lorna Kalekye.
"We fought it together, and she won. People told us to give up because cancer has no cure, but we vowed to try everything. This is what you do when you love someone," he says.
Young Kalekye was seven when medics discovered that the rattle sound she makes when she takes a breath was from a swelling on her throat.
After a series of invasive tests including biopsy and endoscopy, the verdict was lethal — it was cancer.
Begging for cash
They needed to act fast before it moves to other organs. The tentative bill was Sh1.5 million.
"My heart sunk. I knew more than ever that my daughter needs me, not just as a father, but as someone who will cheer her on through every stage of treatment," Mulwa told Saturday Standard at their Mathare home in Nairobi.
The fight started with raising money for treatment. Mulwa describes it as a humbling experience that robes one of dignity — the begging, pleading, and reaching out to anyone who could listen to his story and help him raise money.
"Cancer is about putting your shame aside as you seek funds. I asked from anyone I could think of. I am glad I believed in my daughter's healing," he says.
Kalekye's mother Hellen Mueni says nobody prepared them for the side effect of the treatment.
"She would throw up and cry. The sight of food made her wail. She became so frail, we thought chemotherapy was going to kill her," she recalls the painful episode.
On many occasions, she had to carry her like a baby and feed her; a process that would take hours.
She says the 60 cycles of chemo Kalekye underwent, and 20 sessions of radiotherapy that followed is a sign of resilience and strength of a child who fought one of the toughest battles and won – but more importantly, a story of how fighting cancer needs dedication and love.
Quality time
"We had to reschedule everything to attend to all her therapies without fail. It takes a whole day," says Mulwa who works for a printing firm.
The Kenya National Cancer Control Strategy (2017-2022) mentions the importance of integrating psycho social support and access to palliative services for caregivers as some of the pillars of easing the cancer burden.
But Mulwa feels that it is still weak in public hospitals.
Indeed, the critical role caregivers play in the cancer fight cannot be gainsaid. Salome Ndinda and her mother Elizabeth Kyeti who have both battled cancer and are now in remission believe the moment one gets a cancer diagnosis, to their last session of treatment, they need love and care.
Love and care
"When you get diagnosed, you realise just how much you need people to help you shoulder the heavy burden," Ndinda who survived colon cancer says.
Their journey with cancer started five years ago when Kyeti started complaining of severe stomach ache that got her admitted to hospital.
Doctors operated on her only to realise she had both colon and uterus cancer.
"After the initial my surgery, my aunt closed her business during the busiest month to come help take care of me. She bathed, clothed and fed me like a baby," says Kyeti who believes if it was not for the care of people who loved her, she would not have fought as strongly as she did.
She says fighting cancer is a series of tears, pain and loss of belief, but it gets easier when someone is dedicated in fighting with you.
Special moments
In a wicked twist of fate, a year later, Ndinda also got a colon cancer diagnosis.
Ndinda says love and reassurance from each other and from friends made the journey more bearable.
"You cannot fight cancer alone. You need so much support," says Ndinda, adding that when they celebrate the pains they overcame, they never forget to reflect on the support from friends and family.
Dr Zipporah Ali, director at Kenya Hospice and Palliative Care Association (KEHPSA) says caregivers play an important role in the fight against cancer, but they are never appreciated.
"Caregivers need to be told often that what they are doing is great, and that they should not give up on the patients, regardless of how bad the diagnosis sounds," she says.
For Sara Oduor, when her mother's cancer diagnosis came, the news was grim.
It was neurofibromatosis – tumor of the nerve tissues- and she had less than six months to live. The year was 2015.
Thanks to Oduor's compassionate care, the mother lived for two more years, defying doctor's predictions.
She describes these years as coloured with rich conversations, special moments of them holding on to each other, until four months ago when she succumbed, in Oduor's arms.
"I am glad we walked together. She died knowing that she was loved," she says.
She advises caregivers to focus on quality time and not dwell on the possibility of death.
Related Topics