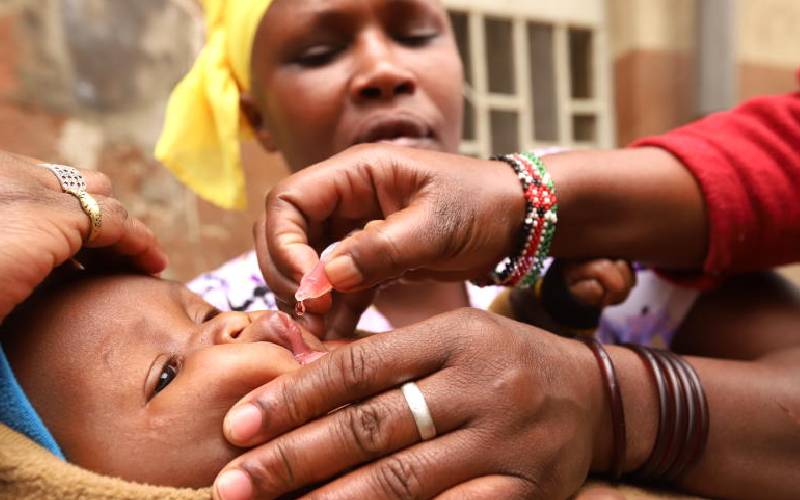 Even as Kenya joined the globe in celebration of World Polio Day, six cases of polio have been detected in the country this year.
The cases of deprived Poliovirus type 2, were detected through surveillance, from both the Acute Flaccid Paralysis (AFP) and Environmental surveillance systems.
Director of Public Health, in the Ministry of Health Dr Francis Kuria noted that three of the cases were from Daadab Refugee Camp, two from Mombasa and one from Garissa.
"Three of the isolated cases were from healthy children arriving from Daadab Refugee Camp from Somalia and another three from the environment (two from Mombasa and one Garissa). All the viruses have been linked to viruses detected in Somalia," said Dr Kuria.
Kuria said detection of the cases is an indication that the country is at greater risk of polio importation and transmission, and that there is a need to scale up vigilance.
Speaking during the celebration of World Polio Day, joined by representatives from UNICEF, and other partners, Kuria said the ministry responded to the outbreak by successfully implementing two rounds of polio campaigns in 14 high-risk counties in May and July this year.
Last year, the country achieved Oral Polio Vaccine 3 (OPV3) coverage of 85 per cent and injectable polio vaccine (IPV) coverage of 86 per cent nationally, against the target of 90 per cent.
"The government will not relax until 100 per cent coverage is achieved and every child is protected since every child counts," added the official.
According to the ministry, the Covid-19 interrupted routine immunisation and surveillance activities threatening the achievements in the eradication if polio and elimination of other diseases.
At least 30,000 children did not receive childhood immunisation in 2020, due to the pandemic. However, as mitigation, the official noted that the ministry in support with partners is currently implementing periodic intensification of routine immunization (PIRI), which aims to increase the uptake of all vaccines and population immunity," he added.
Kuria added that the vaccine will be offered over a 100 day period, from November to January, through rapid result results initiative in all vaccinating health facilities.
Further, he noted that insecurity in the Northern and North-Eastern parts of the country affects vaccination coverage. Physical access of vaccination services in some vast sparsely populated counties of Turkana, Marsabit, Garissa, Mandera and Wajir remains a challenge.
Even with outbreaks, the introduction of a new vaccine will enhance the fight against polio.
"To rapidly and sustainably stop the outbreak of circulating cVDPV2 in the region in future, a modified vaccine, known as novel oral polio vaccine type 2 (nOPV2) is being deployed under WHO and UNICEF for a job well done in ensuring that we meet the thresholds of the requirements needed for a country to be certified to use the new vaccine," noted Dr Kuria.
Dr Kuria told The Standard in an interview that the "new vaccine will revamp fight against polio disease, to safeguard lives of millions of children in the country."
The vaccine was pre-qualified by World Health Organization's (WHO) Prequalification program which issued an Emergency Use Listing recommendation following clinical trials showing it to be safe and providing protection against polio comparable to the currently used type 2 monovalent OPV (mOPV2).
The nOPV2 is a modified version of mOPV2 and has been in development for about a decade.
Only two countries in Africa, Nigeria and Liberia are using the new vaccine, but Kenya will shortly follow Ivory Coast, Mali, Mauritania, Togo and Cameroon in rolling it out.
The declaration marked the second huge achievement for Africa after eradicating smallpox in May 1980.
The decision by ARCC come in after an exhaustive, decades-long process of documentation and analysis of polio surveillance, immunization and laboratory capacity of the region's 47 member states, which included conducting field verification visits to each country.
In 2005, Kenya was certified poliovirus free but suffered a setback in 2018 after live viruses were found in samples collected from Nairobi's Eastleigh estate.
Polio is a viral disease that affects children below the age of five and is transmitted from person to person mainly through the faecal-oral route.
According to WHO, there are three types of wild poliovirus; Type 1, Type 2 and Type 3.
Type 2 was eradicated in 1999 and no case of type 3 has ever been reported since the last case in Nigeria in 2012. Wild poliovirus is currently affecting two countries, Pakistan and Afghanistan.