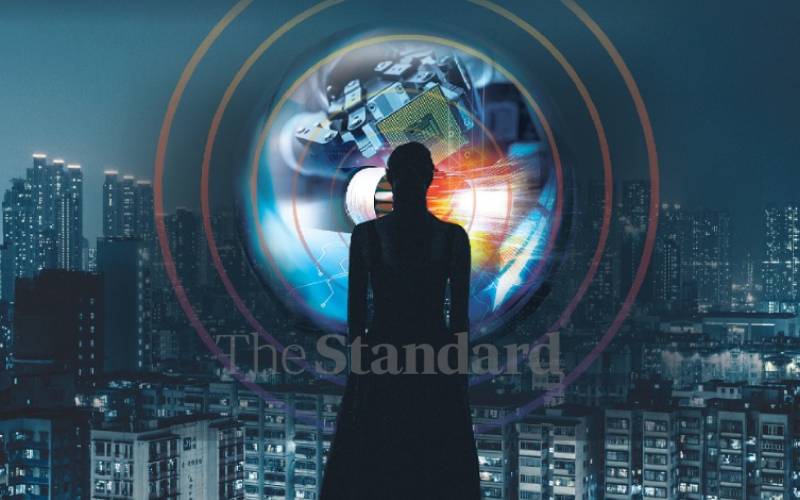 A decade ago, Kenya was billed to be on the verge of conquering the world, technologically.
If all went according to plan, it was to take on Bangalore - the centre of India's high-tech industry - and America's Silicon Valley.
But today, the dream of turning Kenya into a Silicon Savannah appears to have come a cropper.
Growth in the local ICT sector has petered out, and the country is now struggling to attract fresh technological financing and prove its competitiveness amidst new upstarts such as Rwanda and Ethiopia.
Kenya's ICT industry's contribution to the economy stood at 1.6 per cent in 2011, a figure that has remained stagnant in the past decade and shrunk to 1.2 per cent last year.
According to data from the Kenya National Bureau of Statistics (KNBS), the value of ICT exports dipped to Sh1.56 billion in 2019 from Sh2.1 billion recorded in 2016, and a high of Sh4 billion in 2012.
Bitange Ndemo, one of the proponents of the Silicon Savanna dream while he served as ICT Principal Secretary during the Mwai Kibaki regime, admitted that the industry had posted mixed results.
"There is a lot that has been done and also a lot that has not been done," said Ndemo, now a professor of Entrepreneurship at the University of Nairobi's Business School.
Major innovations, including the world-beating mobile money service M-Pesa by Safaricom and crowd-sourcing platform Ushahidi, are some of Kenya's rich tech exports.
The number of jobs in the sector also nearly doubled to 130,000 in 2019 from 78,000 in 2011.
KNBS at the same time indicated that the value of ICT output increased by 11.1 per cent from Sh280 billion in 2015 to Sh311.1 billion in 2016 and Sh426 billion in 2019.
However, since the launch of M-Pesa and Ushahidi in 2007, industry analysts point to a dearth of innovation in the sector despite a flurry of new apps and start-up ecosystems in the past decade.
"I think we have done well. When we landed the cable in 2009, our intentions were to leverage tech to stimulate the economy. To a large extent that has happened. The current government has over the last decade maintained the drive that we had," said Ndemo.
"We had hoped the entire government would be digitised to make it possible for people to get services fast. This has happened if you look at areas such as the passport application process. Corruption has to an extent gone at Nyayo House."
Another area of success, he noted, is the creation of Huduma Centres and the digitisation of motor vehicle imports and transfers.
"Overall, we have more than 180 government databases that have been digitised. This is good. Other than Rwanda, we have done well, but that does not mean we are done. Far from it, we have a lot to do," said Ndemo.
He, however, noted that numerous areas need improvement.
"Some of the areas of disappointment include the Lands Ministry, where there are so many cartels. The government has done the National Spatial Data Infrastructure, but the key areas remain undone," said Ndemo.
Among the factors why technology has not taken root, especially within government is that it increases transparency, which many in government circles fear.
Ndemo noted that the Integrated Financial Management Information System (IFMIS), for instance, is unpopular not because it is bad but because it seals loopholes that government officials exploited to embezzle funds from the Exchequer.
"The problem is that there are people who make free money from the government," he said, adding that he had experienced numerous instances where "businessmen" would claim payment for services not rendered.
"Someone will walk to your office with a bill of Sh2 billion and claim they had not been paid. Then you wonder when they were given the tender... I'd tell them I would have actually known if there was a Sh2 billion tender. Even today, chances are half of the pending bills are suspicious," said the former PS.
"I do not think our private sector understands the nature of PPPs (Public-Private Partnerships) and how they work. You can see how they have held the country to ransom in the energy sector," he added.
Ndemo also observed that private sector players have failed to see the potential in technology start-ups. In turn, the innovators – many of them young people – end up abandoning their ideas to pursue employment, which guarantees them income.
"The start-up environment is largely driven by the youth. They may have innovations but cannot get funding from local investors," he explained.
"Everything created here has been brought by Silicon Valley companies, and when these investors are pumping Sh100 billion into the local industry, we are not getting even Sh1 from our local investors."
A case in point is the lucrative financial technology (fintech) sector, where foreign firms have an upper hand over local ones.
According to a report by Mordor Intelligence, the global digital payments market was valued at Sh340 trillion in 2018 and is expected to grow at 13.7 per cent on average each year to hit Sh764 trillion by 2024.
US-based fintech Tala recently announced receiving Sh11 billion in new financing to enter the Indian market. This brings the total funding the startup has received to Sh31.7 billion to date. Branch, another Silicon Valley-based fintech, last year announced receiving Sh17 billion in funding to expand its market.
The firm also recently acquired microfinance lender Century Microfinance Bank in a move that gives it a stronger presence in the country's financial sector.
According to regulatory filings published by the Competition Authority of Kenya (CAK), Branch has acquired 84.89 per cent of the issued share capital in the microfinance bank.
The deal has been approved by the market regulator.
Tala and Branch count Kenya as a huge source of their mobile loans and at some point, Central Bank Governor Patrick Njoroge said the regulator would take action against what he termed predatory lending by fintechs.
Dream not lost
Currently, the regulator is developing amendments to the CBK Act to give it the mandate to set interest ceilings on mobile loans.
At the same time, the lack of wide participation from local universities in coming up with innovations for the sector has put a damper on the Silicon Savannah vision.
Former PS Ndemo noted that countries such as Korea rely heavily on their universities to drive innovation, unlike in the case with Kenya.
"Universities have not gotten into that space, and we have not linked academia to the private sector as Korea did," he explained. "Higher institutions of learnings are supposed to produce tools for value addition."
Ndemo said the move by the Korean Institute of Advanced Science and Technology (Kaist), a research university, to set up shop in Kenya's Konza City provides an opportunity to explore deeper partnerships between academia and the market.
He noted that the country may have faltered but added that the Silicon Savannah dream is not lost and "it is going to come".
Eric Murithi, a co-founder of a local start-up Upesy, noted that a mix of factors led to slowed momentum in the vision that the country had at the beginning of the last decade.
He also cited lack of funding for local investors as well as preference for imported products as locking many innovations out of the market.
"The other major challenge is the low rate of adoption of local technology by government and even private sector users. We tend not to believe in our technology. There is a belief that imported products and solutions are the real deal, and this poses a big challenge for Kenyan products," he said.
"The funding for the tech industry is unique in that a start-up requires a lot of talent. You have to attract a lot of engineers to work with you and they do not come cheap. So you will find your recurrent expenditure is high in human resource," added Murithi.