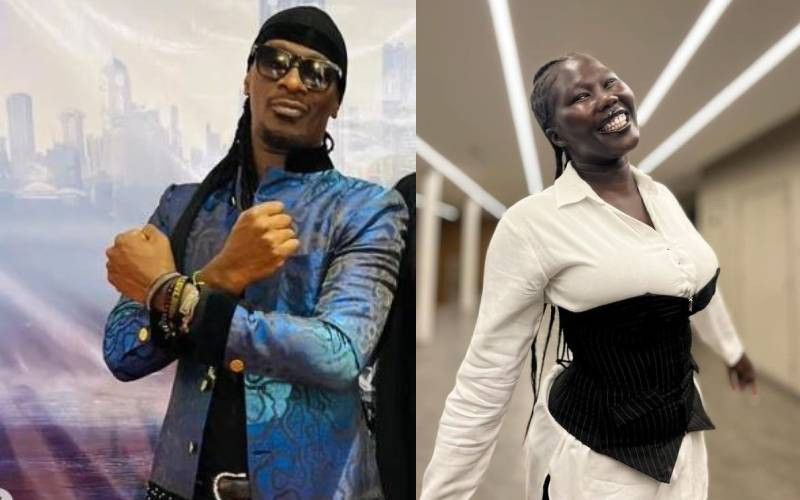 Social media has been ablaze this week, with netizens defending veteran artiste Nameless after popular Sudanese Tik Toker (imo unusual) criticized his outfit for the Wakanda Forever premiere.
It all started on November 14th when the Tik Toker took to her account to review some of the outfits that celebrities had adorned for the premiere.
All was well until she commented on Nameless's outfit, stating that he looked like a robber – a comment that didn't sit right with many Kenyans online.
"If it were me, I would have run the moment I laid eyes on Nameless, "said the Tik Toker.
If you know a thing or two about Kenyans online, they don't take kindly to people hating on their legends, especially if the hate is coming from a non-Kenyan.
For this reason, several Kenyans took to the content creators' page and left disparaging comments forcing her to apologize to the Ninanoki singer. However, she called out Kenyans for being colorist and xenophobic toward her.
Standard Entertainment spoke to the man caught in the middle of this drama, and this is what Nameless had to say;
"For me, I have always had gratitude about how guys show me love, that's what gives me energy, people showed me a lot of love and I was really touched to see them standing up for me. It has always meant a lot to me how people show me respect. I thank Kenyans."
He stated that he was confused as to why he was trending in the first place until his daughter showed him the now-infamous Tik Tok video.
View this post on Instagram
A post shared by Nameless™ (@namelesskenya)
"I don't know the lady, when my daughter showed it to me I decided to use it as a teachable moment for my daughter, to show her people will say what they want to say and you can't control what people say, all you have to do is be confident in yourself," said Nameless.
The singer added: "Unfortunately people say stuff and then when others react like they did that's when they decide to apologize to reduce the heat their getting. I don't know where she apologized, maybe she has sent an inbox me but I don't know, but what I want her to know is that I had already forgiven her before the apology."
Nameless said he learnt not to take it personally when he sees such baseless hate or bullying toward him and shares that the forgiveness he extends to those that hurt him is for himself.
"An apology is meant to be a form of remorse to look and learn from something, what's important for me is has she learned something from this situation. I feel good when someone apologizes and has taken something from it," said Nameless.
He also noted that when he first saw the video, he saw that she (imo unusual) would be young enough to be his daughter and understood that her being young and dealing with the pressures of social media had played a part in her behavior.
"I was probably singing when she was still in diapers so that's not something that I'm going to be offended over, I just hope she grows and learns. I don't want to see people get hurt, I'm a peacemaker, I don't want to add more drama and negativity. The reason I forgive her is because I understand the pressure of social media and life right now, it's become crazy where people think it's cool to put people down, I try to reduce the negativity," said Nameless.
He added that "It's a hard thing she's been through and I hope she now gets it and learns and does better. I hope she also learns not to project and finds a way to deliver her takes in a kinder and a more compassionate way because different opinions help us grow."
Nameless further urged all Kenyans to follow his mantra, "Tuzidi Kujua Ku Ishi Pamoja"
Related Topics