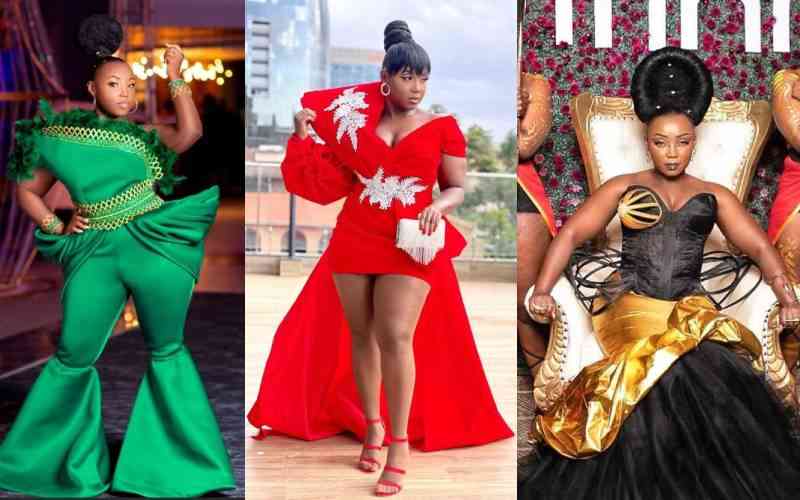 Celebrated actress Catherine Kamau, alias Kate Actress has opened up on what it takes to stand out at an event.
During an interview with YouTuber Mungai Eve, the popular fashion enthusiast said she parts with more than Sh100, 000 on her get-ready event package.
"I don't think there is a day Naomi [designer] and I have spent less than Sh100k looking at it as the whole event. From transport to the outfits, to the fabrics, to the stylist, it's very expensive and you can't keep doing it, that's why I don't go for all the events," she said.
"In my opinion if you want to be outstanding you cannot spend less than Sh100k, I'm speaking for me. This is because I always want to do more than I did last time. I always want to improve. For example, when I was in South Africa for a premier, hiring that dress was Sh50k, just hiring it reason is because it is from a renowned designer," she added.
Due to the expensive nature of event preparation, Kate explained why she would never attend functions she is not compensated for despite previous criticism from naysayers some time ago.
View this post on Instagram
A post shared by Catherine Kamau -Karanja (@kate_actress)
"The other day people accused me of being egocentric because I said I can't go for events I'm not paid for but it's because I put in a lot and not every artist is there yet, and you need these events to be seen. It's crazy," said Kate.
Addressing netizens' recent Wakanda Premier online outfit review, Kate advised fans to support their artists rather than bash them. In her explanation, not everyone can afford extravagant outfits and always show up as expected.
"I see all this conversations and reviews and I think people don't understand the amount of work that just goes into creating and outfit to go to an event. I am lucky that I have resources that ensure I can afford first, that fabric, personal makeup artist, hair and all that. I did not start like that. I remember my first event it was chaos. It me a long time for me to understand my personality, my style and what do I bring when I go to a red carpet," she said.
The mother of two pleaded with netizens to choose their words wisely when giving criticism, as many people are going through untold hardships and would only feel worse about themselves.
View this post on Instagram
A post shared by Catherine Kamau -Karanja (@kate_actress)
"Sometimes I feel bad when someone has put in even a little effort and you are bashed but at the end of the day this is the business we chose. People will always have an opinion about what we wear. But I want us to start encouraging them, start encouraging each other. Let's do less of bashing, more of encouraging, more of positive criticism. Let's not use harsh words. You never know what someone is going through. Maybe they have to go for this gig and they don't have money for a new outfit, so sometimes it's not their wanting, it's expensive," said Kate.
Related Topics