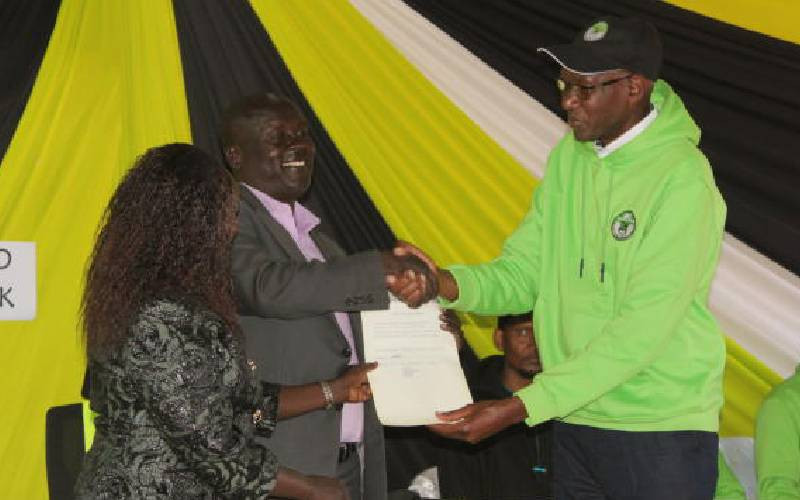 The United Democratic Alliance (UDA) faced a major challenge defending the Elgeyo Marakwet senate seat that fell vacant after Kipchumba Murkomen was appointed to Cabinet last October.
But thanks to a last-ditch battle, the President William Ruto-led party's candidate William Kisang secured a narrow win after beating a little-known Party for Peace and Development (PPD)'s Tim Kipchumba.
Kisang, a 56-year-old business and ICT expert who served as Marakwet West MP from 2013 to 2022, won the by-election with 41,378 votes against Kipchumba's 38,141 votes.
The PPD threat jolted UDA top brass into an all-out fight to retain the seat, a move that rescued Mr Kisang and the UDA ship, which was almost being torpedoed by Kipchumba's fast-rising popularity.
After sensing that the party was on the verge of losing the seat, UDA deployed top guns, led by Murkomen, the Cabinet Secretary for Roads and Infrastructure, to crisscross the vast county in choppers, in a three-day charm offensive - a move that pundits say bore fruits.
Kisang had defeated Kipchumba, a 38-year-old entrepreneur, in the UDA primary but the latter secured a PPD ticket after faulting the manner in which the nomination exercise was conducted.
President Ruto is reported to have issued express instructions to Rift leaders elected by his party and independent lawmakers to drum up support for the UDA candidate, and not to allow the little-known party to humiliate him in his backyard.
The by-election attracted six candidates, the others being Jerotich Seii of Safina Party (2,660 votes), New Democrat's Timothy Tanui (397 votes) as well as independent candidates Andrew Mengich and Kevin Kemboi who polled 503 and 382 votes respectively.
"The President asked me to ensure that his party's candidate wins the senate seat. If we want to still have the President's ear, then we have no option other than to support his party. We need the President's goodwill to achieve a number of development projects including the revival of fluorspar mining, and it would be wrong to disappoint him by electing a candidate of a different party," Governor Wisley Rotich told a campaign rally in late December.
Murkomen also indicated that his friendship with President Ruto would be tainted if voters chose another party other than UDA.
"How will I face the President when I come from a county where I have the burden of two independent MPs and now a senator from another party? Vote UDA so that I can still have a say in government," Murkomen pleaded.
The independents are Marakwet West MP Timothy Kipchumba Toroitich and Woman Representative Caroline Ngelechei.
Murkomen led Governor Rotich and Senators Aaron Cheruiyot (Kericho), Hillary Sigei (Bomet), Samson Cherargei (Nandi) and Jackson Mandago (Uasin Gishu) as well as all the five elected MPs from Elgeyo Marakwet County to campaign for Kisang.
"When things go wrong in the Elgeyo Marakwet senate race, it should not be said that I did play my role. Please don't expose my nakedness….. The only reward you can give President Ruto for giving us a CS position is to vote in favour of his party," Murkomen said.
"Even if you hate Kisang so much, please support the party," he said.
Kipchumba, on his part, relied on the support of youths at his rallies and also used social media extensively in his campaigns.
Toroitich and his Marakwet East counterpart Kangogo Bowen admitted that the UDA nominations had not yielded a strong candidate, but urged voters to vote in favour of the party.
Related Topics