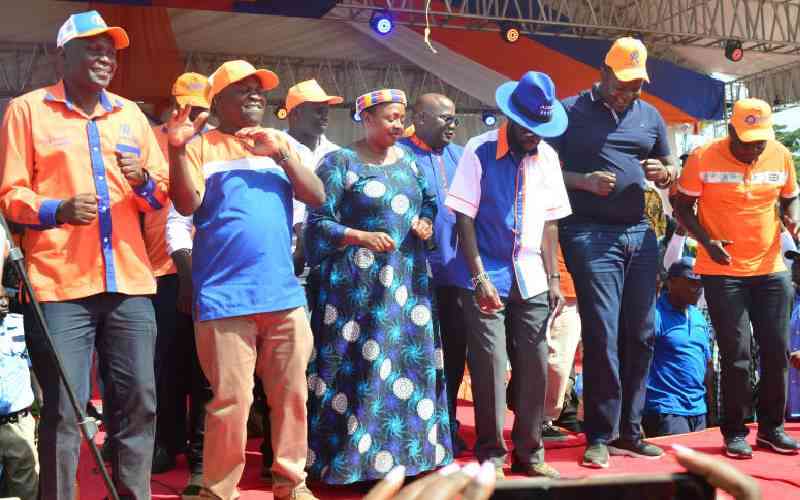 ODM is battling to retain its dominance as it fends off attacks from opponents and friendly fire within the Azimio la Umoja One Kenya coalition.
Faced with threats to the party's 17-year-old dominance of Nyanza, the party, for instance, is working on a strategy that will see its candidates conduct joint campaigns.
There are fears the Raila Odinga-led party could be headed for major upset if candidates focus on their individual campaigns as opponents and independent candidates intensify their bids.
With opponents including siblings from the Azimio-One Kenya alliance and independents knocking from all sides and with six-piece voting facing resistance, ODM has to work harder to retain its dominance in western Kenya.
Leading the new campaign strategy is ODM chairman John Mbadi and Opiyo Wandayi, the director of political affairs who are rallying candidates to hold joint campaigns, spearheaded by the governorship candidate the very county.
Mbadi is among senior ODM officials tasked with delivering the presidential vote and admits that ODM candidates must adjust to conduct joint campaigns.
"My advice to ODM candidates is that they should try and conduct joint campaigns to raise their chances," said Mbadi
In Western, although ODM's Deputy Party Leader Wycliffe Oparanya is leading a battalion of parties affiliated to Azimio to campaign for Raila's presidential bid, local ODM officials have also intensified efforts to strengthen the party.
Governorship candidates in the region flying the Orange ticket have been tasked with rallying support for the party's nominees for other seats even as they continue to push for zoning.
In Vihiga, Governor Wilberforce Ottichillo who is eyeing another term is leading the ODM team, while in Busia, governorship hopeful Paul Otuoma has been tasked with grassroots mobilisation for party candidates.
In Kakamega, an area where the Orange party is facing competition from Musalia Mudavadi's ANC, the party is banking hopes of retaining its dominance on Oparanya and governorship candidate Fenandes Barasa.
Observers say the close-working relationship ODM has had with other Azimio affiliate members that saw it withdraw some of its candidates could be a double-edged sword.
In Trans Nzoia, ODM withdrew its candidate Moses Khaoya and opted to back former Rift Valley Regional Commissioner George Natembeya, with recent developments and the push for zoning ushering in realities that more candidates could be asked to shelve their ambitions. ​
At the Coast, for instance, after a string of joint rallies, ODM governorship aspirants appear to have retreated to ring fence their counties against an onslaught from Deputy President William Ruto's Kenya Kwanza team.
Unlike other parts of the country, Azimio has largely dealt with the sibling rivalry with Jubilee and ODM sharing the governorship slots.
ODM has fielded governor aspirants in Mombasa, Kwale, Kilifi and Tana River counties while Jubilee has aspirants in Taita Taveta and Lamu counties in what appears to be a zoning strategy.
In Mombasa, ODM governorship hopeful and Mvita MP Abdulswamad Nassir is leading the Azimio campaigns in all the six constituencies. Wiper's Mike Sonko has not been cleared to run although he has also been holding rallies mainly in Kisauni and Mvita to drum up support for Raila.
The coalition's Coast Coordinator Major (Rtd) Idris Abdirahman said Mombasa Governor Hassan Joho and Taveta MP Naomi Shaban were still in charge of the Azimio presidential campaigns in the region.
In Kilifi, ODM governorship aspirant Gideon Mung'aro has teamed up with Senator Stewart Madzayo and Ganze MP Teddy Mwambire to woo support for Raila. Taita Taveta has been left in the hands of Jubilee party where Dr Shaban and Governor Granton Samboja who are defending their seats on Jubille tickets are leading Raila's campaigns.
In Tana River Governor Dhadho Godhana who is defending his seat on the ODM ticket is in charge of the Azimio campaigns while in Lamu governor Fahim Twaha of Jubilee is in charge. In Kwale, ODM governorship hopeful Prof Hamad Boga and Senator Issa Juma Boy are in charge of the campaigns as Azimio seeks to ringfence the region's over 1.9 million votes.
In Siaya, leaders led by Wandayi and Siaya Governor Cornel Rasanga say the candidates cleared by the electoral commission to vie on an ODM party ticket will campaign for other other across the other elective seats.
"I would love a situation where ODM candidates from all counties and constituencies come together and campaign on a joint platform. This idea of people having pocketed ODM certificates then shying away from campaigning for the party is unacceptable in a democratic situation," he said.
Governor Rasanga asked ODM candidates to work together in persuading voters to vote for the Orange party.
Rasanga, who dismissed claims that he was supporting the United Democratic Movement (UDM) governorship candidate Nicholas Gumbo, said having been an ODM product and beneficiary of six-piece voting pattern, he will campaign for ODM candidates.
"We need every voter in the region to come out and cast their ballot in favour of our presidential candidate. We need 100 per cent voter turnout. We cannot succeed if we speak ill of other candidates in Azimio. We do not want to anger our supporters. In regards to the presidential campaign, we must be careful not to antagonise other parties within Azimio and their candidates," he said.
In Kisumu, senatorial candidate Tom Ojienda and governor Anyang' Nyong'o have been tasked with ensuring the ODM team conducts joint campaigns.
In the region, all eyes are on how the party will weave through stiff competition posed by rivals from fringe parties and independents.
The party leadership fears that attempting to stifle fringe parties in its strongholds could result to voter apathy while on the flip side it is also keen to ensure that its troops win majority seats.
In Siaya, Orengo is facing a herculean task to succeed Rasanga as his competitor Gumbo mounts intense campaigns. According to Gumbo, competition within Azimio-One Kenya alliance will help ensure more people turn up to vote.
"Because of UDM, Garissa, Wajir, Kwale and Marsabit are Azimio zones. Raila is likely to get an extra two to three million votes because of UDM. On August 9, Raila will not be an ODM candidate but will be an Azimio-One Kenya alliance candidate," said Gumbo.
In Migori, the party faces a tough test to retain the governorship seat. Mr Dalmas Otieno and former MP John Pesa are all keen to upset ODM nominee Ochillo Ayacko. Party officials have, however, faulted ODM for reportedly sidelining candidates running on other Azimio affiliates.
"At this rate, we risk having voter apathy on August 9. ODM should learn to work with its allies in Azimio. Demonising other parties will not work in the best interest of Azimio," said William Odhil, a party member. He said there was a scheme to tag those running on other Azimio parties as anti-Raila.
ODM candidates are also facing stiff competition in several constituencies including Kisumu East and Kisumu West where incumbent MPs Shakeel Shabbir (Independent) and Olago Aluoch (MDG) are all keen to retain their seats.
In 2007, ODM commanded held 99 seats in parliament against former President Mwai Kibaki's PNU which had 43 MPs. In the preceding elections, however, ODM's strength has been waning, with the party losing a number of seats including some in Nyanza in by-elections.
Additional reporting by Benard Sanga
Related Topics