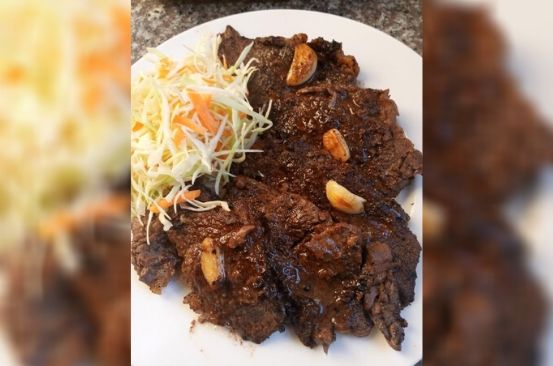 Let's follow this sirloin steak recipe that is probably the simplest in the world. Sirloin is a lean and juicy cut of beef that has very little fat and no bones. You can make a special order from your local butcher or grab a pre-packed piece from a supermarket. You'll also need some black pepper, salt, a few garlic cloves, pineapple extract for tenderising the meat, and shredded cabbage and carrots for a side salad.
What you will need:
1kg sirloin steak, sliced
1 teaspoon black pepper
Salt to taste
6 garlic cloves
Extract from 1 slice of pineapple
READ MORE
3 tablespoons oil for pan searing
1/2 cabbage, shredded
2 carrots, grated
What to do:
1. Marinate the sirloin steak with black pepper, salt, whole garlic cloves and juice from one slice of pineapple. I prefer to squeeze the pineapple slice directly over the steak. This is a perfect tenderizer. Let it stay in the marinade for about 15 mins or so.
2. In a pan over medium heat, add the oil then sear the steak about two minutes each side or until brown.
3. Continue the same on the rest of the steak slices. Ensure you pan sear the garlic cloves from the marinade as well.
4. Place the steak and cloves on a baking tray or casserole then finish off in the oven at 180°C for about 10 minutes, to ensure the steak is cooked through, and to release extra juices for a gorgeous gravy to baste the steak.
5. Enjoy your juicy steak, garnished with roasted garlic cloves and served with a side salad of shredded cabbage and grated carrots.