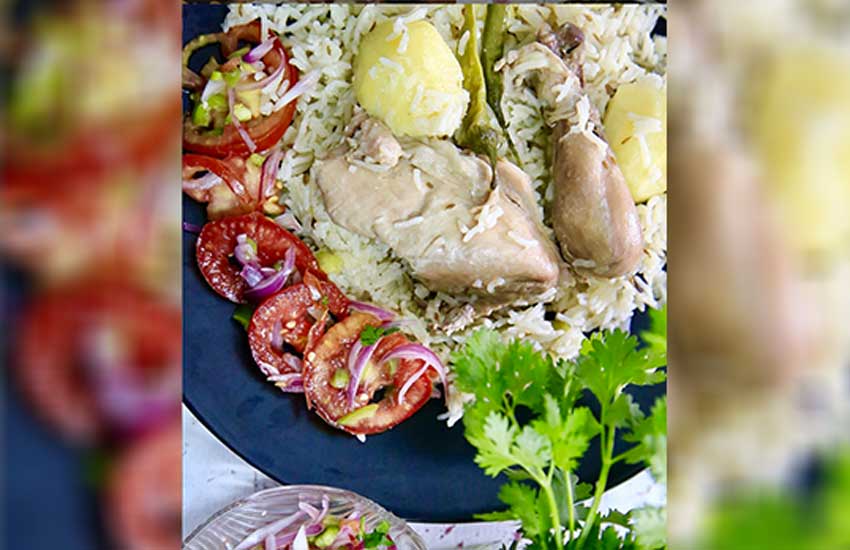 Ingredients
Full chicken cut into pieces
2 large onions, chopped
5 large potatoes, peeled and chopped (into bite size portions)
1 tablespoon of garlic and ginger paste (blend equal amounts of garlic and ginger to make the paste)
5 whole cardamom pods
Half a teaspoon of whole cumin seeds
READ MORE
1 cinnamon stick
3 whole cloves
2 bay leaves
1 tablespoon of pilau masala
1/4 cup of oil
2 cups of basmati rice
3 cups of water
Salt to taste
PROCEDURE
1. Put the rice in some water and leave to soak.
2. In a big sufuria over medium heat, put the whole spices (cardamom, cinnamon, cloves and cumin) and allow them to toast until they are fragrant (about two minutes). Do not add oil when toasting, leave the sufuria dry.
3. Once the spices are toasted, add the oil and allow it to heat up. Ensure the spices don't burn.
4. Add onions and leave to cook until translucent.
5. Add pilau masala and reduce the heat. Leave to took for about 2 minutes.
6. Once the masala is ready, it will be extremely fragrant. Keeping the heat at medium-low, add the garlic and ginger paste and leave to cook for about 1 minute.
7. Once everything is in a homogenous masala marriage, add the potatoes and mix thoroughly. (The potatoes need a bit more time to cook, that's why you add them first).
8. Then add the chicken, some salt and mix thoroughly. Every inch of chicken and potatoes should be covered in the cooked masala goodness.
8. Allow the chicken to release its juices this process will make the pilau tastier. This takes about 5 minutes on medium-high heat
9. Add three cups of hot water and leave to boil.
10. Drain the rice and add it to the boiling water. Mix thoroughly and leave to boil until the water reduces.
11. Reduce the heat to low, cover the sufuria in foil paper and add the lid. Allow the pilau mixture to steam for the next 20 minutes.
12. Remove the lid and foil paper carefully. Use a fork to fluff the rice.
13. If the rice or potatoes still aren't cooked through, return the foil and the lid, allow the mixture to steam for another 10 minutes.
14. Once the rice and potatoes are soft, the pilau is cooked. Serve with kachumbari.
Remember, when making Swahili pilau, practice is the key. One you lock down the basics, you can begin adding your own variations. For instance, you can substitute the chicken for red meat or remove the protein factor all together. You can also remove the potatoes if you aren't a big waru fan. All in all, pilau is a simple recipe that tastes absolutely amazing. All you need to remember is to treat the spices with respect and don't burn them.