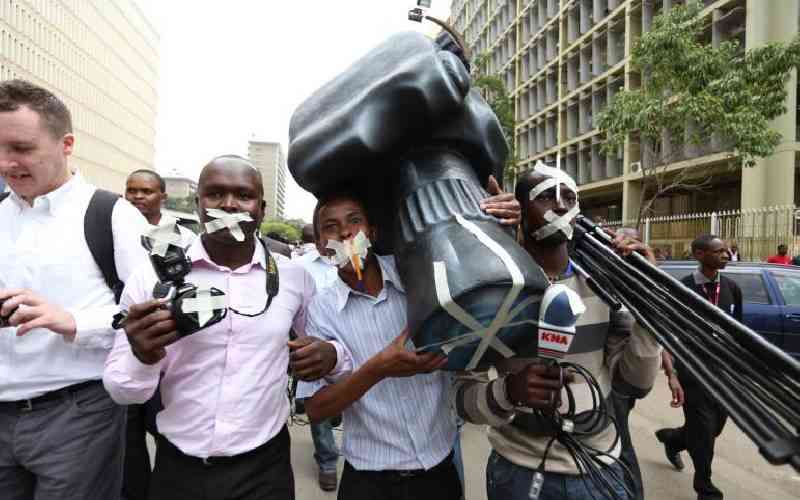 I wrote a piece last week criticising Tuko.co.ke Editor Didacus Malowa's sentencing for contempt of court after a Kiambu Magistrate found him guilty. In one of the infamous National Youth Service corruption cases, Tuko and other media outlets published a story questioning the source of wealth of state witness David Muthee Mbogo.
In his capacity as editor of Tuko.co.ke, he was ordered to pay Sh50,000 or serve a six-month custodial sentence. An apology and a retraction similar to that of the alleged offending article was also ordered by the trial magistrate. Though Malowa was listed as the only defendant in the contempt of court proceedings, the sentence directed the media house to publish an apology and retraction within three days.
After paying the stipulated fine and appearing in court for a mention, Malowa was jailed for five days without the option of bail for failing to publish the ordered apology and retraction despite explaining to the court that the compliance issue was a Tuko.co.ke management decision. On Wednesday, Malowa's lawyers successfully moved to the High Court to issue a release after he had spent a night in prison. Part of their arguments in the petition was that Didacus was condemned unheard in violation of his right to fair administrative action and hearing.
Millicent Awour, KBC's Chief Editor, appeared before the same magistrate on the same day to answer similar charges. Section 10 (4) b read with 10 (6) of the Magistrates Courts Act were the laws under which Malowa was sentenced. The law states that in criminal proceedings, any person that "prejudices" or interferes or "tends to interfere" with the due course of judicial proceedings may be sentenced to a term of not more than five days or a fine not exceeding Sh100,000.
The above provision raises the question of whether Malowa's actions prejudged or interfered with the due process of justice. These orders are typical of criminal defamation and defamation orders. In a corruption case of high public interest, the court resorted to great lengths to very hastily jail a journalist in order to protect the reputation of a witness. In the wake of this incident, journalists, and media houses are likely to refrain from reporting on corruption cases.
In this instance, it appears that the court used contempt of court provisions to enforce criminal defamation, which was famously declared unconstitutional in a case I litigated in 2017. The court determined that jailing individuals, including the prospect of serving a custodial sentence, was an unjustifiable limitation on freedom of expression under our constitutional arrangement.
According to the High Court, civil defamation was a less restrictive sanction as dictated under Article 24 of the Constitution which speaks to how rights can lawfully be limited.
Reporters and media houses make mistakes. Moreover, they are not above the law. Journalists in Kenya are accredited by the Media Council Act which requires them to abide by the Constitution and the code of conduct for journalism. Their code of conduct requires professionalism, accuracy and fairness, independence, integrity, accountability, protection of sources, and even addresses cases of misrepresentation.
The Media Complaints Commission, of which I am a member, handles complaints against journalists and media outlets and enforces the code of conduct. However, issues of defamation, reputational harm and resulting compensation or damages are outside its province and are a preserve of the High Court.
The High Court will likely clarify the issues more, including whether common law contempt of court, designed to protect the dignity and authority of the courts, interferes with free speech and free press, as set forth in the 2010 Constitution.
Related Topics