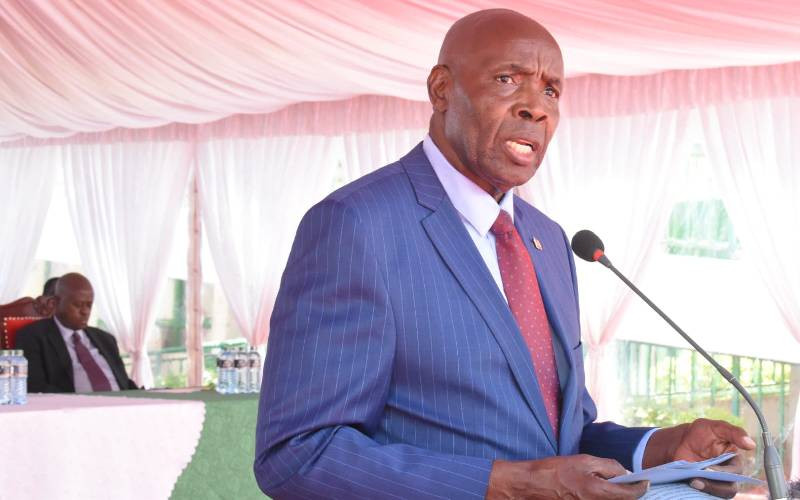 Education Cabinet Secretary Ezekiel Machogu released the Kenya Certificate of Secondary Education (KCSE) at Mtihani House on Friday, January 20.
The event broke the tradition of naming the top performing in the exam, instead, CS Machogu just gave the grade distribution of the exam that was sat by 881,416 candidates of which 443,644 were male and 437,772 females.
Here are how the grades were distributed.
GRADE A
MALE: 875
FEMALE: 271
TOTAL: 1,146
GRADE A minus
MALE: 4,445
FEMALE: 1,962
TOTAL: 6,407
GRADE B plus
MALE: 9,578
FEMALE: 6,104
TOTAL: 15,682
GRADE B
MALE: 17,783
FEMALE: 13,520
TOTAL: 31,303
GRADE B minus
MALE: 27,245
FEMALE: 21,474
TOTAL: 48,719
GRADE C plus
MALE: 36,950
FEMALE: 33,138
TOTAL: 70,088
GRADE C plus
MALE: 45,963
FEMALE: 49,191
TOTAL: 95,154
GRADE C
MALE: 56,469
FEMALE: 62,599
TOTAL: 119,068
GRADE D plus
MALE: 64,783
FEMALE: 70,238
TOTAL: 135,021
GRADE D
MALE: 75,545
FEMALE: 79,935
TOTAL: 155,480
GRADE D minus
MALE: 83,683
FEMALE: 84,075
TOTAL: 167,758
GRADE E
MALE: 18,062
FEMALE: 12,760
TOTAL: 30,822
Related Topics