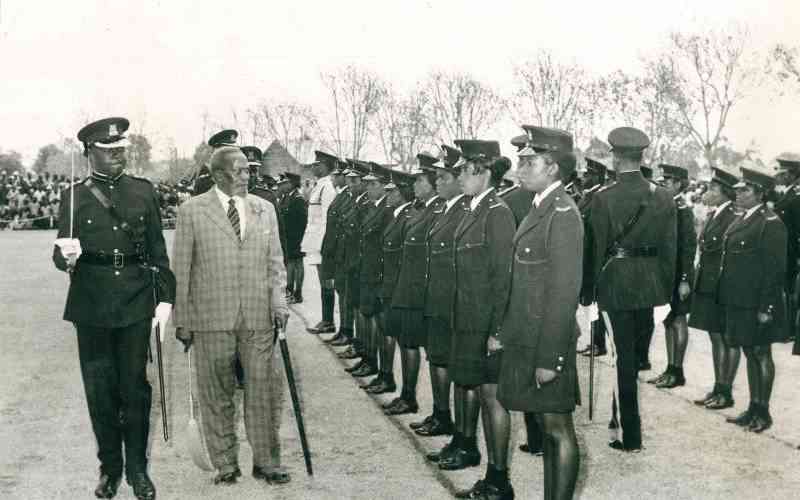 As Kenya contemplates having thousands of police officers scouring the breath and length of the country without a pocket to put a handkerchief of spare magazine, there was a time society cared about crime busters.
The idea of having a police uniform without pockets is informed by the country's desire to minimise bribe-taking by officers. This has not always been the case. When a gang raided Kaptagat Forest Station, they had in their sights a Sh13,000 heist.
This, 54 years ago, was not a small sum, but the gang expected no resistance. They were however shocked when three rangers on duty mounted incredible defence of their station instead of taking off.
Consequently, the rangers, Eliud Ngare, Asmani Nabago and Ng'ang'a Kibe had a memorable New Year gift when their names featured in a roll of about 30 other gallant Kenyans who had valiantly defended the country from internal and external aggressors.
The forest rangers were in good company of Kenya's finest soldiers and police officers who had given up their lives to defend their compatriots and country from insurgents who had ran amok in the banditry-hit parts of the country.
Another recipient of the Uhodari Medal was Police Corporal Liengopai Masane, who had on May 12, 1964 held off an attack by some Ethiopia militiamen in Kibish, Turkana county.
"By this outstanding courage and determination, a dangerous and armed raider was arrested," reads parts of his citation published in the official Kenya Gazette published on January 1, 1968.
Inspector Phillip Mclelland Smith of Kenya Police wrote his name in blood in the book of heroes on September 14, 1965 while he was commanding a platoon in Rhamu, North Eastern Province.
While on their way to a delicate mission, the police officers were attacked and Smith was seriously injured. He however ignored his pain and engaged the attackers until they finally shot him in the back and killed him.
Due to his selfless devotion to duty, courage and leadership, Smith saved the lives of many of his men. His exploits match that of police constables Muganda Kibiro and Aden Ossuman Mohamed who defended Katangachini police post after the area was overran by bandits who burnt down an entire trading centre after a looting and killing orgy.
They earned special mention and medals for their bravery in the face of strong adversity. More than half a century later, it appears that society rarely acknowledges such heroism.
Related Topics