Home
/
Money
He collects and disposes dead dogs, but wants to stop at mortuary attendant job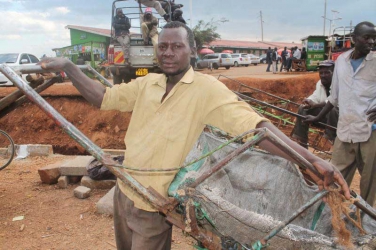 Many people love their jobs, but few of these kinds of employees have to deal with collecting dead dogs and disposing of their carcasses to earn a living.
But for Evans Ongaga, because keeping roads and public utilities clear of dead animals pays, he is not complaining.
"I love this job very much. It is because of it that my wife and three children came back to me. Initially, I did odd jobs, but I never earned enough to sustain them, but that's history now," he says.
The Nyamira County employee adds that his dream job would be working as a mortuary attendant; he believes he'd like that even more than his current occupation.
"I have handled dead animals for long and feel I should take my abilities to a higher, more challenging level and become a mortuary attendant. Whatever it takes, I'm up to the task," Evans, 42, says.
While dogs largely make up the carcasses he interacts with, there is also the occasional donkey, cat or cow that ends up as roadkill.
Going hungry
The days of his family going hungry for days because he was unable to afford a meal are a distant memory these days, he says. Those times had got so difficult that his wife and children packed up and left to go to her home.
As devastated as it left him, it forced him to work harder so he could ensure he brought them back.
That's what saw him land a job not many people would like to do for a living.
Despite dropping out of school in Class 8, Evans got his job in 2013 after Nyamira experienced an invasion of wild dogs that saw two people die from rabies, and several others infected with the disease that's spread through the bite of these canines.
"So many villages in the county had been invaded by the untamed dogs, which were biting people all over. Veterinary officers in conjunction with public health departments mobilised the youth to hunt for the dogs and kill them. I was among those who volunteered for the job," he says.
After killing more than 20 of the feral dogs, a unique assignment awaited the volunteers – disposing of the dogs. However, getting people to show up for this proved to be a Herculean task.
''Only myself and the officers who were in charge turned up at the different scenes where the animals were killed. It ended up being my responsibility to collect the dogs and dump them," Evans says.
That was not the only incident that made the county give him the job he has now.
When a dog was killed near a marketplace, the women who traded there were too scared to remove it. They held a mini-harambee and collected Sh500 among themselves and offered it to anyone willing to get rid of the carcass.
Evans heard about the job and quickly made his way to the market where he took on the assignment after collecting the cash. Word about his 'heroics' and willingness to take on even the most difficult of jobs spread widely. This reputation ended up landing him a contract with the county government.
Immediately removed
He was assigned the task of carrying out general cleanliness, including sweeping the main market at the county's headquarters and ensuring any animal that has been killed in a road accident is immediately removed and properly disposed of.
Aside from this job, Evans also pulls a handcart in Nyamira town. He spends his evenings at bus stages waiting for travellers with heavy luggage to pay him to ferry their bags to various destinations.
On a good day, he says he makes up to Sh300. This is aside from his Sh14,000 monthly salary from the county.
With this income, he got his wife and children back home, and is able to meet their needs.
"However, I'm still on the lookout for job openings for morticians at local hospitals."
Evans encourages those who don't have jobs to not limit themselves.
"There is a lot out there that needs to get done, but most jobseekers want only certain types of jobs. Kazi ni kazi ndugu yangu," he says.
Related Topics