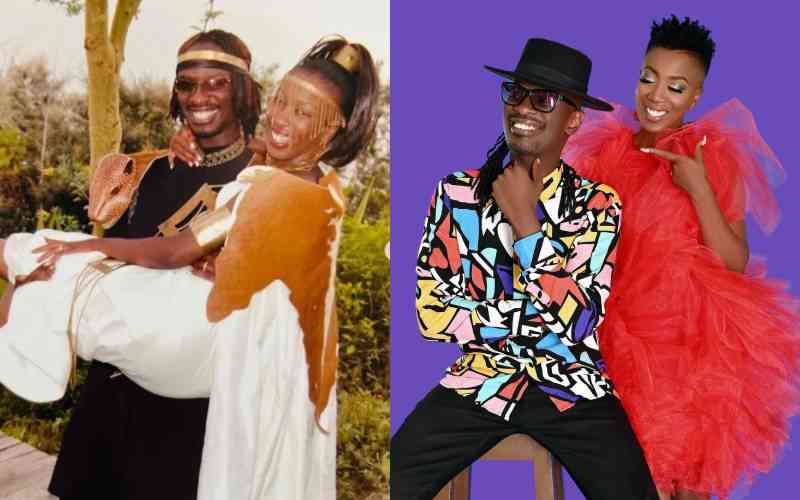 The love story of the renowned Kenyan artistes David "Nameless" Mathenge and Wahu Kagwi is one that has stood the test of time.
It is a reminder, in the wake of so many splits, that marriage can indeed work and that love conquers all.
Their affection for each other oozes in the music videos they do together, and their romance is reflected on their social media posts, where they do not hesitate to dote on each other as they raise their picture-perfect family in the limelight.
"How it all started. I was going to a Nairobi hotel where Pete Odera, who I was doing background vocals for was performing," Wahu says on who made the first move.
The couple narrate their experiences on an episode of their reality show, This Love.
Nameless explains that a friend urged him to go to that hotel that day because of his interest in music.
"Boy wangu ali notice vile na penda ku rap akaniambia nikuje. Nilienda huko na sandals," he says, admitting that he did not look his best the first time they met.
"I wasn't at my best, and I hated that performance. When I sat down, I felt a tap on my shoulder, nikaona ni mrembo. She told me 'that was a good performance'," Nameless says.
The pair notes that the rest was history, as they say, because their conversation was seamless and their connection instant.
As the episode of the show progresses, the couple reflect on how being together over a decade has been. There are memories of their time at the University of Nairobi, and as they banter back and forth, they still call each other 'babe.'
And since that time when we saw their beautiful wedding ceremony all over the TV in 2005, it has been 17 years.
Still, after all these years, and three lovely children later, they seem to be just as in love as they were on day one.
Lessons from their love story
The celebrity couple has not been shy in offering romantic advice through the years. They have been outspoken about how they make their union work, and the lessons are precious for any young couple looking to stick together for the long haul.
The Mathenges once told Parents Magazine that the secret to their love staying strong is a foundation in friendship with each other.
"We are really good friends. Another thing that helped us is that we grew together in terms of our personalities; since we met in our 20s," Nameless said.
"We are also learning that we are different, and we respect each other's differences."
Wahu agreed that their close friendship has been key for the continued success of their union.
"If I had met him when he was already Nameless, it wouldn't have been the same," she said, as the two joked that he would still have convinced her to be his wife.
Nameless said: "It's not been perfect, we have had our issues and we do fight, because there are two strong personalities. I think the most important thing is how you handle those differences."
He added that the couple never spend more than two or three days angry at each other.
"Learning is a continuous process and even in our relationship, we learn as we go,"Wahu said, adding, "understanding what communication means, hearing the other person, getting where they are coming from and taking that into deep consideration."
The well-known media personality Julie Gichuru and her husband of over 20 years Anthony Gichuru are another couple whose relationship has stood through the years.
In 2021, Julie poured her heart out on a Valentine's Day post as the two marked 22 years together.
"22 years of love. It's not about a day of romance or material things. It is about friendship and respect. Laughing together. Praying together. Understanding each other, well. Supporting and encouraging each other," she wrote, adding, "Comforting and strengthening each other. Respecting each other. Love is not static; it is a continuous series of actions that feed a state of being. Wishing you deep and lasting love. Happy love day!"
The media personality often documents important days with sweet words about her husband, whom she has once described as an answered prayer.
The popular Reverend Kathy Kiuna and her husband, bishop Allan Kiuna of the Jubilee Christian Church are another admirable, long-standing couple.
The couple have been married for 28 years, and often speak about playing their roles and doing their best to be the ultimate partners in their marriage.
While speaking on a ministry episode dubbed Marriage Works and uploaded on JCC's YouTube channel, the couple noted the importance of resolving every emerging issue in your relationship.
"You should not sweep anything under the rug," said Bishop Allan.
"One should be able to say, 'I don't like this, so how do we address it?' so that as the relationship goes on, that doesn't become an issue."
After a 10-year wait, gospel artiste Evelyn Wanjiru and husband, Agundabweni Akweyu, finally got their precious bundle of joy last year.
Baby Mshindi Akweyu Agundabweni arrived on April 6, a day before the couple's 10th wedding anniversary.
"You can't believe the kind of happiness when you see your child for the first time. It's like you are out of your mind," says Agundabweni.
While dating, they had planned for three children, but six months passed, then one year, then two, then three years.
"In the third year, we were encouraging ourselves that it was just three years," says Evelyn. "Then it became four years, and we started wondering if anything was amiss."
Evelyn say love never fails and that is why the stood together regardless the pressure from friends.
"I think God worked on our faith and our maturity because we reached a point where we ignored everything and focused on our work. And 10 years passed like that. The grace was very sufficient," says Agundabweni.
Related Topics