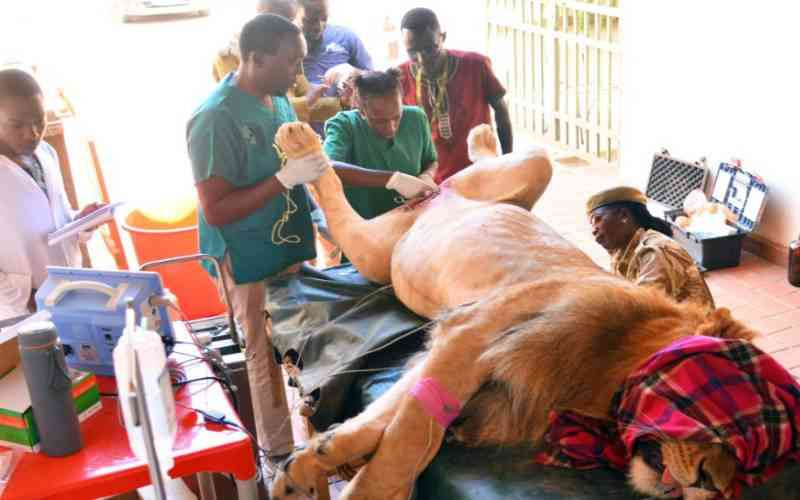 The Kenya Wildlife Service (KWS) has defended itself against Kenyans' criticisms following its decision to conduct vasectomy on a 3-year-old lion in Nairobi despite a decline in population of the animals.
The lion, caged in an orphanage at the Nairobi National Park, was sterilised on Thursday, January 26 at the KWS veterinary services clinic.
KWS now says the decision was arrived at "to control breeding at the captive facility", further stating that it is illegal for animals to breed in caged settings.
"When wild animals are hand-reared, they lose their natural instincts, and if released back to the wild, they are vulnerable. The cat family end up being problem-animals as they look for easier prey," the KWS said in a statement on Saturday, January 29, disclosing why sterilising the lion under human supervision was the best decision compared to releasing it back to the wild.
"As such, the wild animals kept in captive facilities are given the best conditions and utilised as exhibits to enhance local tourism, conservation education and awareness for schools and the general public.
"Breeding is not permissible in captive facilities and appropriate management interventions such as vasectomy are undertaken using the recommended best practice to ensure animal welfare is enhanced," said the KWS.
The agency says contrary to widespread speculation, the extinction of lion population is not as a result of controlled mating, but due to climate change, human-wildlife conflict and habitat loss.
The lion population in Kenya has declined from more than 30,000 in the 1970s to 2,589 in 2023, KWS data shows.
"The main threats to lion conservation include human-wildlife conflict leading to injury and retaliatory killing, increased human settlement and infrastructure development in wildlife habitats leading to increased interaction between people and wildlife, habitat loss, fragmentation, declining wildlife populations which affect predator-prey dynamics, impacts of climate change occasioned by frequent and prolonged drought, diseases, and lack of clear land use plans leading to poor conservation management strategies," said the KWS.
The agency said it was implementing the National Recovery and Action Plan for Lion and Spotted Hyena in Kenya (2020-2030) "with a goal to restore and maintain viable populations of lions, and their wild prey while minimising conflict and maximising value to local communities".
The lion that underwent vasectomy at the KWS facility on Thursday had begun showing signs of the desire to mate, the KWS said.
The animal had been caged alongside three lionesses.
It would take a week for the neutered lion to fully heal, the KWS said.
Related Topics