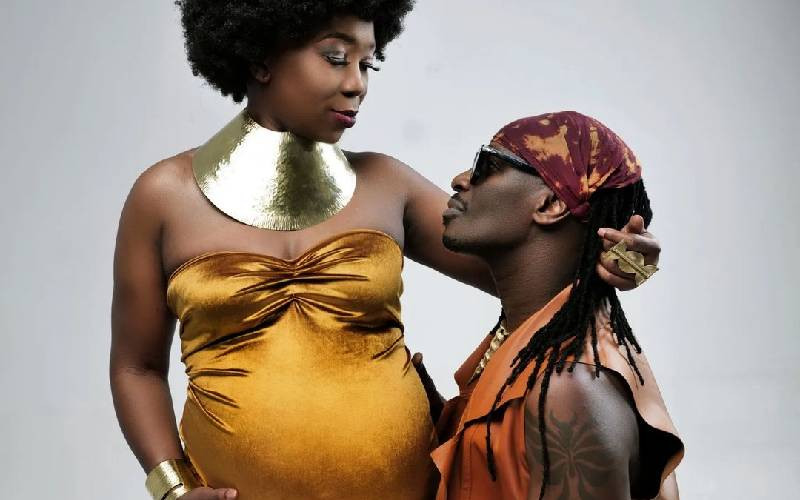 Celebrity couple Nameless and Wahu have announced that they have welcomed their baby girl. Through social media, Nameless revealed that they named the little girl after his eldest sister Rosemary Mutunkei, according to Kikuyu tradition.
"This is 5mins after she was born????... My first earthly connection with my third born Daughter, Shiru, named after my eldest sister Rosemary according to Kikuyu tradition," Nameless wrote in part.
Sharing more details, Nameless disclosed that they are yet to give her an 'African name' but will do soon.
"We'll also give her an African name soon.????Thank you for your prayers and well wishes??? ! Shiru is healthy, beautiful and very alert ?." He added.
He added that both the baby and mother are in good health.
"And wifey, Mama Shiru did a splendid job at bringing her into this world. Mum is fine and excited to start this journey together," he shared.
The newest parents in town have since been receiving congratulatory messages from their fans and fellow celebrities.
@millychebby: Congratulations fam welcome to the world Shiro
@rayctanzania: Girl Dad
@talliaoyando: Awwwwwwwww Shiro she's so gorgeous she looks just like Kio ... congratulations
@giladmillo: Congratulations to all of you
@diana_marua: Aaaaaawwwww, congratulations Fam she is too cute
@mzaziwillytuva: So beautiful ? God Is Great. Congratulation
@thenaiboi: Brooo Congratulations ??? . And just so you know i have a son and you have daughters do you think we ....
The M'z, as they are referred to announced that they were expecting their third child in June. Making the announcement via Wahu's Instagram page, the singer shared a short video after having put up a series of posts saying that she had a special announcement to make.
"I'm about to make a special announcement... I'm excited, overjoyed, humbled, yet anxious about it," she said.
Adding a caption to the video, the singer said that she was humbled and at the same time happy.
"Deep by The M'Z - link in bio! Overjoyed, humbled, grateful, M-let loading", read the caption
Related Topics