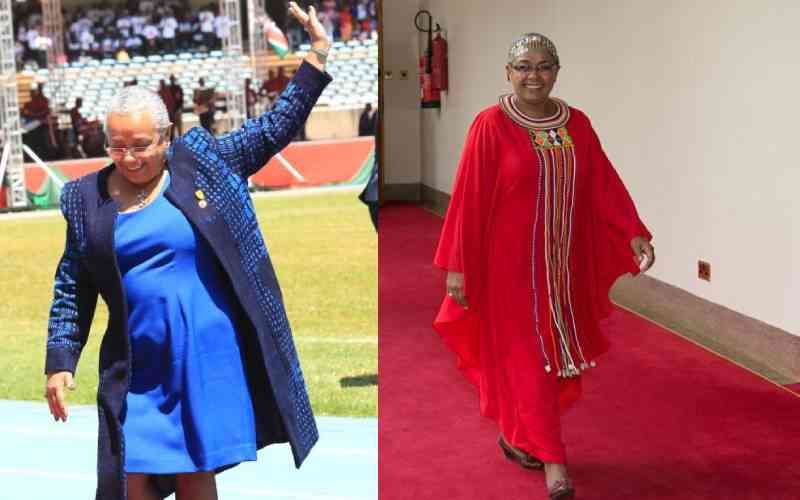 First Lady Margaret Kenyatta has always been demure, carrying herself with the comportment of a lady who probably went through finishing school and internalised all the lessons.
At finishing school, young women of the upper class are taught how to behave gracefully in social situations, observing the rules that are becoming of ladies of their calibre. If she did indeed go through such, her teachers would be proud.
Margaret has managed to be publicly visible while remaining utterly mysterious. One can't really pin anything on her, except to say that she appears down-to-earth.
One of her most common features is her short, natural hair, which she has previously described as "naturally salt and pepper".
She always wears a warm smile, and seems content to stay in the background while her husband, President Uhuru Kenyatta, takes lead.
This is a stark contrast from the previous first lady, Mama Lucy Kibaki, who once stormed a media house in the middle of the night to express her disappointment with stories they had published.
Mama Lucy Kibaki brought the Office of the First Lady to the fore. Before that, the Office of the First Lady was largely dormant. Even the very term "first lady" itself was largely unknown.
Founding president Jomo Kenyatta's wife, Mama Ngina Kenyatta was the closest example to our current first lady, as she was visible but largely stayed in the background during Jomo's presidency.
Seeing as Mama Ngina is the mother-in-law to the current first lady, Margaret may have borrowed a leaf from her, likely even had a few sit-downs over the matter.
However, Margaret changed the office in her own way. Over the 10 years she has been first lady, she has given well prepared speeches but rarely speaks off the cuff.
She once adamantly gestured her refusal to take the mic when the president playfully handed it to her, despite encouraging chants from the crowd egging her on to speak.
With the exception of a couple of short interviews she gave the press at the beginning of her Beyond Zero campaign, she does not do interviews with the press.
From the very beginning, Margaret stated that she would steer clear of politics as a first lady. "There are many issues especially in health with can take me through five years."
The public has had to guess what she's like through observation from a distance and from what people around her say about her.
The most authoritative source on the first lady is, of course, her husband. One thing we can guess from what he says and does when around her is that they have a loving and fun relationship, and if one thing is certain, Kenyans love a good love story, and Margaret has showed them one.
Margaret and Uhuru were high school sweethearts and got married in 1991. They have raised three children, and the first lady was once quoted saying of them, "I expect them to be decent, honest human beings and to respect others."
In a glimpse of the fun side of their relationship, the President once jokingly saluted her after saluting his generals during the 2018 Jamhuri Day celebrations, which was met with hearty laughter from her.
They have been seen dancing affectionately a few times, and Kenyans were delighted when, after a marathon, she excitedly ran straight into Uhuru's arms. "I was shocked to see him, so it was an automatic reflex," she said with a smile.
Kenyans were equally furious when a random man stepped into the camera's vision in the exact moment she was giving the president a kiss after she met him on the finishing line at a Beyond Zero marathon.
The first lady's security detail have found themselves having to get up before the crack of dawn with her as she trained for marathons, and stretch and run with her as she trained, strictly matching her pace.
Margaret made history by being Kenya's first First Lady to run a marathon. It was incredibly fitting that the first lady of Kenya, the global home of runners, is a marathoner.
"Running is a very Kenyan thing," she said after one of her training sessions for the London marathon. She has participated in several marathons since, including her own Beyond Zero and First Lady Half Marathon.
She began running to raise money for what is probably her most well-known initiative, the Beyond Zero campaign, which is aimed at eliminating preventable maternal and child deaths in Kenya. "Running raises money, raises awareness, and then we get the money to buy the mobile clinics. But while we're doing that, we're getting Kenyans healthy," she said.
The first lady, who has a background in construction and architecture, also has numerous other achievements, including being named UN Kenya Person of the Year in 2014 for her Beyond Zero Campaign.
She was also awarded the prestigious Eastern Africa Lifetime Achievement Award in 2018 for her efforts in the maternal health campaign.
The president's own words during his re-election speech perhaps capture her essence best: "You have been a pillar of strength and your passion to uplift the well-being of every Kenyan inspires me, as it inspires millions of Kenyans."
Related Topics