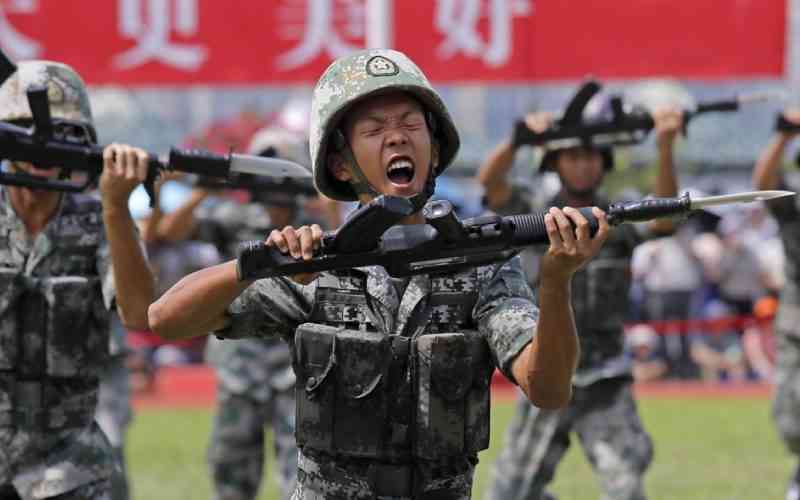 August 1, 2022 marks the 95th Anniversary of the Founding of the People's Liberation Army of China (PLA).
The PLA is the people's armed forces created and led by the Communist Party of China. It has always marched in lockstep with the party and the country over the 95 years with historic contributions to China's national liberation, its socialist reform and development drives, and to defending China's sovereignty, security and development interests. It offers strong underpinnings on which regional stability and world peace can be upheld.
Entering a new era, guided by 'Xi Jinping Thought on Socialism with Chinese Characteristics for a New Era' and 'Xi Jinping Thought on Strengthening the Military', the PLA adapts to new trends and developments in the world's revolution in military affairs and adheres to its own path in building a strong military. It has formulated a three-step development strategy for modernising national defence and armed forces: Achieving the centenary objectives of the People's Liberation Army by 2027; completing the modernisation of national defence and the armed forces by 2035 and fully transforming the armed forces into world-class forces by mid-21st century.
A strong Chinese military is a staunch force for world peace, stability and a community with a shared future for mankind. Its commitment to UN peacekeeping operations, escort missions in the Gulf of Aden, humanitarian responses and other operations speaks for the true meaning of the PLA – standing fast as a disciplined force for peace and justice.
The world today is far from being peaceful and tranquil, has not completely defeated Covid-19, and yet is now facing the Ukraine crisis. An international situation already rife with uncertainties is witnessing one security threat after another.
As the largest troop-contributing country among the permanent members of the UN Security Council and the second largest contributor to the UN's regular budget and peacekeeping assessment, China has been supporting UN's peacekeeping operations with over 40,000 peacekeepers serving in 25 operations.
On peace and security, China will always walk side by side with our African brothers. More than 80 per cent of China's military peacekeepers and 75 per cent of its contributions to the peacekeeping assessment are deployed in Africa.
China's naval fleet has escorted nearly 7,000 Chinese and foreign vessels through the troubled waters off Somalia. Among the nine programmes under the first three-year plan of the China-Africa Cooperation Vision 2035 President Xi announced at the opening of the Eighth Ministerial Conference of the Forum on China-Africa Cooperation, peace and security plays a key role.
China will undertake 10 peace and security projects for Africa, continue to deliver military assistance to the AU, support African countries' efforts to independently maintain regional security and fight terrorism, and conduct joint exercises and on-site training between Chinese and African peacekeeping troops and cooperation on small arms and light weapons control.
-Mr Zhou is Chinese Ambassador to Kenya
Related Topics