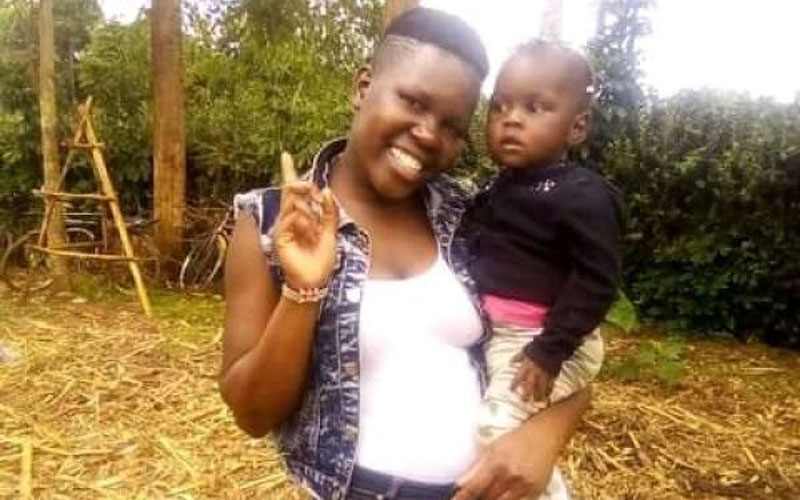 A couple is crying for justice after their daughter was allegedly beaten to death by her employers who accused her of stealing Sh6,000.
Loreen Naswa Fwamba, 23, was reportedly killed on Tuesday by members of a family where she worked as a house-help in Machungwa village, Trans Nzoia County.
Her employers' home is barely 50 metres away from her parents' house.
Naswa's father, Patrick Wafula, said she had been summoned by her employer when she met her death.
It is alleged that she was attacked by her employer's two sons as they attempted to extract a confession from her.
"The two men confronted me at a grazing field and forced me to lead them to our house, where they searched for the money. Afterwards they frog-marched me to their home," Naswa's brother, Boniface Wanjala, told The Standard.
He continued, "They locked us inside the house and demanded that we produce the missing money. They later ordered me out before attacking my sister using a stick and a whip."
He said despite Naswa's pleas of innocence, the men continued to attack her on instructions from their mother. "I tried to plead with them to spare my sister's life by offering a cow to compensate for the lost money but they refused."
Wafula said he rushed home after hearing that his daughter was in trouble. "I found my daughter motionless on the ground. They asked me to take her away, but I declined."
Dead on arrival
He added that two police officers from Bikeke Police Post were summoned and they directed the woman and her sons to take Naswa to hospital. They used a motorcycle to ferry her to Bikeke health centre where she was pronounced dead on arrival.
Agnes Khisa, Naswa's mother, said: "My daughter had been working at the neighbour's home for the past five years. On Tuesday morning she was called by her employer to go and help her weed her vegetable garden. Little did I know she was going to meet her death."
Khisa said Naswa used the money she earned to bring up her one-year-old son.
Wafula, a father of 10, wondered why the employer attacked his daughter.
"She should have called me and we sort out the issue if indeed my daughter had stolen her money. Why did she let her sons kill my daughter?"
He said the neighbour had sent emissaries to apologise. "After my daughter was pronounced dead, my neighbour dispatched five people who told me that she is ready to compensate me for the death of my daughter. I turned them away."
Wafula said his family is only interested in securing justice for his daughter.
"As a family, we want justice to prevail. We don't need money. Let the law take its course," he said.
Wafula expresses fears that there is an attempt by some police officers to cover up the matter. "I'm aware that some officers have been compromised to protect my daughter's killers and I asked the government to intervene."
County Commander Jacinta Wesonga promised they would conduct a thorough probe. "It is unfortunate that a life has been lost. We have launched an investigation and let me assure the family that no stone will remain unturned. What we want is evidence."
Related Topics