Home
/
Lady Speak
(When) Love is not in the air!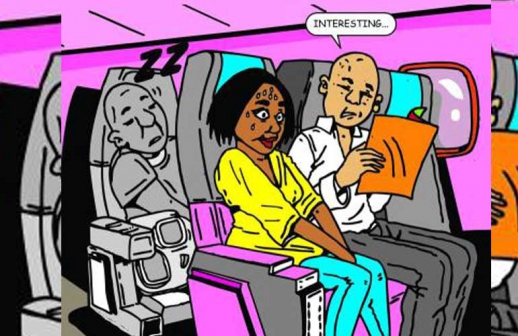 The first time I boarded a plane, I was horrified. It was just a 45-minute flight but to me it was an eternity and by the time we were landing somewhere on the lakeside, I had started turning pale.
I remember getting to the airport four hours before the flight even though I had been told to be there at least two hours before our departure. As I went through the security checks, I was only thinking about plane crashes I had watched in movies.
I almost left my boss to go on his own. All through the four hours before our departure, I kept calling my family members to inform them of the risk I was about to take. Yes, to some of us, flying is a risk.
Finally boarding time came and I dragged myself to the plane as I said the Lord's Prayer. A flight attendant stood before us and told us what we needed to do in case of a crash or emergency landing either on land or in water. I held my breath as she showed us the emergency exits - as if we had wings!
Then she told us all to switch off our gadgets since they were likely to interfere with signals. By the time she finished the sentence, my phone was already off. I was not ready to crash!
The plane started moving and the handsome middle-aged man next to me had not switched off his phone. I tapped him on the shoulder and asked him to switch it off because I was not ready to die in a plane crash because of him. My pleas fell on deaf ears and that's when I realised I have my mother's genes in me, those genes that are like Siamese twins with drama.
I frantically started waving at the flight attendant for attention and she came to my rescue. My boss turned towards me and gave me a stern look but I did not care, not when this oaf of a guy was about to crash the plane. I told the attendant about my seatmate and started begging her to tell the man to switch off his phone or move me to another seat.
I still don't understand why I wanted to be moved to another seat as if only his part of the plane would crash.
The handsome man looked at me from the top of his glasses as though he was a judge about to pass a verdict and said, "It's on flight mode." The flight attendant smiled at me, told me to calm down and quickly went to her seat leaving me sobbing with a young handsome man next to me.
He then turned to me to say something and before he could, the plane took off and all I could feel was emptiness inside me. I felt like all my organs -- all the way from my brain via my esophagus to my womb -- had been swept down to my feet.
To make matters worse, we were on board with some three children whom I believe were frequent flyers based on confidence they exhibited all through.
The only problem was that they kept joking about the plane crashing in mother-tongue and I could understand them clearly.
Every five minutes they would start shouting "Ndege podhoooooo!" to mean, "We are crashiiiiiing!" then imitate women wailing.
I swear those children killed me enough times on that plane that by the time we were landing, I was already in heaven beside Bartholomew and Nebuchadnezzar!
Related Topics