Does your decor make a fashion statement?
Interior décor - By
Dorcas Muga-Odumbe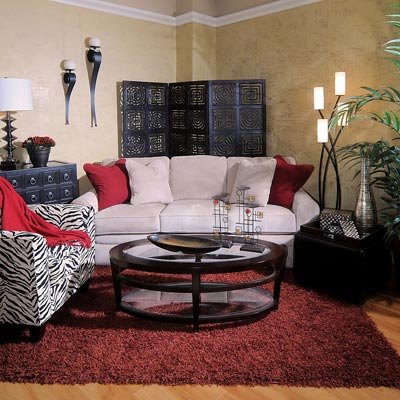 Think of your home accessories and decoration as part of a fashion runway. There are indeed some basic fashion rules that can help you sort out your home décor.
Classics: Always go for classic pieces; Invest in items that you will keep for years. Like the little black dress or a crisp white shirt, go for sofas with a clean line, a classic carpet and an adorable dining table.
Accessorise: This is the only way you can spice up beautiful attire. A bold necklace or earrings on a plain dress are a statement in themselves. If you have a classic sofa that is too plain and rather boring, pop it up with bold coloured accessories like cushions or throws. You could also paint your walls a popping colour to contrast the sofa.
Right fit: Fashion gurus will tell you to wear well-fitting clothes that are neither too tight nor loose. This rule applies to your home too. Do not squeeze huge sofas into a tiny room and vice versa. They also say you should highlight your best features and hide the less attractive ones as you dress up. Thus you should ensure you call attention to your room's best features. If you, for example, live in a rental house and it has fixed cabinets that are hideous, you could camouflage it by putting new handles or painting it a colour that you love. On the other hand, if you have a beautiful fireplace, ensure it becomes the focal point in the room.
Colour scheme: You just don't pick anything and wear. You ensure the shoe will blend with the handbag and the outfit. This way, the outfit is brought together. Ensure the colours you paint in your home coordinate and are not overbearing. The best way to go is have a main colour; a lesser used secondary colour and an accent one in smaller amounts.
No shoes no outfit: They say shoes make the outfit. The flooring you have for your house will make or break it. It could be the tiles, carpets, rugs or wooden floors; but they all add up to the room's completion. The way you choose the shoes you love is the way you should choose your flooring. Go for beautiful carpets, rugs or lovely wooden floors or tiles. Ensure the colour blends into the rest of the room.
Versatility: Pick clothes and shoes that can be worn with other varying pieces. Back to the little black dress; you can almost wear it everywhere, to the office, for a dinner date or to the movies. In the same way, an ottoman can serve as a coffee table as well as offer extra seating space. Versatile pieces, in the long run, give you value for your money.
READ MORE