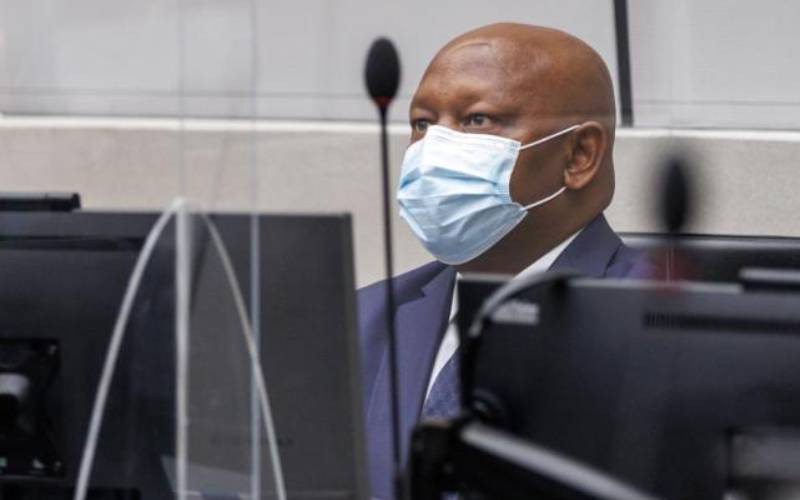 Before he surrendered to the International Criminal Court (ICC) on November 1, 2020, Paul Gicheru was not a well-known public figure.
Although the 52-year-old lawyer loved a quiet life, the warrant of arrest that was issued by the ICC over allegations of witnesses interference had thrust him into the public limelight. But he still managed to keep a low profile until the day he gave himself up to the Hague-based court.
His sudden death on Monday evening at his Karen home, therefore, came as a shock.
Gicheru's friends, colleagues and staff at his law firm could not believe that the man they fondly referred to as a 'smart gentleman' had passed away on a day he had not shown any signs of illness, and was in his usual jovial mood.
"He was such a gentleman and a brilliant lawyer. I was shocked when I received the news of his death, I am yet to find out what really happened and the circumstances under which he died," said senior counsel John Khaminwa.
Dr Khaminwa was not only Gicheru's personal lawyer but his confidante too. They were bosom friends who were there for each other through thick and thin.
When Gicheru surrendered to the ICC, Khaminwa remained behind to explain that it was a personal decision, and to clear the air over claims going round at the time that he had gone to the court to fix President William Ruto.
"For me I have lost a personal friend, a client and a colleague whom we handled many cases together. He was a friend who came to my house at any time with his family and I visited his home many times as well with my family," said Khaminwa.
The Law Society of Kenya (LSK) mourned Gicheru as a dedicated member, saying they were saddened by his sudden demise.
LSK President Eric Theuri said they will keenly follow up to ensure that investigations into his death are conducted professionally and are above board.
"It is in public domain that he was facing charges at the ICC. It is also in public domain that several witnesses in the ICC cases have either disappeared or died. There is therefore significant public interest in establishing the cause of his death," said Mr Theuri.
Gicheru's colleagues described him as a workaholic who could juggle many roles managing State corporations while at the same time dealing with tens of clients who sought his legal services.
Born and raised in Eldoret within Uasin Gishu County, Gicheru attended Kapsabet Boys High School between 1987 and 1990 before joining the University of Nairobi for his Bachelors of Law Degree.
After being admitted to the bar as an advocate of the High Court, Gicheru briefly worked at Kalya and Company Advocates before establishing his own law firm, Gicheru and Company Advocate.
When you visited his office at Victoria Towers in Nairobi's Upper Hill area, one would always find him busy with clients seeking his services.
Even when he was a senior government official as chairman of the Public Procurement and Administration Review Board (PPARB) and lately the Export Processing Zone Authority (EPZA), Gicheru did not abandon his office and still had time for his clients.
You would find files piled high on his table, and a portrait of his two sons hanging on the wall next to his seat.
Despite the ICC warrant of arrest that hung over his head for five years, Gicheru diligently served as PPARB chairman from 2015 where he handled more than 100 disputes relating to public procurement and government tenders.
It was during his tenure at the helm of the board that several tenders were cancelled for breaching procurement laws and exposing the public to loss of funds through corruption.
"There is no prudence use of public funds when it comes to government procurement. It is either the officers willfully decide to abuse the procurement process or collude with cartels to decide who will get what from which ministry," said Gicheru in one of the PPARB rulings.
In 2019, Gicheru was appointed EPZA board chairman. He worked until his resignation in 2021 following his surrender to the ICC.
Back to the ICC case that thrust him in the public limelight, Gicheru was indicted in 2015 when the court issued a warrant of arrest for offences against the administration of justice.
The allegations were that the lawyer interfered with witnesses who had been lined up to testify against President Ruto and radio journalist Joshua Sang in the crimes against humanity charges they were facing from the 2007 post-election violence.
Just as his death came as a surprise, his surrender to the ICC surprised even Khaminwa who could not understand why he left the prestigious government job and gave himself to the court despite a High Court decision which had quashed the warrant of arrest.
Khaminwa said at the time that he had spoken to Gicheru's wife who told him they had decided as a family to let the lawyer face his accusers.
On his first media interview in February 2021 after arriving from the ICC, Gicheru appeared jovial, laughed a lot and behaved like a man who had a big burden lifted from his shoulders.
"Owing to the nature of the matter, I took an entire voluntary and personal decision in strict and exclusive consultation with my family without the participation of any third party," said Gicheru.
The lawyer said his conscience would not be at peace knowing that there was a warrant hanging over his head.
Gicheru said that he deliberately chose to travel in secret "so as not to trouble anyone" since the warrants were against him as an individual.
Some of his professional colleagues and friends said they have lost a resourceful person who worked with dedication to achieve his goals.
"We all know Paul Gicheru differently, but to me he was my neighbour. We purchased one property in Eldoret, sub-divided into two and share one gate. I pray for the repose of his soul and that his family be comforted. May the prayers of his family reach the heavens," tweeted lawyer Donald Kipkorir.
Khaminwa said that as Gicheru's family continues to mourn his death, the public should not speculate about the death and instead allow police to complete investigations.
Related Topics