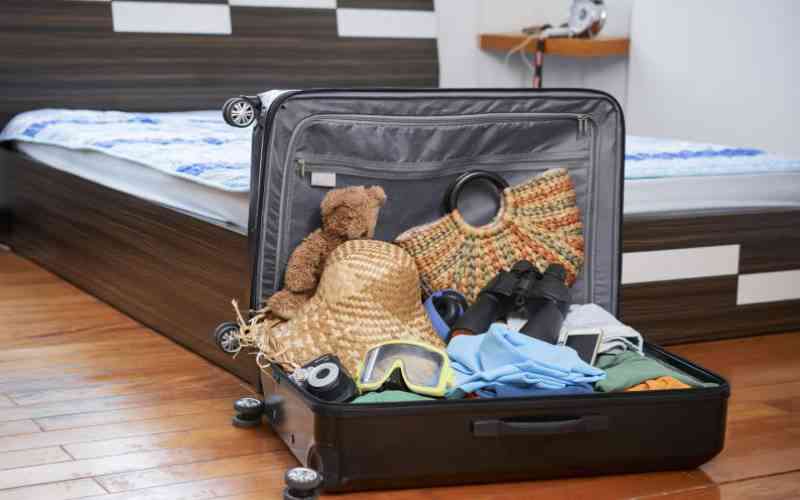 Packing a carry-on bag is an art in itself. This is especially so because travellers must balance their travel requirements with airline policy and airport security.
The key is to ensure that important items are easily accessible.
For international travellers, it is important to note that each country has different rules and guidelines about what can and cannot be brought aboard a plane.
There is, however, a general rule on things that are not allowed to be brought aboard a flight. These include knives, firearms, explosives and sporting equipment such as baseball bats. Essentially anything that is a weapon or can be used as a weapon.
The next category includes liquids and gels. Global airlines restrict liquid and gel items in a traveller's hand luggage. Where allowed, liquid in bottles, must fit in a single-litre-size zip-top plastic bag.
However, a few exceptions include essentials such as medications and food for infants and children.
If you want to carry a bottle of water or soda on board a flight, buy it and stow it in your carry-on after the security point, not before.
You can save time at the security line by making sure that your plastic bag of liquids and gels is right at the top of your carry-on or in an easily accessible pocket.
This also goes for laptops, as you will have to take them out at the security checkpoint for screening.
However, as technology evolves, some airlines are now allowing passengers to leave liquids and electronics in their carry-on bags when going through security checks.
DO NOT PACK TOO MUCH
Heavy checked bags that go outside of the weight limit will be charged an extra cost, and so will your carry-on bag. The recommended weight limit for hand luggage is between seven and 12 kilograms.
If you are a frequent flyer, get a small luggage scale to weigh your bag before heading to the airport. This will help you redistribute or discard items in the privacy of your home rather than doing so at the airport.
Some airlines may not have weight limits for carry-on bags, but they have size limits. It is recommended that you check your airline's site or agency for carry-on size restrictions well before your flight to ensure that you have the appropriate luggage.
Some travellers assume that their hand luggage is not subject to checking at the security point. All luggage going on board an aircraft is subject to security checking.
Although the carry-on bag is your hand luggage, ensure that it has a luggage tag in case you lose it.
If you are travelling long-haul, you might want to pack some essentials such as earbuds, headphones, hand sanitiser, an eye mask, a travel pillow and reading materials, and anything else that you consider handy for a long flight.
Related Topics