Home
/
Lady Speak
My second chance at life and love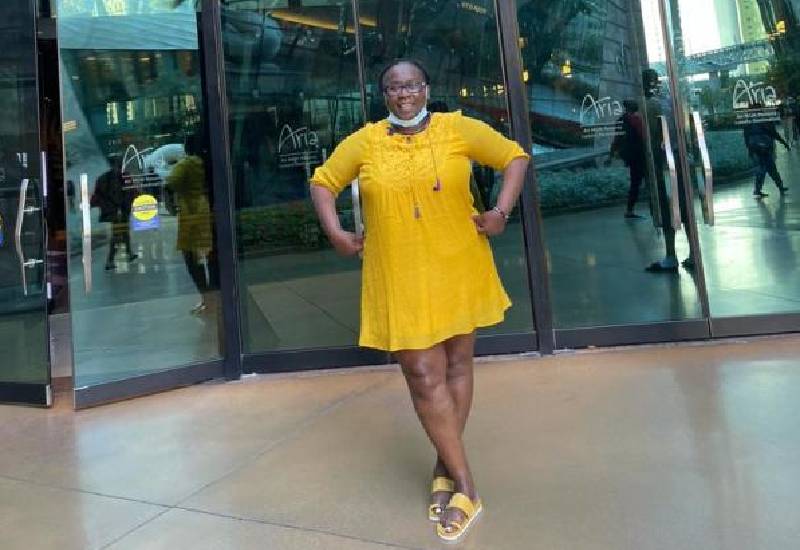 Allen Thuo was always a good sport; a good-natured man who did his best to be a great dad and husband. And that fateful day in November 2012, he would accompany his wife on a work trip to Loitoktok. Dorcas Waithera Cooper remembers that day so vividly.
"We got into a road accident and I was knocked unconscious. Allen seemed unhurt. But two weeks later, he would start complaining of severe headaches."
A trip to the hospital would reveal that the accident had caused a head injury.
"They called it a subdural hematoma. Blood vessels in his head had burst and the blood had pooled and was pushing on the brain. He needed surgery."
Unfortunately, he didn't survive the recovery period of the surgery. And the world would suddenly turn dark for Dorcas and each new day brought untold pain.
"It was now just me and our two boys alone in a cold harsh world. I didn't know how I would do it, but I knew that I had to survive it for the children. To tell you that my life felt unbearable is an understatement," she shares.
With their world shaken, her two young boys needed her more than ever. And Dorcas had no choice but to do what she needed to do to bring some stability into their lives. This prompted her to ask her grandmother to move in with them.
Days would turn into months and months into years. The grief would slowly morph into a dull ache in her heart, but also life began to somewhat take form. Unfortunately, another tornado was in the horizon.
"One day, I started bleeding. At first, I thought it was a hormonal imbalance issue. But then my stomach started to swell too and it got so big and hard to the touch that people assumed I was pregnant."
After a series of misdiagnosis, she was finally diagnosed with ovarian cancer in November 2015.
"I was the only parent my children had. So, I didn't really try to think of the worst possible outcome. I started fundraising for the treatment. I needed to live. I had to live," she says.
She would travel to India for a surgery that would cut out the tumour but while there, the doctors decided that removing her uterus—a hysterectomy, was her best bet since the tumour had grown so much. The surgery went well and pretty soon; Dorcas was on a flight back home to recover.
They say that tragedies come in threes, and for Dorcas, it felt eerily true. Just a few months after surgery, she would be rendered homeless.
"My neighbour's house caught fire which spread to my house. It was razed to the ground and it seems unimaginable but the only thing that remained untouched by the fire were three Bibles."
Even dealing with her loss, she took this as a sign. A sign that God was by her side. And so, again, she would move her little family to a relative's house as she figured out her next move. In a desperate effort, she posted pictures of her burnt house on social media calling on well-wishers to assist her in any way they could. And show up for her they did.
"My entire life had gone up in flames and strangers were helping me rebuild. In a few months I had rebuilt my house and furnished it even better than before. 70 per cent of the people who came through for me were strangers. I will always be grateful to them," she says tearfully.
With a new house, and her health seemingly on track, Dorcas threw herself into rebuilding her life again. In a bold move, she would also sign up on an online dating site. She was ready to throw herself into fully living again.
"My one rule was that I would only date people I could physically meet. That was the only way to vet them."
And she would finally meet someone, strikingly handsome Jason Cooper who would remind her that life, even with all its thorns, was still beautiful.
"When I told him I couldn't bear him any children, he told me that the two I had were enough for us. We got married in August 2020 after 10 months of courtship. He is the most wonderful man," she says, joy sparking her eyes.
She still remembers Allen, but this time, with fondness and not the deep hurt that once threatened to overwhelm her.
"When death robs you of a loved one, it is permanent. My wound has healed but the scar remains. I talk about him, remember him and honour him as the father of my children. My current husband respects and understands that. And I love him all the more for it."
Today, Dorcas and her family live in Washington DC in the US. A move she made because she needed a new beginning. She also has a book to her name; In The Potter's Hands. The book chronicles her life and that she intends to turn it into a movie. Her children are in high school and thriving, and if you were to ask her, she will tell you that she couldn't have possibly imagined that things could work out so great.
"Put your trust in God. Trust that God restores," she says.
Related Topics