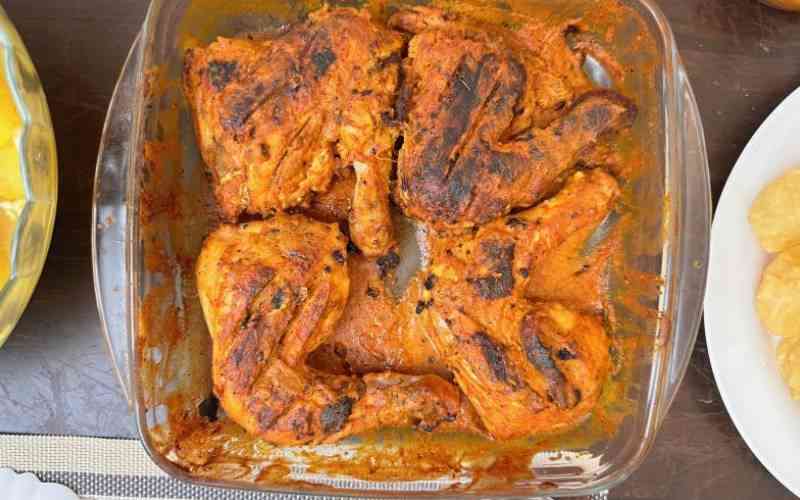 It is easy to make chicken tandoor at home without using a charcoal grill and still maintain that char grill flavour. Today we make this tasty treat.
Ingredients:
4 chicken leg quarters (scored)
1 cup thick yoghurt
Salt to taste
1 teaspoon black pepper
1 teaspoon paprika
1 teaspoon turmeric powder
1 teaspoon ginger mince
1 teaspoon garlic mince
2 chicken bouillon cubes, crushed
1 tablespoon vegetable oil (for the marinade)
1 cup thick tamarind sauce
1/4 teaspoon yellow colour
2-3 tablespoons vegetable oil (for pan searing)
Method:
Mix all the ingredients in a bowl and set aside. Remove the skin from the chicken legs and pour the marinade over the chicken.
Marinate for 30 minutes or even overnight if you wish. In a non-stick pan over high heat add the oil.
Once the oil is hot pan sear the chicken until golden brown on both sides. Once browned remove from the pan and coat the chicken with the remaining marinade (this will add extra flavour).
Bake in an oven at 180°C for about 30 minutes. You can also use an air frier (this should take less time, depending on the model of your fryer).
Remove from oven and serve immediately. Enjoy with viazi vya nazi, chips, or ugali.
Related Topics