Home
/
Health
Living with the agony of misdiagnosis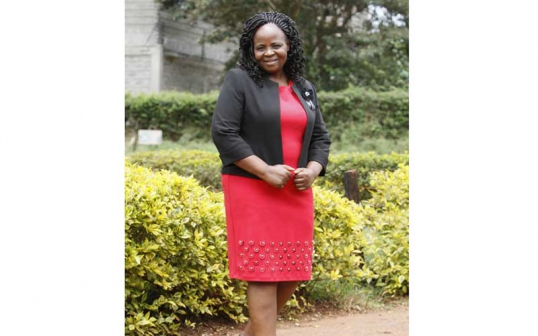 One of the worst things that can happen to a patient is to spend lots of money and time trying to get better only to realise that they have been misdiagnosed and have been taking the wrong treatment. This is what happened to Regina Andesso and her father, who tragically succumbed to illness in the course of treatment. She narrates her story to Lucy K Maroncha
It was an ordinary day in October last year. I was alone in the house and going about my chores. I had just gone downstairs and was bending to pick something off the floor when I felt a sharp pain on my back and I could neither bend lower nor stand upright. I remained in that position and in severe pain for what seemed like eternity.
I had left my phone upstairs so I could not call anyone for help. It was a nightmare as I struggled in excruciating pain but was finally able to reach the phone and call my husband.
My husband and son arrived and took me to hospital. I get moved to tears when I remember how my daughter came in later and prayed for me prophesying that nothing bad will happen to her mother. Such moments make me want to glorify God the more because even having such loving people around me can only be God's doing.
At the doctor's, I could hardly believe what the doctor was saying. "It is clear that you have rheumatoid arthritis which needs urgent treatment," his words resounded in my ears. How could this be?
Two years before, I had sat in another doctor's office and received a totally different diagnosis. That doctor had summarily told me I had low calcium and I needed to increase the mineral in my body. That, according to him, was why my feet and fingers had been getting numb and swelling.
Since then, I had religiously worked on increasing my calcium intake as per the doctor's prescription and even ended up gaining ten kilogrammes in only two months. When I expressed my worry to the medic about my being overweight, his version changed to uneven distribution of fluids hence the rise and fall of calcium in intervals.
How horrible ignorance can be because I bought the story although nothing had changed since my first appointment except gaining weight. Perhaps I was convinced by the firmness in his voice; "When you find that your weight is going up, reduce the calcium and vice-versa," he had said. His advice sounded indisputable then.
Now here was another doctor, who after taking all tests and x-rays to leave no speck of doubt, was telling me that what I indeed have is rheumatoid arthritis. I considered the two years of pain and anxiety where I had been faithfully struggling to balance the high and low calcium.
"Was this all a waste of time and money?" I wondered.
I vividly remember my first symptoms: it had all started with numbness on my fingers and feet. On some nights, I would wake up to find my fingers all swollen but the swelling would disappear as mysteriously as it had appeared.
Having witnessed my father die in September 2014 after a series of misdiagnoses, my worry was now genuine. "Is history repeating itself in my family?" I muttered to myself as my new doctor emphatically stated the urgency in starting treatment for rheumatoid arthritis.
No big deal?
I am a high school teacher who writes a lot, paces and walks often to and from different classrooms hence the pain and numbness could not have passed unnoticed. When I first felt the numbness, I thought it was an ordinary lack of sensation that would soon go away on its own.
But swelling followed soon after and this set my mental alarm bells ringing. That is when I sought medical assistance, hoping that some ointment or some over-the-counter medication would ease the pain. It was therefore a relief when the doctor told me that I had low calcium and if I worked to increase it, all would be well.
I went home satisfied in the knowledge that an expert had spoken and that the swellings and fatigue would disappear. How terribly wrong I was! In just two months, my weight was so heavy that I was dragging my feet instead of walking briskly like I used to. Everyone in the school where I teach noticed it and kept urging me to seek a second opinion. It had taken me this long because I grew up as a healthy child and the only time I had been an in-patient was when giving birth to my two children. But balancing the high and low calcium was not my cup of tea so I saw another doctor.
I recall my growing up with nostalgia. I was daddy's girl as I grew up in Mumias over four decades ago among six siblings. My father was a teacher and I would be the only child he entrusted with cleaning and polishing his shoes. He trusted my neatness and believed that I would one day make him proud. I helped in ironing his clothes and, even as an adult, my father remained my friend.
It was unfortunate that my father lost his life from a misdiagnosis as he treated the wrong illness for ten years. It saddens me that he was being treated for high blood pressure only to be diagnosed with cancer just one month before he died. He had been living with liver and colon cancer which had already reached Stage Four by the time it was diagnosed.
Now years later, I had good reason to worry as my new doctor explained that in the two years I was fighting with calcium and distribution of fluids, I already had rheumatoid arthritis.
I visualised how I would be on a wheel chair and how I would completely be invalid. I thought about my children and my husband and shivered at the thought of being a burden to them. I hated the thought of seeing my husband pushing me around the house in a wheelchair and my children looking on helplessly. I didn't want to lose the life I had built.
I remember how I met my husband and how we both fought for our love which was engulfed in tribal differences. He is from the Kikuyu community and I am from Lhuya land. I was a naïve village girl then and had just joined the then Kenya Polytechnic to study Institutional Management. I met my husband through a college mate.
We dated briefly and soon, I was expecting our first child. This caused a protracted argument between my father and I, especially because my husband was from a different community. But as the saying goes, love conquered it all and our parents had no option but to bless our marriage. "If he defended our love that time when we were only youngsters, there is no way he wouldn't support me in illness" I consoled myself.
True to it, my husband and our children have been my greatest support since I was diagnosed with rheumatoid arthritis. There are times when I am in such severe pain that I can barely be stable on my feet. Those are times I truly feel a sense of belonging because my family is always there to support me. My daughter, for instance, is my friend; she shares every moment of my pain and spends time praying with and for me.
There are times when I get stressed up by medication and physiotherapy and think that, had I not been misdiagnosed, my life would be different. But I get consolation from the fact that I am privileged to be surrounded by people who love and understand my predicament.
As a psychological counsellor, I acknowledge that feeling low in spirits and sometimes getting to a point of almost losing hope is normal. My son seems to understand when I am low and stays with me as if to protect me. Yet there are times I find myself alone in the house because my children are now adults and must go out to do their businesses.
A miracle happened the day my husband was told about a herbal health clinic in one of Nairobi's estates. This is the day that brought great difference in my life. A friend told him of the herbal medicine that had worked well for his relative who had a condition similar to mine. Without even consulting me, he went and bought the medication for me. The moment I took the medicine which is a combination of seed, nuts and spices, the pain on my joints was alleviated for a whole night. We have since continued to buy the herbal supplements although I still go to the gym for my physiotherapy which also helps a lot.
When I look back, I reckon that the over Sh1 million used to treat my dad's "wrong diagnosis" would have helped in managing cancer had it been detected early. I also believe that although there is medical cover for me, I have used over Sh100,000 out of my pocket for my treatment. There are times when I have to buy expensive medicines from other places because they are not available in the facilities which recognise my medical cover.
In all this, I always tell people that it is no cowardice to try a second opinion if the first one doesn't convince you; it may save your life!
When was the last time you wrote someone a letter on paper?
Related Topics