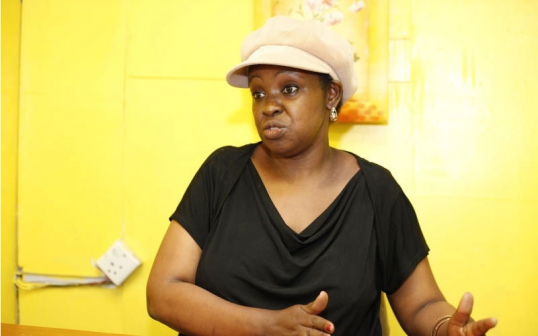 Nairobi residents throng a city hotel to listen to experts demystify breast disease
Survivors show that with early diagnosis, the disease can be overcome.
When Jane Thuo, 49, joined a local choir to help raise funds for cancer patients in 2011, she never imagined she would one day be listed for the very support years later. Her aunt had just succumbed to breast cancer and she was eager to do whatever it took to support cancer patients.
In 2016, Thuo discovered a lump in her left breast, but chose to ignore it. She didn't want to go for testing because she feared being diagnosed with cancer. She later yielded to her sister's pressure to see a doctor.
The first diagnosis at a Nairobi hospital gave her a clean bill of health, but a second opinion revealed the three-centimetre lump was indeed a stage 2 cancer.
"It felt like a death sentence," said Thuo, a Nairobi-based fashion designer. She says had it not been for the support from her daughter Samantha, the rest of her family and a choir that had always held her hand, she would have lost the battle long time ago.
Last week, Thuo was among Nairobi residents who thronged a city hotel to listen to experts demystify breast cancer.
The forum, which featured top medical and lifestyle experts, addressed basic lifestyle issues that can cause cancer. The experts demystified theories that associate cancer prevalence to certain types of foods.
READ MORE
"There is no one food associated with cancer... the troublesome element is ethanol," said Dr David Makumi, a Nairobi-based oncologist.
The experts defined a balanced diet as a healthy meal comprising various kinds of fruits, eaten in moderation in as close to their natural form as possible. They cautioned against eating processed meals, which they said were laden with health endangering chemicals. They asked the public to see a doctor as soon as they experienced abnormal changes in their bodies.
According to Doris Mayoli, a cancer survivor who attended the forum, many cancer cases are discovered when it is too late for treatment, a situation she attributed to ignorance among cancer patients.
"The biggest challenge is ignorance. You just don't think something like that can happen to you and so you don't go for testing. Or you discover a lump in your body and you just ignore it," said Mayoli.
Thuo said she first developed lumps at 17 and later at 20. Each time, the lumps were removed through surgeries.
The World Health Organisation reports that breast cancer is the top-most cancer in women both in the developed and the developing world.
In Kenya, treatment is limited to four of radiation centres at the Kenyatta National Hospital, MP Shah Hospital, the Nairobi Hospital and at the Aga Khan.
Among signs and symptoms that medics at the forum advised to look out for were thickening or lump in the breast or other parts of the body, unexplained weight loss, prolonged pain and fever, and skin changes and sores that do not heal. Women were also urged to raise alarm over unusual vaginal bleeding or discharge as this, though remote, was associated with presence of cancer cells.
Dr Miriam Mutebi, a surgical oncologist and faculty member at the Aga Khan University Hospital, said only 10 per cent of breast cancers are genetic. She said 90 per cent of breast cancer are sporadic - those you can't associate with a specific cause and are definitely not genetic.
Thuo underwent a surgery, eight sessions of chemotherapy and 30 sessions of radiotherapy at the Nairobi Hospital. She lost her hair, her toe nails fell off and her immunity was at an all-time low. Due to the low immunity, she would sometimes be quarantined in her house, a time she says she found strength in prayer.
"Seeing heroes who had beaten cancer and the strength I got from prayer pushed me through the journey," said Thuo. She has now recovered and her hair and toenails have since re-grown. She has since resumed her fashion design job at a shop she recently opened on River Road, Nairobi, with a staff of two.
"Cancer is not a death sentence. Purpose in your mind that you want to live and your body will follow suit," she says behind a sewing machine.